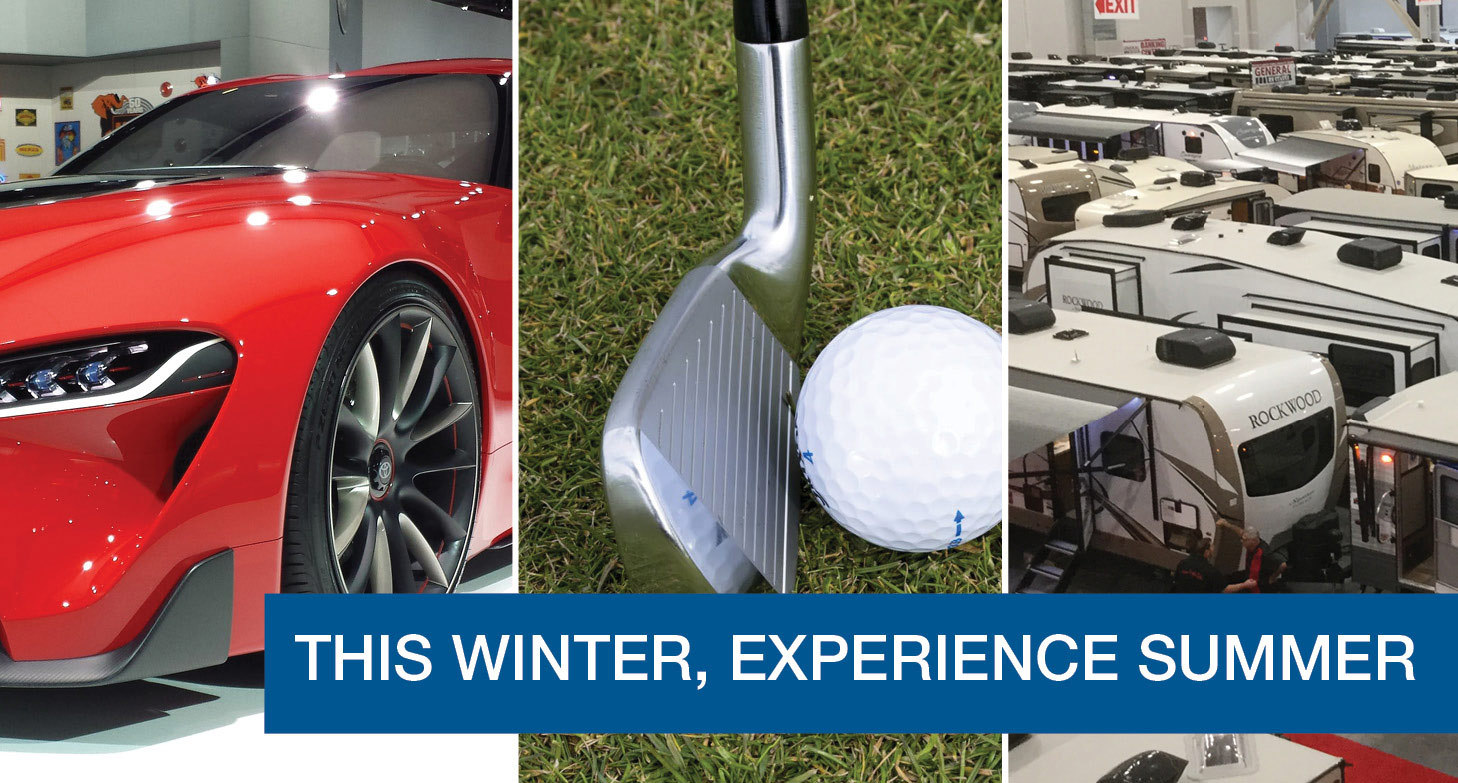 Time after the holidays — that stretch from New Year's Day until spring break — can seem like years rather than months, so why not plan to take in some of the great exhibitions and shows held in Michigan every winter? If your group loves to take advantage of Pure Michigan in the summer, here's a lineup of great show destinations your group will love this winter.
Check Out These Car Shows, RV Shows, Golf Shows, and Boat Shows
Cars, Cars, and More Cars
Jan. 19-27: The incomparable North American International Auto Show at Cobo Center in Detroit is the crowning jewel of the automotive industry's year. The public will be admitted from 9 a.m.-10 p.m., so if your group has never been to the NAIAS, why not make 2019 the year to go? You'll see dozens of brand new vehicle introductions and debuts, and mingle with press from 60 different countries, people from across the globe, and neighbors from right down the street. Special things to look for include:
EyesOn Design Award winners honoring the best production and concept vehicles being debuted at the NAIAS.
Daily activities like an American Red Cross blood drive, WXYZ Family Day on 21, and Detroit Tigers Winter Caravan on Jan. 25.
A display featuring the winners of the 31st Annual NAIAS Poster Contest entered by Michigan students in grades 10-12.
A discounted rate on tickets for groups of 30 or more if orders are received before Jan. 19.
RVs and All Things Camping
Feb. 6-10: The 53rd Annual MARVAC RV & Camping Show at the Suburban Collection Showplace in Novi is more than a consumer show, it's an event and destination all its own. The recently-expanded Suburban Collection Showplace event center added 80,000 square feet of exhibit space allowing wider aisles for perusing an expanded selection of recreation vehicles, from elegant motorhomes to personal pod-like travel trailers and more. In addition to hundreds of 2018-2019 RV models of all shapes, sizes and prices, the five-day show will also feature dozens of Michigan campground and RV resort exhibits, and RV and camping accessories.
The MARVAC Get Going stage features multiple educational seminars on topics like renting an RV and staying connected while on the road. Tom Daldin and Jim Edelman, hosts of the popular PBS show Under the Radar Michigan, will share their RV adventures on Saturday, Feb. 9 at noon and 1:30 p.m. The show is open weekdays 2 to 9 p.m., Saturday, 11 a.m. to 9 p.m., Sunday, 11 a.m. to 6 p.m.
Mid-Winter Golfers' Paradise
Feb. 8-10: The West Michigan Golf Show at DeVos Place is golfers' heaven during February in Michigan, so while your clubs are gathering dust in the garage, head to Grand Rapids and get ready for the links. Now in its 25th year, the show offers dozens of exhibitors including equipment dealers, resorts, courses and more.
Knowing how hard it is for Michigan golfers to survive months without a round, Treetops Resort is sponsoring the $25,000 Par 3 Challenge, which is modeled after a real hole at Treetops Resort. All you have to do to get into the finals on Sunday night is chip a 47-yard shot inside a 2-inch circle. And even if you don't make the shot, Treetops is giving away plenty of additional prizes, including:
A gift from Treetops Resort just for trying.
A certificate for a round of 18 holes (with a cart) for landing on the green.
A twosome of 18 holes (with a cart) for those who qualify for finals.
A golf weekend at Treetops Resort that includes a two-night stay and two rounds of 18 holes with a cart for four people for the finalist.
Proceeds from the Par 3 Challenge will benefit Patriot Golf Day and Folds of Honor.
Other attractions include free swing lessons provided by the Michigan PGA and the PGA Golf Management Program at Ferris State University, The 19th Hole where you keep up with golf tournaments on three big-screen televisions, and a Seminar Stage with a variety of headliners.
For the Love of Boats
Feb. 16-24: The 61st Annual Detroit Boat Show at Cobo Center promises to be exciting with more than 100 of the state's top boat dealers and marine suppliers showcasing and selling the newest models and products on the market. Whether you are looking for a boat for fishing, floating, skiing or anything in between, you'll find it here. Also available will be everything for fun on, in or over the water like docks, lifts, canvas covers, toys, electronics and every accessory under the summer sun.
The show is also offering special admission rates and events, including:
Senior Day, Feb. 18: Seniors 65 and older receive free admission.
Career Day, Feb. 18: The show is hosting a Career Day for high school and college students interested careers in the industry, including marine technology.
Ladies' Day, Tuesday, Feb. 19: Ladies get in free.
A Boat Load of Food, Feb. 20: Donate five cans of food to Gleaners Food Bank from 3-6 p.m. to get in free.
Millennials' Night Out, Feb. 21: Millennials (35 and under) receive free admission from 3-9 p.m.
Kids Zone, weekends only: The Zone includes games, activities, crafts, face painting and a real mermaid.
Don't waste time hunkering down this winter when your group can head to one of these great shows and start getting ready for summer. If you need help planning your group's next trip, Indian Trails can help with our "Complete Guide to Booking a Bus." Download it today!