Plan your trip armed with a complete understanding of charter bus companies and book like a professional planner.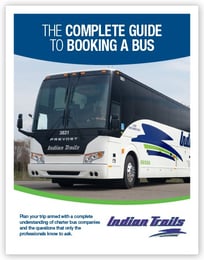 This 13 page guide will give you insight into:
how to get a great quote that gives you more bus for your money
how to build a complete itinerary for a better cost quote
sign off forms your travelers should get, from medical emergency to parent permissions
find out what amenities are available that the best fleets offer
Great bus trips include an understanding of your group, your trip, and how to book a better bus. Download this comprehensive and easy to read guide.
Read 10 do's and don'ts of booking a party bus here!