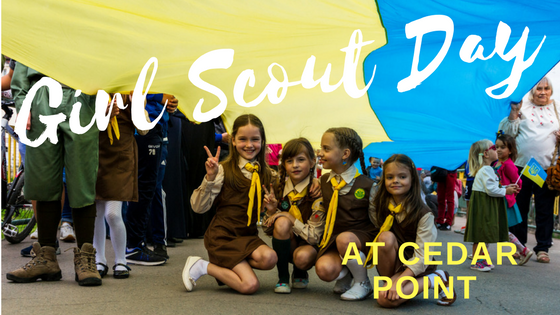 It's almost as much fun as a jamboree when on June 13, Girl Scouts from across the Midwest converge on Cedar Point for a day-long celebration! And if your troop is among the first 500 girl scouts to enter, they'll receive a free 2018 Girl Scout Day patch.
If you're considering this fantastic trip, you'll be glad to know there are group rates for admission and options for joining the catered luncheon event and getting drink wristbands. And if that's not enough, your troop will surely be excited about the new rides and calendar of events offered this year.
The latest and most impressive addition to Cedar Point is the new world-record setting Steel Vengeance roller coaster. Take a look at the records this giant among giants is breaking:
Tallest hybrid roller coaster at 205 feet.
Fastest hybrid roller coaster reaching 74 miles per hour.
Steepest drop on a hybrid roller coaster of 90 degrees.
Longest drop on a hybrid roller coaster at 200 feet.
Longest hybrid roller coaster at 5,740 feet.
Most inversions on a hybrid roller coaster with four.
Fastest airtime hill on a hybrid roller coaster reaching 73 miles per hour.
Most airtime on a hybrid roller coaster at 27.2 seconds.
Most airtime on any roller coaster at 27.2 seconds.
World's first "hyper-hybrid" roller coaster ("Hyper" refers to its 200-foot height and "hybrid" refers to its smooth steel track on a wood support structure.)
But there's more than one incredible roller coaster at Cedar Point, in fact, here are the top five most-ridden rides in 2017, for your scouts to consider:
Millennium Force with 1,672,584 riders.
GateKeeper with 1,588,646 riders.
Magnum XL-200 with 1,450,892 riders.
Valravn with 1,418,584 riders.
Raptor with 1,151,349 riders.
Of course, not everyone loves roller coasters, so Cedar Point offers tons of other options — some more scary, some less. On the scarier side are the thrillers like Ocean Motion, Scrambler, Thunder Canyon, Slingshot, Windseeker, and Power Tower, rides that will give your troop something to remember for years to come.
And for those who want a nice gentle ride the family rides category offers a range of options from the Giant Wheel with a breathtaking view of the entire park while riding in a cabin, to the similar Sky Ride and the ever-popular Tilt-A-Whirl. For the younger (and older) set, the category also includes Kiddie Kingdom Carousel, Antique Cars, and the Cedar Point and Lake Erie Railroad, among others.
When it's time to just walk around and see the sites, scouts can try their hand at two new games — FrontierTown Shooting Gallery, Western Shoot-out, and several new shows on the entertainment menu. For those looking for a little hands-on fun, you can pan for real gemstones at the Fort Sandusky Mining Co., learn how to blow glass at the Glass Academy, and even dip your own candle at the Candle Shop.
Once you have decided to attend Girl Scout Day at Cedar Point, rest assured that Indian Trails experts stand ready to transport your troops right to the door on state-of-the-art motorcoaches with all the latest conveniences. Request a quote today, and we'll get you on your way to Girl Scout Day!