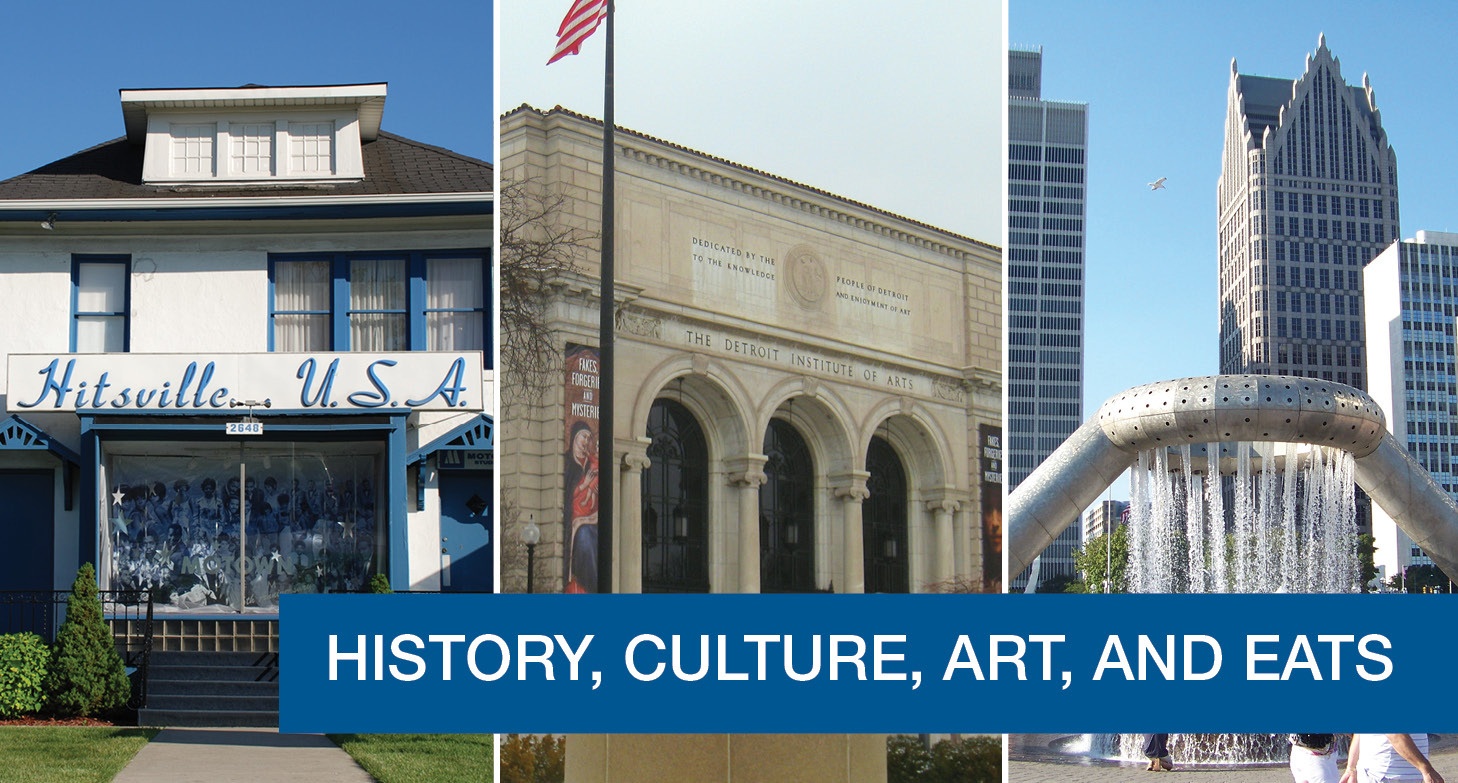 Detroit will never be what it was during the early automotive boom years, but if you take a look around Detroit today, you're likely to say, "It's not the same as it was … it's better!"
Truly rising from the ashes of a former life, Detroit (aka the D, Motown, and the Motor City) is being remade by people who know and love the city. New businesses, new entertainment venues, new restaurants and bars, even new transportation options are enticing people not only to visit, but to live and work in the D, spurring further growth in residential and commercial real estate. If your group wants to do its part in supporting the new and improved city of Detroit, take a look at what's happening and start planning your next adventure.
Book a Charter Bus
Take a Tour Based on Your Interests
One really great way to re-introduce yourself to Detroit is to take a self-guided tour of the city on your charter bus. Experience Detroit has 13 tours to choose from, including architecture, theatres, Cultural Center, downtown, Belle Isle, and more.
The Cultural Center tour takes you to the Charles H. Wright Museum of African American History, the Detroit Historical Museum, the Detroit Institute of the Arts, Detroit Public Library, the Michigan Science Center, and Wayne State University. For the sports-minded, the Detroit sports tour takes you to Comerica Park, Ford Field, The Palace, Joe Louis Arena and the Detroit Grand Prix on Belle Isle.
Take a Food Tour
Now it's time to experience Detroit with your taste buds. And every food or beer tour should start, of course, at the Eastern Market. Since 1891, the Eastern Market has been the mothership for all things eatable for Detroiters of all ethnicities who know that every herb, spice, cheese, fruit or vegetable they need can be found there.
Next, your group might want to choose sides over the best Coney Island hot dog in Detroit. Try both the Lafayette and American Coney Islands and let your taste buds cast the vote.
Like most areas in Michigan, metro Detroit has a blossoming brewery industry with plenty of new breweries right downtown that warrant a visit. Why not set a day aside for this fun activity? But first, map out your strategy using this list from visitDetroit.com.
Take a Music Tour
What trip to Detroit would be complete without a look at the city's musical roots? Few cities can claim the musical legacy that Detroit can. Experiencedetroit.com has arranged the perfect self-guided tour of the most important places and events in the city with regard to music.
The early 1900s mark the beginning of Detroit's jazz era that included incomparable musicians like Ella Fitzgerald and Duke Ellington. Visit the Detroit Jazz Festival at Hart Plaza for a truly jazzy experience. Next came the Detroit Blues, which were performed by greats like John Lee Hooker. The performance venues on Hastings Street, unfortunately, now lie beneath the Chrysler Freeway. Then, soul and Motown grooved Detroiters in the '50s and '60s. While many sites are also gone, the Motown Historical Museum will take you back in time. The late '60s brought with them rock and roll with artists like MC5, Mitch Ryder, Iggy Pop, and Bob Seger. Thought to have "inspired punk rock in the 1970s," each performed at the historic Grande Ballroom, which was recently nominated for inclusion on the National Register of Historic Places.
Tour the Neighborhoods
Detroit, like many of America's original big cities, is divided into districts, or neighborhoods, each with its own charming ambience. One of those is Greektown, the go-to place for great gambling and great entertainment. Dubbed "one of the last surviving Victorian-era commercial streetscapes in downtown Detroit," Greektown roots go back to the 1880s when it was settled by Greek immigrants.
Another place you won't want to miss is Detroit's oldest neighborhood. Corktown dates back to 1834 when Irish immigrants (some from County Cork) fled the potato famine and landed in Detroit. Still a predominantly Catholic area, it's also home to Ste. Anne Parish de Detroit, "the second oldest continuously operating Catholic parish in America, established two days after Antoine De La Mothe Cadillac founded the city of Detroit." Most recently, Corktown's old Michigan Central Station was purchased by Ford Motor Company with the promise of refurbishing the abandoned structure for a new tech campus. The Corktown strip on Michigan Ave. is making its own way with new restaurants, coffee shops, bars, pubs, and stores.
For those who want to get down to the water's edge, there's Rivertown, a runnable, walkable, bikeable place with a view of Canada across the Detroit River. Once subdued, Rivertown today is vibrant and alive with restaurants that date back 100 years, like Andrews On The Corner, and new businesses coming in all the time, including Detroit Denim and Chill Martini Bar. For an extra dose of fun, try the Outdoor Adventure Center (aka Up North Downtown) in the historic Globe Building, where kids of all ages can get a taste of wild Michigan in the heart of downtown Detroit.
Anytime you visit Detroit, you can be sure there will be something special going on, from holiday events like America's Thanksgiving Day Parade to art shows, exhibitions and retrospectives, theatrical events, festivals, and more. No matter what your group's interests, Detroit has so many diverse, interesting and fun things to do. You just can't go wrong.
When your group decides what they want to do in Detroit, be sure to download our e-book, "The Complete Guide to Booking a Bus." It will help you smooth the road all the way to the D! For even more ideas about great group trips, read our blog, "Your Dream Trip: Destinations in Michigan."