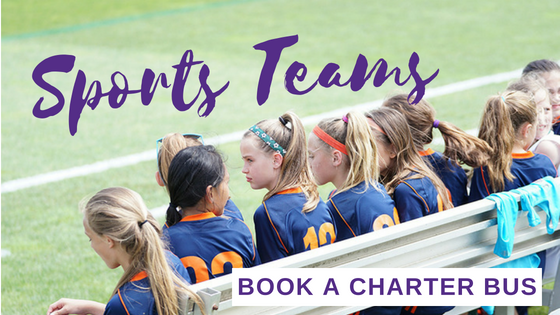 Planning for your team's next season is a great idea, especially when it comes to transportation for out-of-town games and matches. No matter the sport or the destination, Indian Trails has the experience and expertise to help you make all of your team transportation plans now, so you can relax later and just enjoy winning!
Tips for Charter Bus Travel with Sports Teams
Tip #1 Unless you're a professional charter trip planner, you will likely run into roadblocks or at least start piling up questions as you begin planning your team's trip. So why not get started on the right foot by downloading "The Complete Guide to Booking a Charter Bus." This handy free guide helps you learn how to get a great quote, build an itinerary and much, much more.
Tip #2 Book a bus that is large enough to accommodate your team. Athletes, no matter the sport, are muscular and generally speaking, need more room than average bus riders. In particular, college and even some high school football and basketball players need the largest possible accommodations so that they travel comfortably and arrive refreshed.
Tip #3 Don't forget your team's equipment. Depending on the sport, athletes can carry from one to three or even more bags of equipment and other sports-related gear. Sports like hockey and football that require a lot of protective, padded equipment may even require an additional bus if the team is large enough. Take stock ahead of time of the equipment storage space needed for the team and consult with your charter company as to the best transportation options.
Tip #4 If your trip is a long one, you'll want to charter a bus with all the technological amenities of home. For example, DVD players offer a chance to review game videos and plan strategies, onboard WI-FI keeps everyone busy, recharging outlets for phones and tablets means nobody's phone dies, and personal lighting and climate controls keep things comfy. Find out exactly what the possibilities are in our blog "WI-FI, outlets and more: Inside a modern charter bus."
Tip #5 Consider booking a bus for team member's families and boosters so that everyone arrives together ready for the big game. It may also provide room for overflow equipment from the team bus if it's not too full.
Tip #6 Once you get quotes from the charter companies of your choice, you will need to decide which one is the best fit. Before you put cost first, however, there are many other equally important things to consider and compare between bus companies. Things like safety records, reputation and more are detailed and discussed in our blog "How to Compare Charter Bus Prices," which will help you make sense of the comparisons.
Tip #7 If you are traveling with younger athletes you will also want to get up to speed on all of the paperwork required well in advance of the actual trip. Your school or district may have boilerplate forms available or you can download our free "Professional's Guide to Bus Trips with Kids" for a wealth of information as well as links to essential forms.
When your team has practiced hard and played even harder, they deserve to ride in safety and comfort. Indian Trails has more than a century of experience and a reputation and driving record that are among the best. Learn more about Indian Trails charter bus services today!