Bus trips with kids require more planning. Have a smoother bus trip and cover your liability.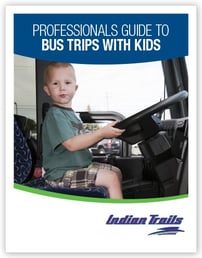 This 15 page guide will be a reference you will come back to every time you book a trip. It will give you a full understanding of:
managing your group communication
permission forms
how to help manage bus behavior
the potential for medical and emergency problems
forms that you could be using for your group, with examples and templates
and much more
Great bus trips usually require advance prep and planning. Download this comprehensive and easy to read guide to help do the planning for you.