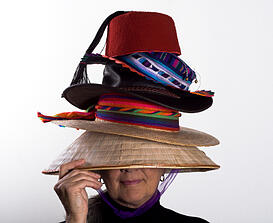 If travel planning is just one of the many hats you wear … we know who you are. You're the one who always seems to get elected, by popular vote, to plan the family reunion.
Or, maybe organizing the annual office retreat falls into your somewhat amorphous job description under "other duties as assigned."
It could be that you simply have a case of "helium hand" – the all-too-common affliction that causes a parent's hand to spontaneously rise every time the Scout leader or soccer coach asks for a volunteer.
Whether you're planning a family outing, a corporate getaway, or a field trip for kids, one of your key responsibilities is to get people from Point A to Point B and back again. You want the trip to be safe and affordable. You need it to be convenient. You'd like it to be fun.
You are going to need a bus.
Luckily, you can hire – or charter – a bus and driver for your event. Here's a quick checklist of the information to gather before you book a charter bus company.
Define your group.
Know the size and makeup of the group. Traveling with senior citizens? School kids? Business executives? It makes a difference. Make a note of any special requirements -- such as wheelchair accessibility, extra chaperones, or other considerations.
Prepare your paperwork.
Gather any of the forms you will need, such as permission slips, health history, and waivers for emergency medical treatment.
Plan your itinerary.
Answer a few basic questions: Where are you going? When do you want to arrive? How long will you be staying? From where will you depart? Where – and how often – do you plan to stop along the way? Organize your itinerary notes in a spreadsheet or template. If you would like to download our Road Trip Itinerary Builder, click here.
Here's an idea: Ideas for Your Bus Groups: Michigans' Summer Festivals
Choose a bus type.
Choose a bus equipped to handle your group's needs. Read up on the types of buses available for charter, and decide which is best for your group.
Select your amenities.
Today's charter buses offer a variety of amenities such as free Wi-Fi, reclining seats, reading lights, air conditioning, DVD players, power outlets, and comfortable restrooms. Start your search with your desired amenities in mind.
Identify your priorities.
To name just a few examples:
If safety is at the top of your list, choose a company with the highest possible safety rating from the Federal Motor Carrier Safety Administration (FMCSA).
If you prefer human interaction to an automated or voicemail system, opt for a company with a receptionist and live sales consultants who can answer your questions one-on-one.
If you want to see your bus before you book, choose a company that welcomes you to come have a look.
If budget is your main consideration, look for a company that offers attractive pricing. But be aware of what is covered in the company's quote so you're not surprised by add-ons after booking. Beware of scams, bait-and-switch schemes, and unauthorized operators.
If you require flexibility, choose a company that will work with you.
Search.
Conduct an Internet search for charter coach or charter bus companies in your departure area. Narrow the search to three companies from which you want to receive a price quote. You can usually request a quote on line, or you may choose to contact the companies directly.
Ask questions.
When you've narrowed your search, make a list of questions to ask each company under consideration. Check out "How to Book a Bus: The Top 'Lucky 13' Questions to Ask" to get started.
Book your trip.
Even companies with large fleets can sell out during busy times. It's never too early to book your trip.
Follow these steps and you're on your way to planning a great trip.
Need more tips? Check out: Travel Planning: What to pack for a long bus charter
There is one catch: Now that you're an expert at travel planning, mark our words: You will be planning every reunion, retreat, or field trip until the end of time. How could you say no?
If you are planning a trip with kids, this guide will save you time and protect your organization from all kinds of potential problems. Click below for a free copy of this comprehensive guide.