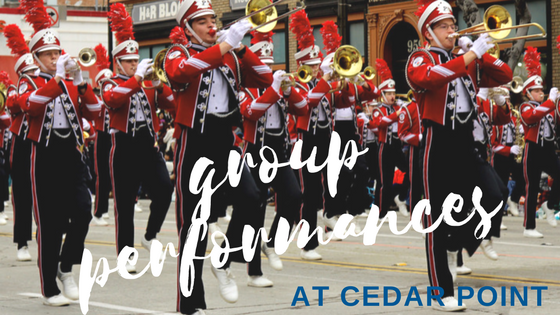 Is your school's band, choir or choral group hoping to get in another performance before summer vacation? Or maybe you are trying to choose between an awesome performance opportunity and a group trip that is fun for everyone. If you plan your group trip to Cedar Point, you don't have to choose just one; you can give that final performance and have a great time on some of the world's most exhilarating rides!
Your Time to Shine
Cedar Point's Performance in the Park program offers opportunities to perform on the midway or on one of the outdoor stages throughout the park. Although requirements are few, your group will be asked to:
Wear appropriate and matching attire. For bands this means marching attire although formal band uniforms are not mandatory. Groups should come to the park dressed to perform (and play) as changing facilities are not available.
Marching bands will cover a route on the main midway lasting about 20 minutes. Two performance spots are available, although the number of spots may be reduced or eliminated, depending upon the number of bands marching on that date.
A performance application must be submitted, performances are on a first-come, first-served basis, and all must be finished by noon.
After their final bow, your group can then enjoy a yummy lunch either catered or at one of the many restaurants, old and new, and then … on to the rides!
Setting World Records
This year, Cedar Point is setting world records with the new Steel Vengeance roller coaster, which will open in FrontierTown on May 5. The steel/wood hybrid coaster will hold 10 world records for:
Tallest hybrid roller coaster at 205 feet
Fastest hybrid roller coaster reaching 74 miles per hour
Steepest drop on a hybrid roller coaster of 90 degrees
Longest drop on a hybrid roller coaster at 200 feet
Longest hybrid roller coaster at 5,740 feet
Most inversions on a hybrid roller coaster with 4
Fastest airtime hill on a hybrid roller coaster reaching 73 miles per hour
Most airtime on a hybrid roller coaster at 27.2 seconds
Most airtime on any roller coaster at 27.2 seconds
World's first "hyper-hybrid" roller coaster
More and More Fun
For the less adventurous, Cedar Point also boasts dozens of other rides closer to the ground as well as two new games — Frontier Town Shooting Gallery, Western Shoot-out, and five new shows on the entertainment menu. For those looking for a little hands-on fun, there's Fort Sandusky Mining Co., where you can pan for real gemstones, the chance to blow glass at the Glass Academy, and even dip a unique-to-you candle at the Candle Shop. And don't forget Cedar Point Shores waterpark, where 18 acres of water slides, eateries, a wave pool, and more await!
So, pack up your best musicians, choirs, and dancers, entertain visitors from all over, and become a part of the magic that is Cedar Point. Indian Trails has been taking groups to Cedar Point for decades and can help make your trip one of the most fun and memorable ever! Learn more about chartering one of our state-of-the-art motorcoaches and contact us today for a quote.