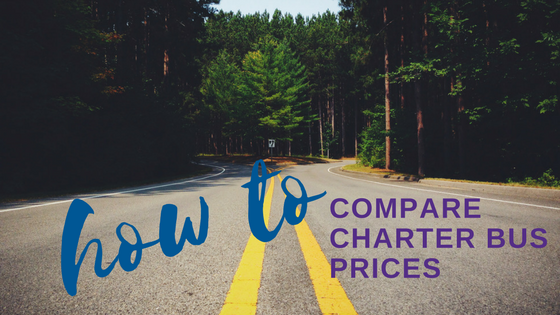 There are a lot of factors to consider when choosing a charter bus company; price, amenities, motorcoach comfort, and company track record, to name a few. But in the end, many decisions are made at least in large part based upon cost.
But savvy travel planners know there's too much at stake to base a decision on cost alone. They know it's also important to consider the value of certain "intangibles," such as:
The charter bus company's safety record. Have they received the highest possible safety rating from the Federal Motor Carrier Safety Administration (FMCSA)? You should expect (and accept) no less.
The company's reputation. Do they get good reviews from their customers? Are they reliable, consistent, and professional? You can do a simple internet search by typing the company's name plus the word "reviews" into your preferred search engine. And don't hesitate to ask for—and check—references.
How long the company has been doing business. While a start-up company can be perfectly legitimate, most people find it reassuring to know that their chosen bus company has logged a few miles!
The company's maintenance practices. A well-maintained bus is a safer bus. Does the company you're considering have its own maintenance facility? Does its maintenance schedule meet or exceed state and federal requirements? Are buses routinely checked before each and every charter?
The experience and professionalism of the company's drivers. Do the company's drivers possess a current commercial driver's license (CDL) and an excellent driving record? You have a right to know.
After factoring these considerations into the mix, there is still that all-important question: What will it cost to charter a bus?
Charter bus rates are based on a number of factors:
Amenities: A brand new, state-of-the-art luxury motorcoach is going to be more expensive than an older bus. Amenities like WiFi, DVD players, device charging outlets, GPS, equipped restrooms, and individual lighting and temperature controls are part of the price you pay for a luxury coach.
Distance and duration of the trip. Obviously, the more miles you travel, the more time and fuel you expend, so distance will be a factor in the price of your charter. But the duration of the trip is also a consideration. If you are on the road for more than 10 hours in one day, for example, you'll be switching drivers. If your trip involves one or more overnights, your driver's lodging must be factored into the price.
Motorcoach size. A bus that seats 45 passengers is more expensive to manufacture, fuel, and maintain than a bus that seats 29 passengers. Accordingly, you can expect to pay more to charter a large bus.
Gas prices. As gas prices rise and fall, so do charter bus rates.
Time of year. Like all travel, charter bus travel rates can fluctuate depending on seasonal demand (with the possibility of higher prices during high-volume times of the year and discounts during low-demand periods).
Special features. You may pay more for a bus equipped with a wheelchair lift, hearing loops, or other accessibility features.
In addition, things like special taxes or surcharges, tolls and parking fees, and insurance are additional costs that are typically passed along to the customer.
With so many factors affecting cost, it's important to know what is covered in the charter quote and what expenses you may incur above and beyond the quote. For example, does the contract include tolls and parking? Will you be charged a fuel surcharge? Is a driver gratuity factored into the charter quote, or is it extra? What about the driver's food and lodging? Keep in mind, an estimate that sounds low at first glance could increase significantly when all the extras are added to the bill. Expect the company to be completely transparent about how it calculates prices and how it bills. Make sure you understand the company's policy regarding deposits, final payments, discounts, refunds, cancellations, and fuel surcharges.
If you are worried that you might forget something, we have you covered with our publication "The Complete Guide to Booking a Bus." You'll get a wealth of information, essential forms, and reminders to help you plan the perfect charter. When you are ready to request a quote, it's as simple as clicking right here!