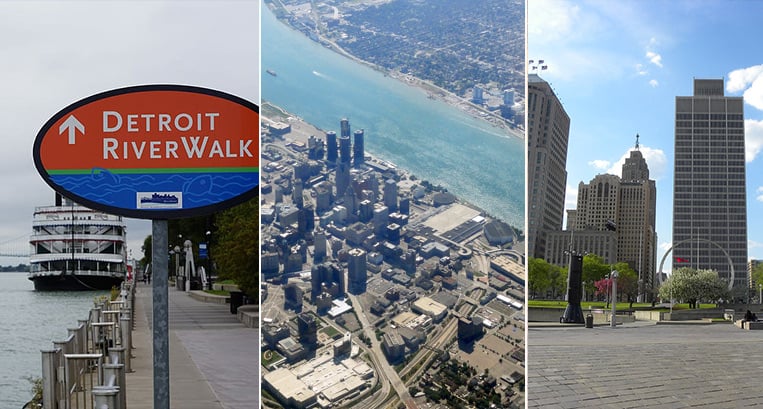 Detroit is constantly reinventing and reinvigorating itself, and once again has become a popular event destination for everything from professional sports to big-name music concerts. But that's just part of the story.
If you only visit occasionally for some marquee event and then head home right away, you're missing out.
With so much more of Detroit to explore, you could spend a whole day in just one of its cultural centers and not exhaust its hidden gems. Other neighborhoods and parts of the city are dotted with smaller but still impressive venues, including unique restaurants, museums and shops.
How can you find them? Take a tour! You could charter a bus for your family and friends or buy a ticket on an Indian Trails bus to downtown Detroit. Once there, discover the attractions many ways—on foot, in a vehicle, by land, water, or air.
The best way to explore the city is in the company of someone in the know: a tour guide, a lifelong resident, or a person with a passion for a particular subject—art, architecture, history, the current music scene, food or fashion—and knows where to find it.
A Detroit art or architecture tour could begin with one of the top attractions in Detroit, such as the Detroit Institute of Arts, then expand to the surrounding University and Cultural Center area and spend the day exploring. Across the street and up a block is the Detroit Historical Museum, the perfect place to start any Detroit history tour.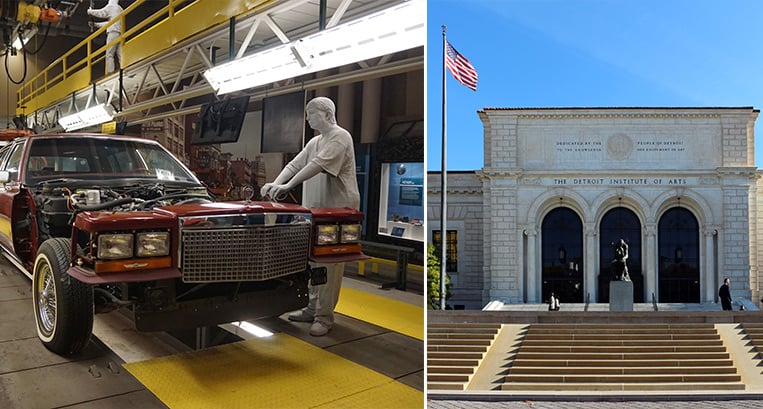 You also can explore a wider area based on other interests by yourself or with a guided tour by one of more than a dozen tour operators. The following guide breaks down all your options as you plan your next visit.
(Please note that not all Detroit tours are available year-round. Always check well in advance.)
Walking Tours
If you like to walk, there are many guided tour options, including these three:
Food Tours
If you'd like to see and sample Detroit's diverse food options, multiple groups and organizations arrange and facilitate food tours, including:
Pedal Bar & Handlebar Tours
Enjoy fresh air, exercise and camaraderie! Join friends, co-workers, or strangers seeking the same new experience on a cycle pub vehicle. You pedal like on a bike and tour the downtown area while seated at a bar-type counter. There's a driver to steer you and an electric motor in case not everyone feels like pedaling all the time. Beverages (alcoholic or otherwise) and snacks are not provided but are allowed with some restrictions.
Pedal bars are available for pub crawls, work/team-building events, and special occasions (like birthdays or bridal/bachelorette parties), even in winter. So popular there's more than one, including the Detroit Rolling Pub & Pedal Bar (formerly the Detroit Cycle Pub) and The Michigan Pedaler.

Van Tours
A van is more intimate than a bus, roomier than a car, and more comfortable than walking. There are at least three such tour providers:
If you're not sure if you want to travel by foot or van, City Tour Detroit lets you choose. Itineraries include the downtown area, the stops on the Underground Railroad, or sites seen in the movie "8 Mile."
Antique Auto Tours
If you love old cars but don't have one, see the city from the passenger seat of a Model A with the Antique Touring Co. Departures are from the historic Ford Piquette Avenue Plant, where they built the Model T.
Segway Tours
If you like your tours close to the ground and in the open air but don't want to do a lot of walking, then Detroit Segway may be the way to go. Tour the whole downtown, the Riverfront, the theater district or other areas on the two-wheeled, self-balancing personal transport.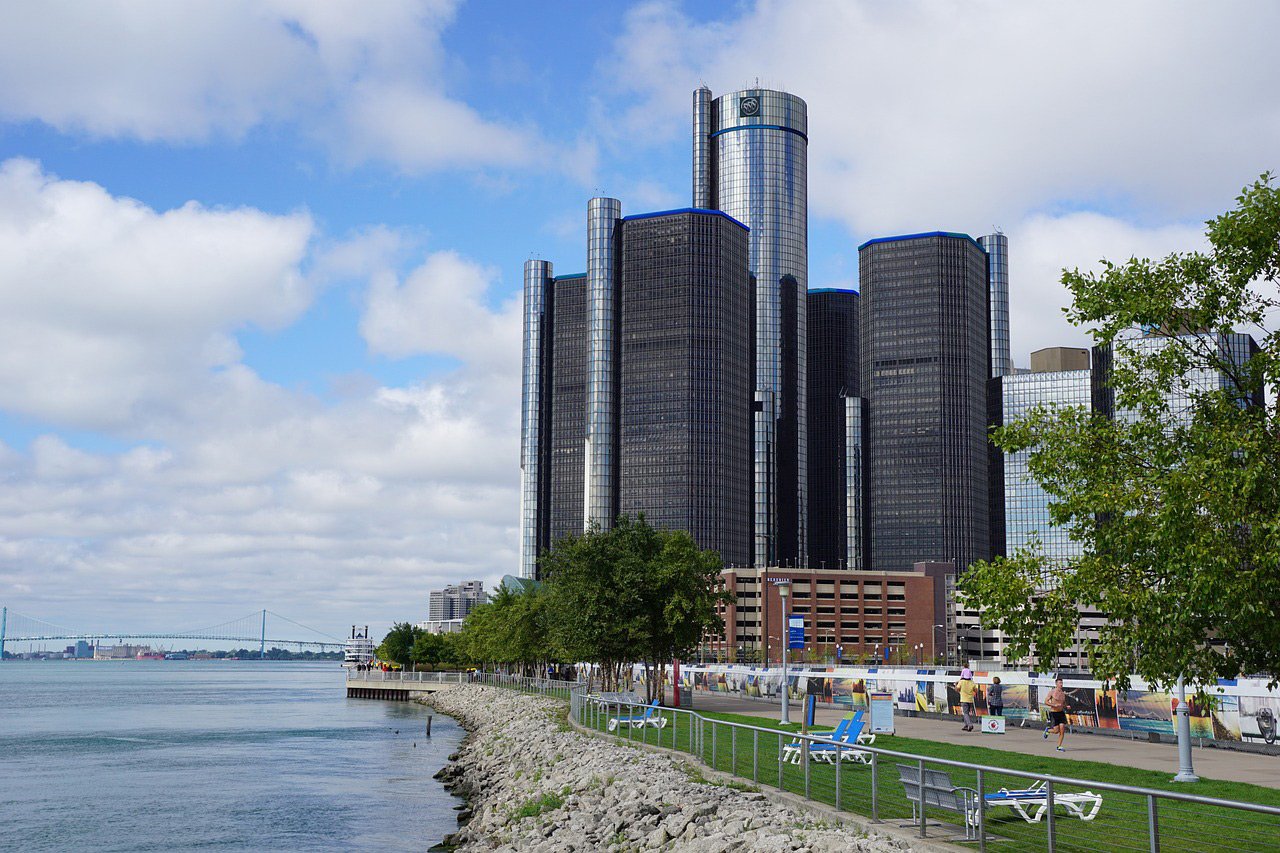 Water Tours
You won't see as much of the city from the Detroit River as from the street, but it's a view you won't get from dry land. Water-based tour operators include:
There's also a water tour version of a rolling pub: the Detroit Cycle Boat, up and down the Detroit River, from May 21 through Oct. 2.
Helicopter Tours
There's even an airborne tour option: helicopter rides by My Flight Tours. Take a long or short helicopter trip to see the Detroit skyline at night and major attractions by day. Air tours of other Michigan locations are also available.
Bus Tours
If you're in a group or organization that is interested in seeing Detroit together, you might need a larger vehicle. Read "The Complete Guide to Booking a Bus."
In addition to a means of transportation, buses also are available based on themes, such as food tours or automotive tours.
Detroit Automotive History Tours
The Ford Piquette Avenue Plant, the birthplace of the Model T, is open for tours. The Detroit Historical Museum's America's Motor City exhibit further elaborates on Detroit's automotive history. And one of the highlights of any visit to the Detroit Institute of Arts is a long look at Diego Rivera's Detroit Industry Murals courtyard, which includes scenes in an automotive plant.
Self-Guided Tours
If you'd like some suggestions of what to look for but would rather go at your own pace and in whatever order takes your fancy, Experience Detroit offers a baker's dozen (complete with addresses, website links and some photos) within 10 miles of downtown Detroit:
Other possible tours include music (historic and still-operating venues), food (many restaurants, coffeehouses, and Eastern Market), bars and breweries, and churches (the Basilica of Ste. Anne de Detroit).
Detroit also has events—festivals, concerts, theatrical productions—every weekend, almost every night. Check Visit Detroit for some ideas.
Indian Trails can help you get to Detroit. You can buy a ticket from our many locations to downtown Detroit. If you need help getting around Detroit with your family or friends, charter bus options are available.
Happy and safe travels!