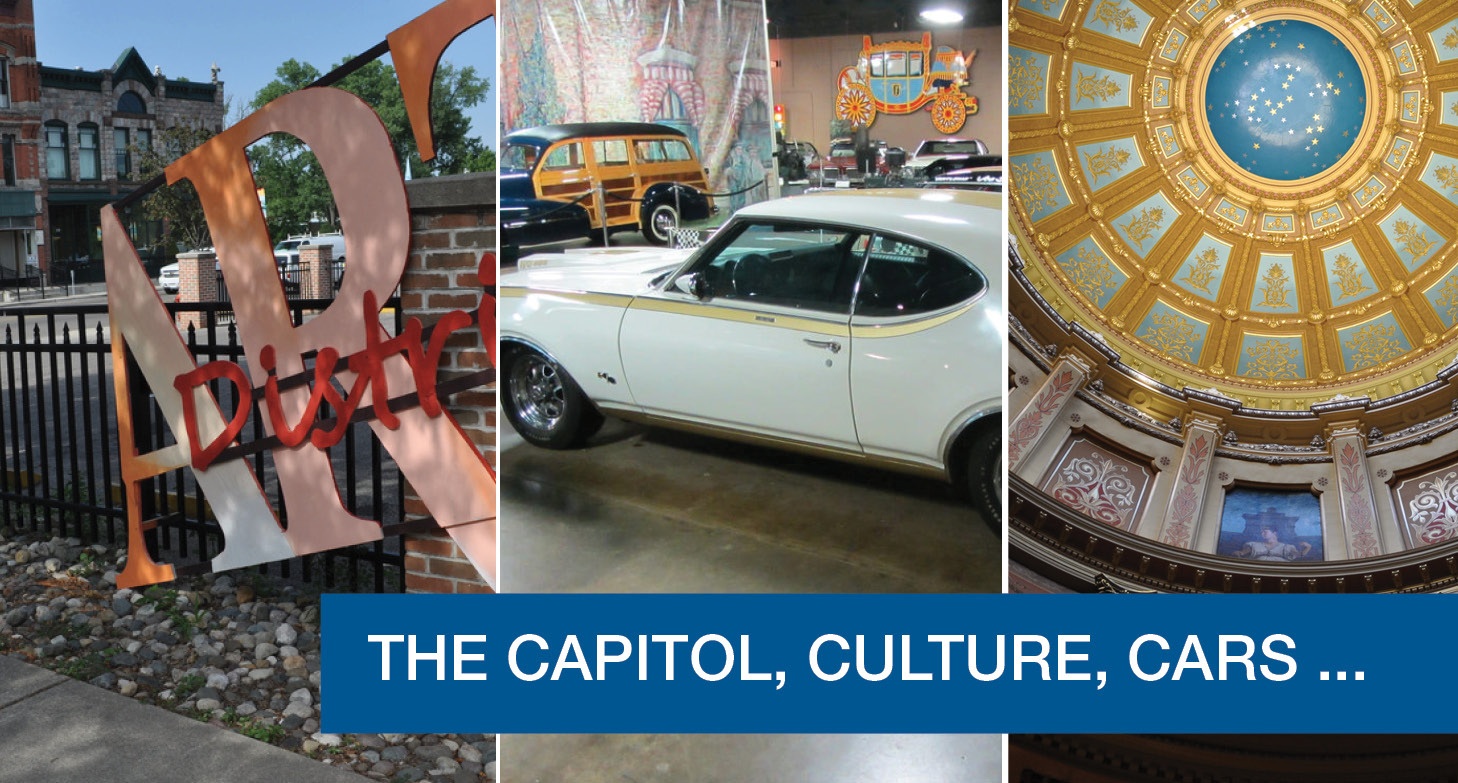 When you're thinking of new destinations for your group, family or club, consider everything that Lansing has to offer all year long for people of every age.
Let's start with a historical perspective. Almost from the day Michigan was founded, Lansing has been the state capital. On March 16, 1847, the legislature agreed to move the capital from Detroit to Lansing, and a temporary two-story capitol building was constructed in what was essentially wilderness. The Capitol building we use today (our third), was dedicated on the first day of 1879 and is now being restored to ensure we will have it for another century.
Tour Lansing
So begin your tour at the Capitol and see the authentic renovation of the building's original appearance, from the fully-restored cast iron dome — inside and out — to the glass floor in the rotunda, designed with 976 pieces of glass. Throughout the structure, more than "nine acres of hand-painted surfaces have been carefully restored to look exactly as they did originally." Find out about scheduling, take a virtual tour, and get accessibility information to make this a great day for the whole group at the Capitol.
That's a great start for your Lansing tour, and a great next step is nearby at the Michigan History Center, which houses the Archives of Michigan, the Michigan Historical Museum, as well as incredible genealogy research resources. Another historical stop you will want to consider is the R.E. Olds Transportation Museum. Covering both the REO Motor Company and Oldsmobile, this museum brings to life the spirit of a century of automotive innovation.
If you're bringing the kids along, they will love Lansing's Impression 5 Science Center, with ongoing hands-on experiments, displays and exhibits that everyone will enjoy. Or hop across Michigan Avenue and take them out to the ball game to cheer on the minor league Lansing Lugnuts at Western Michigan University-Cooley Law School Stadium.
For another taste of Lansing, head north to Old Town, where Lansing was first established. Today it's an eclectic mix of restaurants and pubs alongside shops offering antiques and collectables, home decor, art, and not to mention the fun and fashionable clothing boutiques.
East Lansing, only a few miles away, is home to Michigan State University and over 50,000 Spartans. MSU boasts some pretty unique and amazing things to do, and perhaps the most unique of all is the Facility for Rare Isotope Beams (FRIB). This one-of-a-kind facility — one that science buffs will not want to miss — will provide the rarest of isotopes (i.e., "short-lived nuclei not normally found on Earth") for a broad range of research to benefit humanity and the planet.
Another incredible sight is the Eli and Edythe Broad Art Museum with its ever-changing array of exhibitions and events to enjoy. Just a few blocks from the Broad, Saper Galleries also offers an incredible array of art in a range of media. The galleries display art from local and state artists, old masters, and contributors from around the globe. If you venture deeper into MSU's beautiful campus, you'll find the MSU Museum with a range of old and new displays from dinosaurs to Native American artifacts to world cultures.
Since MSU was the nation's first agricultural science college, you won't want to miss the W.J. Beal Botanical Gardens and the Horticultural Demonstration Gardens and 4H Children's Gardens, featuring an amazing display of beautifully landscaped flora. Before you leave campus, don't forget to stop by one of the two MSU Dairy Stores for homemade ice cream and cheese.
Greater Lansing is also home to many fun festivals, theaters, and sporting events that you can plan your trips around. While you're in town, you will want to check out the many great restaurants, including local favorites like Soup Spoon Café, Deluca's, Meat BBQ, and Pablo's Old Town, all of which are on TripAdvisor's "best of" list for 2018. Whether you want to enjoy a fine-dining experience or merely sample the local cuisine, you'll find something to love, and eat, in Lansing.
For adults-only fun, you'll want to follow the Makers & Shakers Beer Wine & Spirits Trail or, if you plan it right, take in one of the many related festivals like Forks & Corks in March or Beerfest at the Ballpark in April. The area's growing brewing and distilling industries are booming and wine is up-and-coming so go out and sample the spirits.
As you prepare for your trip and once you arrive, be sure to check the Greater Lansing Convention & Visitors Bureau for discounts all over town. If you need help planning your Lansing tour, download our free "Complete Guide to Booking a Bus" and contact us for a charter bus quote. Get even more ideas for great group trips in our blog, "Your Dream Trip: Destinations in Michigan."