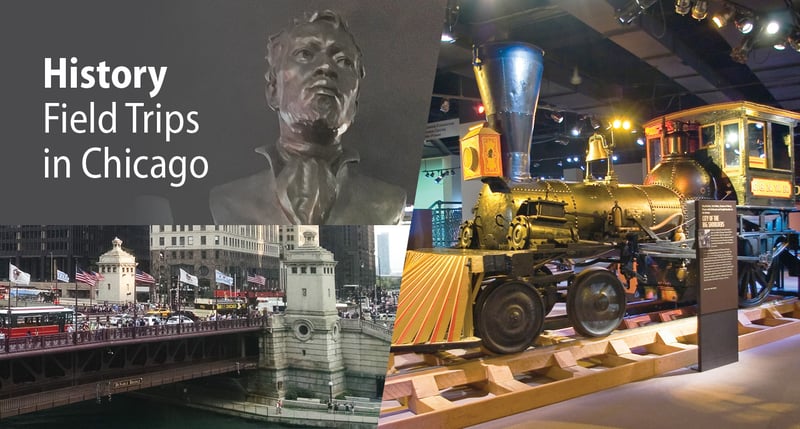 "History" is a relative term. It means different things to different people depending upon family roots, where you live, how you live, and what your interests are. But one thing about history is common to everyone ... it's fascinating! So, when planning a history-related field trip to Chicago, the opportunities to maximize history for your students are many. To help you narrow the field, we researched four outstanding options that just might make this field trip your most memorable!
Where to Begin With a History Tour of Chicago
1. The Chicago History Museum is Chicago's oldest cultural institution with a history of its own dating back to its founding in 1856. The museum survived the Great Chicago Fire of 1871 and offers a deep and rich historical look at the city and its significance in the world.
For young people, the Museum has an extensive program that aligns with Common Core and is offered for students in grades pre-K to 12 including:
For pre-K and kindergarteners – an exploration of the history of trains through "Crazy for Trains" hands-on discovery bags containing early reader books, a conductor's vest, paper train ticket and hole punch, and more. Teachers can also use the online pre- and post-activity guide to make the most of the visit.
For elementary students – brings history alive through age-appropriate workshops, activity stations, film, and a giant touchscreen challenge. In the History a' la Cart activity stations, students in grades three to eight work with trained staff and volunteers on 20-minute, hands-on projects that take them into history and enable them to imagine what it was like in times gone by.
For high school students – programs for older students are designed to encourage them to go beyond observing and think critically about historically significant events, periods and people. Also available are self-guided iPod audio tours and role playing in "Chicago: Crossroads of America," a permanent exhibition. Available by appointment are "Touch Tours" for the blind or visually impaired led by volunteer gallery interpreters.
2. The DuSable Museum of African American History teaches history through the arts and is dedicated to sharing "the history and culture of Africans and Americans of African descent." The programs provided at the DuSable Museum include lesson plans designed by the Illinois Amistad Commission. The curriculum begins in "Classic Africa" before 1500 and follows through the centuries all the extraordinary and mundane things that shaped African history and its impacts including "nearly 250 years of enslavement in North America." Among the many excellent lesson plan topics are:
African Women and the Origins of Mathematics.
The Pyramids of Giza: Marvel of Human Achievement.
The Libraries of Mali.
African Presence in the Americas Before Columbus.
Maafa-Great Tragedy: Was It a Trade?
Jean Baptiste Pointe DuSable: Enterprising Pioneer, the Father of Chicago, and Peacemaker.
In addition, teachers who bring their classes for a field trip experience to the DuSable Museum also receive "an introductory lecture, historical film, a treasure hunt activity for team participation, and a guided tour."
3. The American Writers Museum is recommended for students ages 12 or higher and examines writers, writing and the written word as elemental to the American, and indeed the human experience. Writing has the ability to transform and transmit, to illuminate and elucidate, and to entertain both the writer and the reader. So much that we hold dear in this world has been recorded in writing, beginning with the earliest human drawings on cave walls through the digital volumes of today. Immersing students in everything writing will give them a new appreciation for this art.
Among the permanent exhibits are:
"The Stead Family Foundation Writers Hall," featuring two interactive touch screens that let students discover writers from their hometowns.
"A Nation of Writers: John and Cathie Estey," looks at 100 American writers from 1600 forward in an in-depth look at great American writing plus an immersive "word waterfall" experience.
"The Mind of a Writer" takes students into the lives and the minds of writers, investigating how writers think and live so they can perfect their craft and "make the writing sing." This exhibit helps students better understand how writing happens and what writers do to achieve the style, tone and quality they strive for. Within the exhibit, students can add a line to a story started with one line (usually from an American work), and written one line at a time by visitors throughout the day. Or they can play one of the word games exploring, sampling, and even inventing new words.
4. The McCormick Bridgehouse & Chicago River Museum is uniquely Chicago as it pays tribute to the mighty Chicago River and its world-famous Michigan Avenue Bridge — "the first double-deck, double-leaf, fixed trunnion bascule bridge ever built." The river and the bridge have played starring roles in the history of Chicago, with the bridge opening in 1920 and standing today as a link between north and south Chicago. The bridge was renamed in 2010 to honor the first permanent resident of Chicago, Jean Baptiste Pointe DuSable, whose homesite is at its northern end. Exhibits at the museum include:
The City of Bridges.
Boomtown.
The Chicago River.
For Our Health.
A River and Its City.
Though just a few of the many historical offerings in the City of Chicago, student of all ages will remember these trips for years to come. When you chose your favorites, don't forget to charter Indian Trails to take you there in safety and comfort. And if you're new to field trips, download our "Professionals Guide to Bus Trips with Kids" for great advice and helpful information!