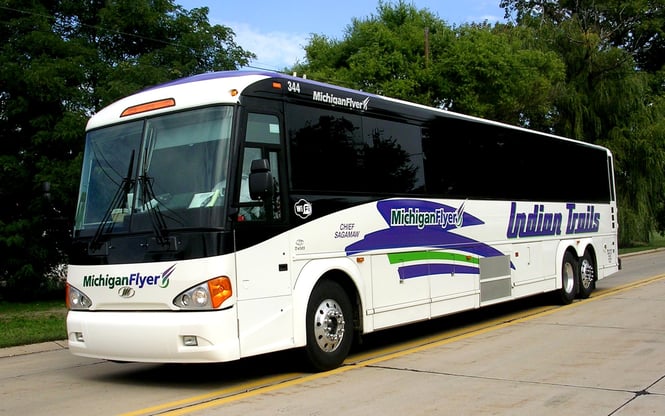 Is taking the Michigan Flyer worth it?
Understandably, that's a frequently asked question. If you've never used the Michigan Flyer, it's easy to wonder if the service is too good to be true. (Spoiler alert, it's not.) If your destination requires air travel, using Michigan Flyer's service to get to the airport is the perfect option.
Traveling isn't what it used to be. Between airport security, flight delays, long layovers, and lost luggage, there's a lot that can go wrong when it comes to your travel day itinerary. When you add the Michigan Flyer to your schedule, you're guaranteeing yourself a smooth start to your destination.
Here's exactly what you should know when you book with the Michigan Flyer.
Solidify your itinerary before booking
If there's one tradeoff you make as a traveler by booking with the Michigan Flyer in lieu of driving, it's that you'll most likely start your travel day earlier. But, the majority of Michigan Flyer customers would tell you that the convenience and stress-free travel is well worth it.
Security at the Detroit Metropolitan Airport (DTW) is known for its low wait time, but don't cut it close when it comes to your Michigan Flyer arrival time. If you're flight leaves at 9 a.m., you don't want your bus to pull up at 8:30 a.m. Make sure to book a trip that arrives at least an hour and a half before your flight takes off.
You can book your ticket online, or view the standard daily runs here.
Don't worry about how much you pack
The Michigan flyer doesn't charge for luggage. Each passenger is allowed two checked bags, and a personal carry-on, such as a purse or backpack, for their trip to or from the airport. If you need to bring an oversized piece of luggage, there is an additional $15 special handling charge per piece. Bringing your bike? Not a problem, it's only $15 for special handling. There will still be luggage fees upon your arrival at the airport, but at least the Michigan Flyer transports your stuff without any additional charge.
Loading and unloading is easy
Don't worry about printing out a bus ticket, or screenshotting your boarding pass. While it's always smart to have your reservation number on hand, Michigan Flyer drivers use handheld devices to check in passengers electronically, eliminating the extra hassle of a bus ticket. No hole punching or scanning required!
If you're departing from the East Lansing location, you will board the Michigan Flyer outside the Marriot hotel, directly under the skywalk on Albert Avenue. If you're boarding in Ann Arbor, you'll depart from the Blake Transit Center, on the corner of S. Fifth Avenue and William Street, across from the Ann Arbor Library. To facilitate speedy unloading when you arrive at the airport, your driver will ask which airline you're flying on.
If you're coming home from DTW, you can board at the Ground Transportation Center.
Travel from East Lansing, Ann Arbor or Detroit Metro Airport
You can board the Michigan Flyer in East Lansing, Ann Arbor or at Detroit Metro Airport. If you're taking the Michigan Flyer from East Lansing, you can expect your trip to take just under two hours. The trip from East Lansing to Ann Arbor takes about an hour and fifteen minutes. From Ann Arbor to DTW is another 30 minutes to the first terminal and an additional 10 minutes to the second terminal. Don't worry about that though, your driver will kindly announce which stops correlate with each airline as you approach the airport.
Michigan Flyer passengers get discounts on parking
Taking the Flyer will definitely save you on parking fees. (DTW parking will cost you at least $10 a day in fees!) Many people enjoy having a friend or family member drop them off at one of the Michigan Flyer loading and unloading stops. But if you need to drive yourself to your boarding point, you'll still coming out ahead compared to parking at DTW. Prepay for your parking through the Michigan Flyer and you'll spend a fraction of the cost.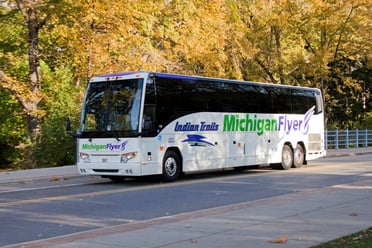 Passengers departing from East Lansing can park in the Charles St. Garage
(across the street from your boarding point) for just $2.50 a day for up to 30 days. This rate is only available to passengers that purchase in advance. You can buy parking passes online with your bus ticket or at the East Lansing office (inside the Marriott) prior to your departure, as long as it's during office hours.
Boarding in Ann Arbor? Parking is just $2 per day in the parking structure, up to 14 days, at the corner of 4th Avenue and William Streets. Purchasing your parking pass ahead of time is not necessary in Ann Arbor. Take a ticket when you enter the parking garage and then hand it to your Michigan Flyer driver when you board, who will stamp it for validation. When you return from your trip and depart the garage, just hand the attendant your validated ticket, and you'll receive the $2 per day rate.
Countless Michiganders have discovered how reliable and affordable the Michigan Flyer is. The buses are immaculate, the drivers are accommodating — and the convenience is second to none. Plus, the Michigan Flyer motorcoach fleet features engine technology that exceeds EPA standards and produces zero air pollution.
So book your first trip on the Michigan Flyer — and soon you'll likely be asking yourself why you didn't think to use this service sooner.
Interested in group travel? Indian Trails prides itself on having modern charter buses with all the convenient amenities you expect. Click the button below to request a quote for your group trip.