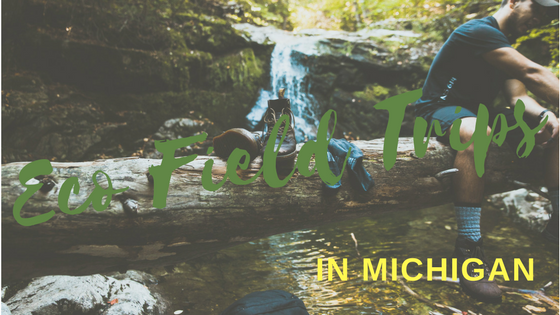 Teaching summer school can be difficult when students would rather be outdoors. But one perfect solution to the problem is to take your students out of the indoor classroom and into the outdoor classroom Mother Nature creates every summer in Michigan. Whether you need a day of hiking and bug finding to blow off steam or a well-rounded program addressing specific aspects of ecology, here are six great programs to consider.
Bugs, Beaks, and Bees
The Leslie Science & Nature Center in Ann Arbor is nature's classroom at its best providing onsite programs for students in grades K-5, many offered year-round. Among the options are "Sensing Nature," a lesson in how animals use their senses to survive; a "Habitat Hunt" that includes a guided hike through the natural area of Black Pond Woods; "Exploring Ecosystems" a guided trip through the area to collect data and keep a scientific journal; "Beaks, Feathers, Talons" that teaches about raptors, and "Insect Investigations" will teach students what it's really like to be a bee gathering nectar for the long winter. The Leslie Science & Nature Center can accept groups up to 60-75 depending on the field trip, and you can read the FAQs to help answer your initial questions.
Organic Farming
If your group is interested in learning about certified organic farming and sustainable living, Tantré Farm in Chelsea is a great place to begin. Experts at the farm will work with teachers to create a program that compliments your school's curriculum and to create an age-appropriate field trip. Field trips offer edible samples and cover such topics as how to use certain fruits, vegetables and herbs in cooking, vocabulary building, songs, and other activities. Field trips go on rain or shine, just like the work of a farm does, and there is a picnic area for students to eat their sack lunches.
All Things Nature
Celebrating their 50th anniversary this year, Blandford Nature Center in Grand Rapids is a budding ecologist's dream come true! The center offers a range of age-appropriate science programs starting with preschool all the way through sixth grade. Topics cover everything from birds and animals to seeds and plants for the youngest and expand to cover ecosystems, farming, watersheds, and wildlife for higher grades. Additional social studies programs (September – June only) examine pioneer life and the ways of the Anishinabek Native American people. Find more on their FAQs page to help plan your trip.
Science and Ecology
The Kellogg Biological Station (KBS) near Gull Lake in Hickory Corners is Michigan State University's largest off-campus education complex, one of the country's top field stations, and a world-class research facility. Not surprisingly, the KBS also has a lot to share with the K-12 crowd and offers tours of the Kellogg Bird Sanctuary, Kellogg Forest, and the Manor House. Student tours include interactive activities along the new Agriculture and Ecology Student Activity Trail, a one-mile nature trail at the Sanctuary with a program that teaches about agriculture, ecology, and the scientific method. All 15 lessons meet Michigan teaching standards, and KBS has also created an accompanying teacher's guide with additional classroom activities. Don't wait, plan your KBS trip today!
Nature's Diversity
Lansing's Woldumar Nature Center is situated on the Grand River and has more than five miles of trails, 178 acres of woodlands, tall grass prairie, and a pine plantation. If you want to get your students excited about nature, Woldumar is a great field trip destination. Available programs are both year-round and seasonal and are designed for age groups from Pre-K through eighth grade with topics like "Animal Homes and Niches," "Insect Safari," "Web of Life," "Wilderness Survival," and there's even a team-building challenge course! All programs are age appropriate and are described in the School Programs Brochure.
Funding Help
To help encourage outdoor educational opportunities specifically involving forests or forest products, the Michigan Department of Natural Resources' Wheels to Woods program offers funding for field trip transportation and resources for teachers and outdoor educators including curriculum guides and training opportunities.
Summer is a great time to learn about the diversity of Michigan's ecology and ecosystems, and Indian Trails is always prepared to help your class have an outstanding field trip and learning experience. We also know traveling with kids on a bus can be challenging, so we created the "Professional's Guide to Bus Trips with Kids" a free download to help make your trip a success! We also have a blog post dedicated to planning a successful field trip! Contact us at info@indiantrails.com or request a quote today.