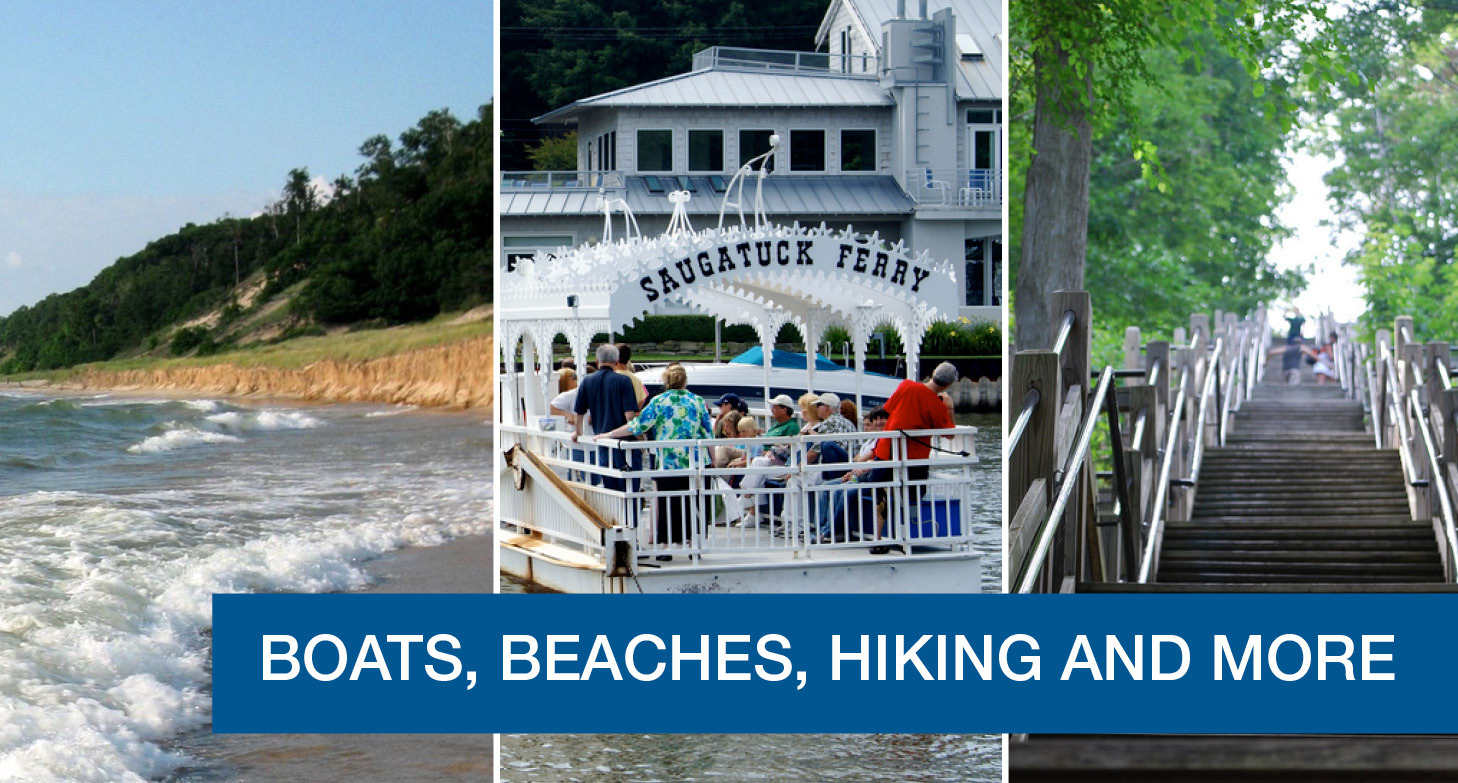 On the Lake Michigan coast lie two towns separated by the Kalamazoo River, but that's the only thing that divides them. Together, Saugatuck and Douglas have become one place that's among the most treasured vacation spots in the country. In fact, in 2018, the towns ranked third on Thrillist Travel's 20 Greatest Summertime Lake Towns and Saugatuck's Oval Beach was ranked fourth on USA Today's Best Michigan Beaches list.
Travel to Saugatuck
So, what makes Saugatuck Douglas so wonderful? First, its people are friendly, open, and truly want to ensure every visitor has a wonderful stay. Second, the ambiance and inclusivity have made Saugatuck Douglas a magnet for folks in the LGBTQ community, who don't just visit, but live and work in these diverse communities. Third (through fortieth) is everything you can do for fun and relaxation. Hiking dunes, beaches and trails, absorbing the arts and culture, and sampling the amazing foods are just a few ways you can experience this incredible place. Let's have a look:
At the Beach
For starters, Lake Michigan is irresistible — it just is — and when you couple that gorgeous expanse of water with an equally gorgeous stretch of sugar-sand beach, it's like reaching a kind of Nirvana. Ahhhhh! So spread out your blanket, grab your book, sip your beverage, and take a quick dip to cool off. What a way to spend a day — but don't forget the sunscreen.
Among the many parks and beaches to choose from are Oval Beach, Westside County Park, Pier Cove Beach, Saugatuck Dunes State Park, Douglas Beach, Laketown Beach, Wicks Park, and Coghlin Park.
On the Water
As long as you're so near the water, you might as well spend a little time on it. The Star of Saugatuck II is a paddle-powered, double-decker slice of yesterday. Reminiscent of a Mississippi River boat from the 1800s, this paddle boat holds 82 people, and you can travel during the day or take a sunset cruise up the Kalamazoo River out to Lake Michigan. You can also make group reservations to take the cruise together.
If you have an experienced boater in your group, why not rent a classic runabout boat and enjoy vintage boating from the late 1950s and early 1960s? The Old Boat House/Retro Boat Rentals has boats waiting for you. Or how about a charter fishing trip? Best Chance Too Charters' Captains "are the winningest salmon and trout tournament fishing team on Lake Michigan."
Appreciate the Arts
Art is another Saugatuck Douglas specialty thanks in part to the 100-year history of the Chicago Institute of Art's Ox-Bow School of Art and Artists' Residency. Founded in Saugatuck in 1910, the 115-acre campus brings artists of all kinds into the community, which has taken the name, "The Art Coast of West Michigan."
Today there are several galleries, including ROAN & BLACK contemporary art and sculpture garden; Button Gallery, with regional and national art indoors and out; James Brandess Studios & Gallery, Inc., featuring regional original art; J. Petter Galleries, with fine arts and a wine bar to make your visit even better; Armstrong De Graff Fine Art, offering the works of regional, national and international artists; Lafontsee Galleries with emerging and established artists' work; Blue Coast Artists, featuring the studios of several different artists; and Saugatuck Art Traders, LLC, offering signed limited edition prints as well as original paintings and sculptures. These are only a few of the artistic possibilities you'll find in Saugatuck Douglas.
Fast or Fine Dining
After a restful day at the beach, an invigorating hike or a day of shopping, you'll be ravenous, and Saugatuck Douglas will not let you down. From pubs and bakeries to cafes and fine dining, the sky's the limit. Here's a sampling of what's on the table:
If pizza is your desire, two awesome options are Marro's Italian Restaurant or Coral Gables; both are vintage Saugatuck and right downtown. For the casual bar and grill scene, there are several available, each with their own specialties like Phil's Bar & Grill for broasted chicken, Christo's Roadhouse Bar & Grill for Mexican, Hercules Bar & Grill for a quiet, Mediterranean-style steak or seafood dinner, or Mermaid Waterfront Bar and Grill for fresh fish.
Other casual dining spots include The Grill Room at Clearbrook Golf Club, Ravines Golf Club & Restaurant, Farmhouse Deli & Pantry, Fresh Basil Café, Crane's Pie Pantry Restaurant & Winery and Alley's Classic American Diner.
When a little elegance is in order, you'll love J. Paul's Restaurant and Wine Lounge at The Kirby, Belvedere Inn & Restaurant, Distinctive Dining demonstration dinners, or Everyday People Cafe. Again these are just a sampling of the great eateries to choose from so take your pick and bon appetit.
Michiganders know that beauty is limitless on the sunset side of Lake Michigan, but the twin towns of Saugatuck Douglas have found a magical mixture of sun, sand, water, art and intoxicating hospitality. Once you take a sip, you'll keep coming back for more. To get a little help planning your next group charter trip, download our "Complete Guide to Booking a Bus." Get even more ideas for great group trips in our blog, "Your Dream Trip: Destinations in Michigan."