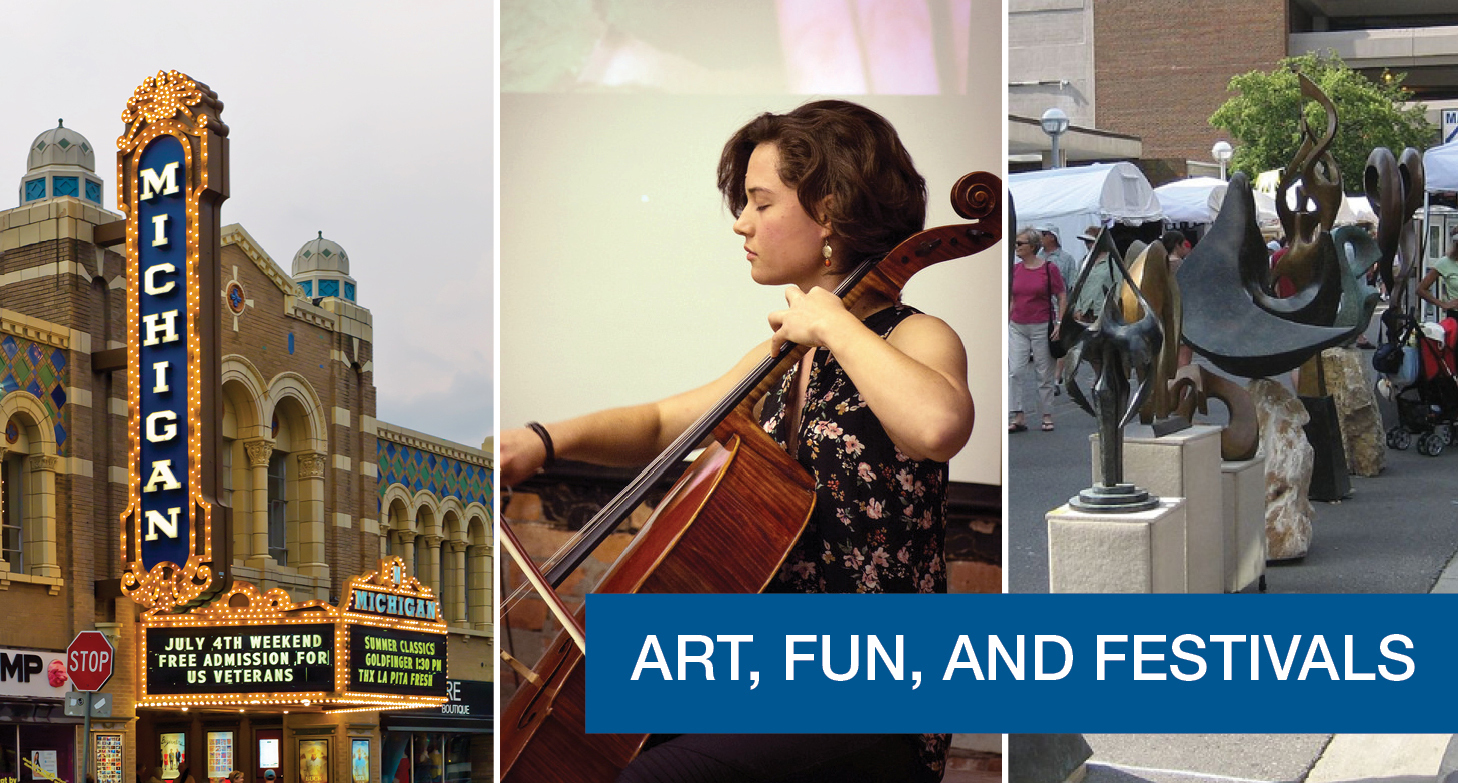 Ann Arbor has long been known as the home of the University of Michigan Wolverines, but there's so much more to the city. Year-round, indoors and out, a trip to Ann Arbor is sure to please even the pickiest of travelers in your group.
Enjoy the Arts
One of the things Ann Arbor is known for is the many arts venues throughout the town. For example, the State Street District hosts events to draw people to the community and celebrate life through music, art, literature, and athletic events. Ann Arbor is also home to a variety of art galleries, studios and shops. The Ann Arbor Art Center, a landmark since 1909, not only showcases art in three galleries, but also provides instruction in a variety of arts at workshops and classes. Among the many other notable galleries and shops are WSG Gallery, featuring fine arts by contemporary regional artists; Found, home to an eclectic mix of handmade jewelry, candles, home accents, and "doodads"; and Pierre Paul, which holds ongoing exhibitions of various artists throughout the year. No Ann Arbor art tour would be complete without a stop at the renowned Motawi Tileworks, a studio of artisans creating unique and beautifully handcrafted ceramic tiles for hanging and installation.
If music is your muse — especially if your group has musicians in it — a great stop is the University of Michigan Stearns Collection of Musical Instruments. Imagine viewing more than 2,500 musical instruments from around the world and across time all in one place. While you're there, you might also take in a performance at the School of Music, Theatre & Dance offering everything from live jazz to opera to symphonies and more. For another artistic sampling on campus, take time to stroll through the University of Michigan Museum of Art (aka UMMA), where the many different exhibitions hold something for every artistic preference.
Shop the Town
For a fun shopping tour, try Ann Arbor's historic Kerrytown District where neighborhood and commerce come together. Begin at Kerrytown Market & Shops where you'll find great eateries, apparel, food and specialty markets. You will want to pick up mementos for the little ones in your life, so be sure to stop by Mudpuddles Toys and browse the award-winning array of creative and educational toys and games. You also won't want to miss The Sunday Artisan Market, offering uniquely creative goods spanning the arts and crafts spectrum.
For those who appreciate great denim fashion, head over to Madewell for timeless denim clothing and accessories that are made to last. Another fun and trendy store ladies will love is Anthropologie for clothing, shoes and furniture for the discerning shopper. If you're ready for a little magic, visit The Caravan Shop in the Nickels Arcade, offering a broad range of jewelry, gifts and products from around the world. For the antique lovers, Antelope Antiques will take you back in time with an amazing array of glass and pottery, furniture, jewelry, artwork, books, and more.
Not-To-Be-Missed Events
Ann Arbor boasts an ongoing calendar of entertainment and other events that are so tripworthy you'll wonder why it took you so long to go! If stage and screen are on your list, two venues to check out are the Michigan Theater and the State Theatre where you can listen to fascinating speakers, musicians, theater productions, and acclaimed films running year-round. The theaters will also be sites for the annual Cinetopia Film Festival in May, which presents a week-long exhibition of all kinds of films including dramas, comedies and documentaries. Your group will also love the Ann Arbor Film Festival in March, a juried competition with more than 3,000 entries from more than 65 countries. The festival is one of just a few Academy Award®-qualifying events in the country.
When summer arrives, it's time for the Ann Arbor Summer Festival, celebrating entertainment and the arts across genres with great food, workshops and wellness, and offering something for everyone of every age to enjoy. This community event spans four weeks in June and July and has been a tradition for families throughout the region for more than three decades.
While it's warm, Ann Arbor makes the most of it with the annual Ann Arbor Art Fair in mid-July, which is actually four separate fairs with more than 1,000 artists combined. The Ann Arbor Street Art Fair, The Original, is on Ingalls Mall, N. University, and E. Washington; the State Street District Art Fair is in the area near State and Liberty Streets; the Ann Arbor Summer Art Fair is downtown on Main and Liberty Streets and on campus on S. State Street; and Ann Arbor's South University Art Fair on the southern edge of campus. In addition to amazing arts and crafts, visitors will enjoy live entertainment, artist demonstrations and activities, and great food and drink vendors.
These are just a few of the many fun, fascinating and informative things to do in Ann Arbor, and there's more at visitannarbor.org. If you could use a little help booking your group's transportation, download our "Complete Guide to Booking a Bus" for tips from the pros. Get even more ideas for great group trips in our blog, "Michigan Destinations: Your Dream Trip Guide."