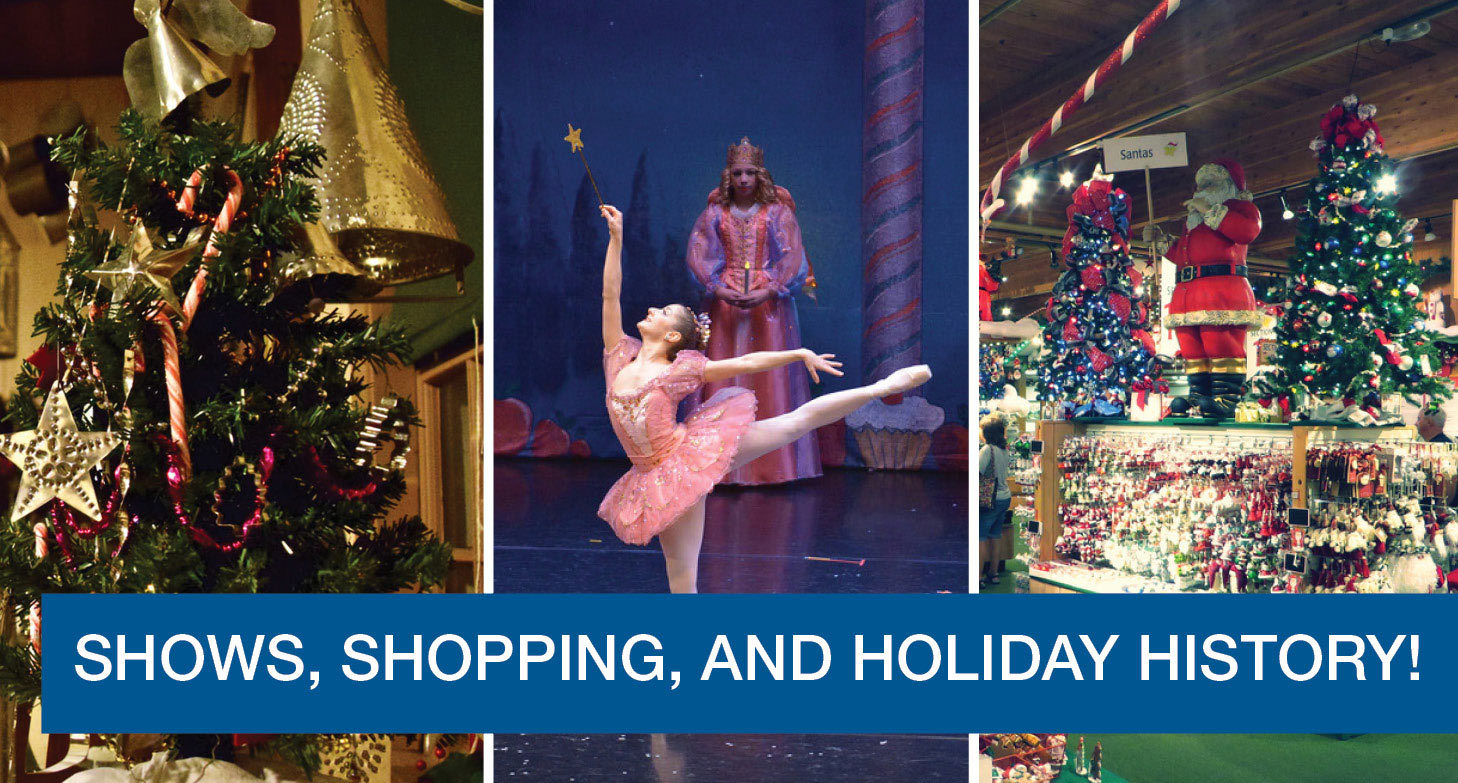 The holidays are truly the most wonderful time of the year, especially in Michigan where there are so many ways to make every minute of the season count. This year, start a holiday bucket list for your group and choose from destinations that offer some of the state's best and most festive events.
Michigan Holiday Event Trips
Christmas All Year Round
Arguably the most "holidayish" place in Michigan, Bronner's CHRISTmas Wonderland in Frankenmuth keeps Christmas alive 365 days a year. As the big day approaches, special events fill their calendar. Enjoy the interactive story of Christmas told by an authentic St. Nicholas, hands-on projects like Paint-N-Go with an in-house artist who paints a special ornament for you, or view one of three DVDs that detail the history of Bronner's and how it came to be.
If your group is among the many that collect Christmas décor like Ginger Cottages, Department 56 village pieces, or any of the amazing ornaments by Hope Glass Works and Egyptian Museum, plan to have your purchases signed by onsite artists. When your day of shopping is complete, take a drive down Christmas Lane in Frankenmuth where more than 100,000 lights transform Bronner's into a winter wonderland each evening, complete with animated decorations.
Holiday Nights
One of Michigan's most historic places, Greenfield Village, is also one of the merriest during the holiday season. Beginning Nov. 30, the Village hosts Holiday Nights with a Main Street reminiscent of days past, house tours showcasing centuries of holiday traditions, vignettes with costumed presenters, and carolers and musicians galore.
If your group is looking for more than a holiday stroll, they won't have to look far for ice skating, or a visit with Santa and his live reindeer. You can even take a ride to remember on the 1913 Herschell-Spillman Carousel, a historic horse-drawn wagon ride, or a spin in a Ford Model T. At the end of the night, all the holiday cheer culminates with a fireworks finale and sing-along. This is one holiday bucket list trip you'll want to check off every year.
Michigan's Holiday Kick-Off
Silver Bells in the City has become as much a tradition as our state Christmas tree in front of the Capitol building. If you have never been to Silver Bells, make this the year you cross it off your bucket list. This is the 34th year for Silver Bells and it will be held on Nov. 16 in downtown Lansing.
Come rain or snow, the event begins with the Electric Light Parade at 6 p.m. with nearly a dozen high school bands all lit up to compete for a $1,000 prize for Best Illuminated Band. Dozens of state and local businesses, organizations and institutions will be taking part with floats and vehicles covered in thousands of lights. Not to mention Santa Claus will be making a guest appearance.
After the parade, there's the Community Sing, the annual lighting of the state Christmas tree and a concert that people of all ages will enjoy. Finally, the fireworks will signal an end to a wonderful holiday tradition for one more year.
Sweet as a Sugarplum
Another wonderful holiday activity is to take in a performance of "The Nutcracker," Tchaikovsky's quintessential ballet that tells the endearing story of a beautiful young girl, a nutcracker prince, and their travels through the Land of the Sugar Plum Fairy to the Kingdom of the Sweet. Due to its undying popularity, The Nutcracker will be offered at venues throughout the state, including:
The Michigan Opera Theatre in Detroit, a production of BalletMet and the Michigan Opera Theatre Orchestra, with presentations on Nov. 24 and 25.
The Grand Rapids Ballet at DeVos Performance Hall with the Grand Rapids Symphony, with weekend performances from Dec. 14-23.
Three different Michigan venues will present the "Great Russian Nutcracker" performances by the incomparable Moscow Ballet in 2018:
The Fox Theatre in Detroit has three upcoming performances on Dec. 23.
Miller Auditorium in Kalamazoo has one performance on Dec. 5.
The Temple Theatre in Saginaw has one performance on Nov. 4.
The Michigan Theater in Ann Arbor combines the Academy of Russian Classical Ballet and the Michigan Classical Ballet for one performance on Dec. 15.
Chelsea High School will host a collaboration between the Jackson Symphony Orchestra and Ballet Chelsea for their 21st annual performance, presented Dec. 1-2 and 8-9.
The holidays only come once a year so help your group make the most of the wonder and plan a holiday bucket list trip now. Book with Indian Trails and leave the winter driving to us.