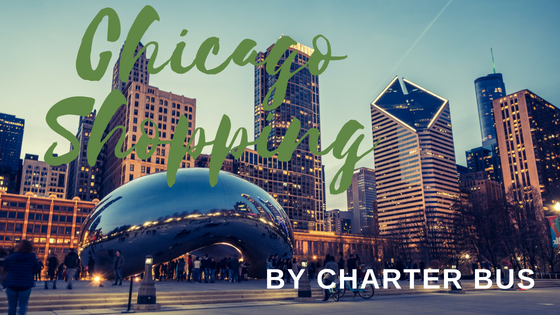 It's no secret: Chicago is a world-class shopping destination — home to more than 30,000 high-end retailers, specialty boutiques, couture houses, international brands, chain stores, and outlets — and it's just a few hours from mid-Michigan by motorcoach. If your heart is beating just a little bit faster right now, maybe it's time to ask yourself: Who needs New York when you can shop Chicago?
Upscale Shopping in Chicago

Photo by: Bert Kaufmann, from Wikimedia Commons
The Magnificent Mile
A few blocks from the western shore of Lake Michigan, near downtown Chicago, there is a magical place, a shopper's Valhalla known as The Magnificent Mile. This mile-long stretch of North Michigan Avenue, extending from Oak Street to the Chicago River, houses retailers from A to Z (quite literally, from Abercrombie & Fitch to Zara). The "Mag Mile" is home to such high-end department stores as Bloomingdales, Nordstrom, Neiman Marcus, Barneys New York, and Saks Fifth Avenue, plus the massive flagship Crate and Barrel store with its four-story circular atrium and four levels of furniture, housewares, and accessories displayed in ever-changing, artful, drool-worthy room vignettes.
You'll also find dozens of hot designer boutiques like Giorgio Armani, Cartier and Gucci (where you can pick up those leather high-top sneakers you've been wanting for a cool $1,250). Tucked within The Magnificent Mile are three distinct high-rise malls: 900 North Michigan Shops, The Shops at Northbridge and Water Tower Place, each with its own anchor department store, signature shops, specialty services, and eateries. Whether you're a window shopper, shopper-on-a-mission, or a confirmed shopaholic, a shopping trip to Chicago is pretty much synonymous with shopping The Magnificent Mile.
Oak Street Shops
Oak Street — at the north end of The Magnificent Mile in Chicago's tony Gold Coast neighborhood — is considered the city's most prestigious shopping district, the Midwestern equivalent of Rodeo Drive or Fifth Avenue. A mix of couture houses, luxury brands, international boutiques, upscale restaurants, and private homes coexist on one quiet, tree-lined street. Shop Dolce & Gabbana, Jimmy Choo, Escada, Hermès, Prada, and many more — all on one walkable street. Many of the shops on Oak Street are former residences converted into retail spaces; even the newer buildings are designed to incorporate the aesthetics of the neighborhood.
Trendy Shopping in Chicago
Wicker Park/Bucktown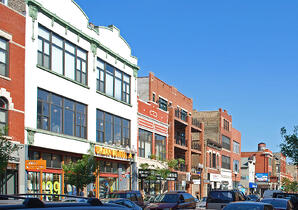 Just west of the downtown loop, tucked between hipster Logan Square and historic Lincoln Park, you will find one of Chicago's trendiest and most eclectic shopping destinations, Wicker Park/Bucktown. In the 1800s, the Wicker Park/Bucktown neighborhood was an enclave for German, Norwegian, Polish, Irish, and Jewish immigrants. Today, the gentrified district is a haven for independent specialty boutiques — a bohemian mix of vintage clothing stores, emerging designers, and international trends in apparel, accessories, and home décor.
Photo by: Andrew Jameson, from Wikimedia Commons
Kokorokoko, at 1323 Avenue, specializes in fashions from the 1980s and '90s. Vintage Underground, at 1507 North Milwaukee Avenue, features vintage jewelry, clothing and accessories. Silver Moon, 1721 West North Avenue, owned by a stylist for Aerosmith, offers a collection of daywear and formal attire, including fabulous vintage bridal gowns.
Boutiques, Gifts and Accessories

Moon Voyage, 2010 West Pierce Ave., is a women's boutique featuring trendy clothing and accessories as well as home good from top designers. Robin Richman, 2108 North Damen, presents unique clothing, accessories, and art objects in a space that feels as much like a gallery as a store. Una Mae's, 1528 North Milwaukee Avenue, offers a "hipster-chic" selection of men's and women's apparel, accessories, and gifts — both vintage and new. Havlan & West, 1870 North Damen, offers hard-to-find women's lines like Elan USA and Glamorous and a variety of jewelry, accessories and décor. One Strange Bird at 2124 West Division, is a storefront art center featuring handmade gifts, apparel, and "brazenly unique" art and accessories in a studio space where you can often watch artists at work while you shop. Rudy's Roundup, 1410 Milwaukee Avenue, describes itself as a "modern day general store," carrying new, vintage, retro and handmade jewelry, accessories, paper goods, housewares and gifts.
Outlet Shopping in Chicago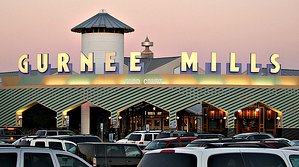 You can find plenty of outlet shopping in and around Chicago. There's Chicago Premium Outlets Mall, Gurnee Mills Outlet, Lighthouse Premium Outlets, and Premium Outlets — all top-notch shopping experiences, where you may even find several stores not commonly found in other outlet malls around the country.
But for discount shopping at the outlet mall of all outlet malls, plan to travel 15 miles northwest of downtown Chicago (30 to 45 minutes by bus, depending on traffic) to Fashion Outlets of Chicago (FOC) in Rosemont. This indoor mall — open since August 2013—houses more than 130 outlet stores in 530,000 square feet of space, all under one roof. For starters, you will find Bloomingdales the Outlet Store, Neiman Marcus Last Call, and Saks OFF 5th. Then there's Gucci, Prada, Barneys New York, Cole Haan, Burberry, and Michael Kors, alongside 100+ other retailers — many that you'd expect to find at an outlet mall, others that will surprise and delight you. As you shop, you're surrounded by interactive visual art (thanks to the mall's partnership with The Arts Initiative) in an airy contemporary environment. To further enhance your shopping experience, FOC offers package delivery and shipping services, lots of special events, incentives for groups, 15 eateries, and up to 75 percent off retail on everything your heart desires. And if that heart happens to be beating a little faster than usual right now, you know what you need to do. FOC awaits!
Whether you're a fashionista, hipster, or treasure hunter, Chicago is a veritable shopper's paradise just a few hours from mid-Michigan by motorcoach. Looking for the right charter bus for your trip? Look no further!