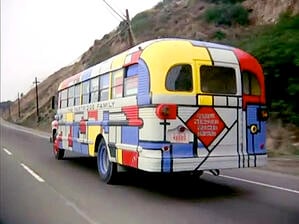 There is something about buses—especially tour buses—that captures our collective imagination.
Throughout history, literature, and popular culture, buses have always held the elusive possibility of adventure, romance, even magic—a symbol of the American spirit. In fact, if you want to sum up the American experience, just take a look at some of our buses.
The "Trip" of a Generation
In the summer of 1964, One Flew Over the Cuckoo's Nest author Ken Kesey, along with his band of "Merry Pranksters," drove a customized school bus—painted in psychedelic colors and filled with (then-legal) LSD and other hallucinogens—cross-country from San Mateo, California to the New York World's Fair. Their drug-infused road trip inspired journalist Tom Wolfe's classic book, The Electric Kool-Aid Acid Test, the definitive chronicle of 1960s American counterculture.
"C'mon, Get Happy"
Who can forget "The Partridge Family"—the primetime TV hit show about a widowed mom (Shirley Jones) and her five kids (including teen idol David Cassidy) who form a pop music group and tour the country in a 1957 Chevy bus painted in Mondrian-inspired color blocks. The sitcom aired from 1970 through 1974 and spawned such unforgettable hits as "I Think I Love You" and "I Woke Up in Love This Morning." The bus was featured in every episode—with lots of dreamy musical montages on board.
"On the Road Again"
When Willie Nelson crooned, "On the road again -- like a band of gypsies, we go down the highway," you can bet he was referring to life on his rock star tour bus, Honeysuckle Rose. Never mind that Willie Nelson is a country music star; his home away from home is the quintessential rock star bus nevertheless, a legend on wheels, a rolling party. The bus logs 135,000 miles a year, all of them powered by BioWillie, a proprietary biodiesel fuel blend of soybean and other vegetable oils. Now, if that's not a "rock star" bus, we don't know what is.
"Bus, do your stuff!"
That's what science teacher Ms. Frizzle would say every time her shape-shifting school bus was getting ready to transform itself into something like a space ship, or submarine, or time machine. "The Magic School Bus," which began as a series of children's books, became a popular animated PBS children's program in the 1990s, featuring the voices of Lily Tomlin (as the kooky Ms. Frizzle), Little Richard (on theme song vocals), and guest stars Ed Asner, Dolly Parton, Tom Cruise, Carol Channing and dozens more. Each episode featured a wildly adventurous field trip aboard a magic bus that transported students into the solar system, to the depths of the ocean, inside the human body, and even to prehistoric times.
"When Momma Parks sat down, the whole world stood up."
You might say the civil rights movement began on a Montgomery, Alabama, city bus. It was the evening of December 1, 1955, when a 42-year-old African American seamstress, Rosa Parks, refused to give up her seat in the "Whites Only" section and stand at the back of the bus to make way for white passengers. She was arrested, sparking a 381-day boycott of the Montgomery city bus system and, ultimately, the 1956 Supreme Court ruling that segregation on public transportation was unconstitutional. The actual bus that Rosa Parks rode is on display at the Henry Ford Museum at Greenfield Village in Dearborn, Michigan. http://www.thehenryford.org/exhibits/rosaparks/home.asp
"We shall not be moved"
The Freedom Riders were a racially mixed group of civil rights activists who rode interstate buses into the segregated south in 1961 to protest rampant non-compliance with anti-segregation laws there. The further south they rode, the more violence they encountered at the hands of the Ku Klux Klan, angry mobs, and even the police. Hundreds of freedom riders were arrested and jailed in maximum-security prisons for trespassing, unlawful assembly, and violation of local Jim Crow laws. One of the buses was firebombed in Anniston, Alabama; another made it to Birmingham, where it was met by a vicious mob and brutal attacks.
The Campaign Bus
Like the whistle stop train tours of 20th century presidential campaigns, today's campaign buses serve as a mode of transportation and a mobile campaign office for candidates making brief appearances in towns all over the country. Road trips with would-be presidents have become the stuff of legend. We know them by their names—like John McCain's "Straight Talk Express," or Mitt Romney's "Every Town Counts" tour, or John Edwards' "Main Street Express." Then there are the parodies, like "Driving Miss Crazy" (the name liberal democrats gave to Sarah Palin's bus tour) or the "Blame the Other Guy" tour, a Republican nickname for President Obama's 2012 campaign bus tour. The Obama administration drew criticism in 2011 for spending $1.1 million to purchase a state-of-the-art armored bus—made in Canada—for the president's re-election campaign.
• • •
These are buses that helped to define a whole generation, buses that changed the world. But buses also touch us on a personal level. Think about a significant bus in your own life. Maybe it was your first trip away from home, or the beginning of a great adventure, or a bittersweet journey toward a new life. Whatever the connection, buses seem to mean something to almost everyone. What do they mean to you?