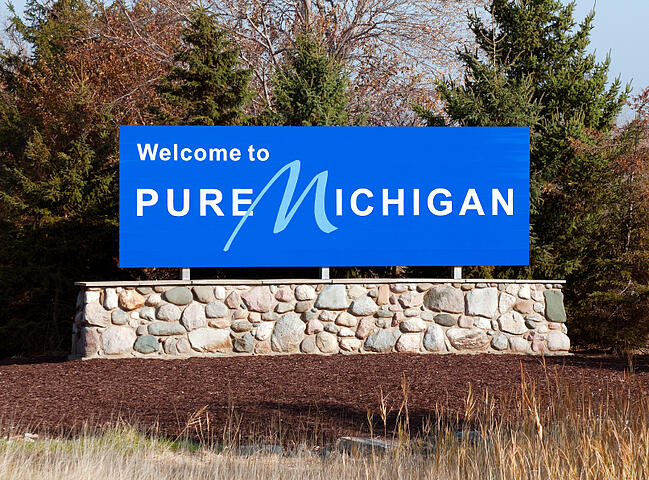 If you're looking for bus group ideas this summer, we've got you covered.
Quick, what's the first thing that comes to mind when you think of summer in Michigan? Aw, c'mon … did you really just say "road construction"? Isn't it time to think outside the traffic cones? Everyone knows summer is festival season in Michigan! "If you seek a pleasant peninsula …" well, you already know where to look. But if you seek a celebration of fishflies, baby food, magic, bologna, or llamas … scroll down. There's a festival for that. (And a motorcoach to get you there.)


Wednesday, July 16 – Saturday, July 19, 2014
Fremont, Michigan
Fremont, Michigan, population 4,400, is home to the Gerber Products Company—beloved producer of pureed peas, strained squash, and those little pink hotdogs in a jar—making it the Baby Food Capital of the World and site of the annual National Baby Food Festival, a four-day celebration of all things baby. There are the usual baby-oriented events, like "Rock and Rest," the "Baby Crawl," and a baby photo contest to find the cutest babies in west Michigan and crown them the "prince and princess" of the National Baby Food Festival. There's a petting zoo, pony rides, face painting, a midway, and all kinds of friendly competitions: hula hoop, bubble gum blowing, and pie-eating contests; bicycle and rolling bed races; and an adult baby food eating contest, in which blindfolded contestants attempt to feed each other baby food—a surefire way to invoke their inner babies (and get sweet potatoes in their hair).
Fremont is in Newaygo County, between Muskegon and Ludington, with 356 river miles, 256 inland lakes, and proximity to Lake Michigan beaches and the Manistee National Forest. If you attend the National Baby Food Festival, be sure to spend some time window shopping in Fremont's charming Main Street district, sample a local brew at one or more of the areas breweries, and don't miss the Saturday night Public Star Party at the Stephan F. Wessling Observatory.
Friday, July 25 – Sunday, July 27, 2014
Yale, Michigan
"It's all about the bologna!" That's this year's catchy slogan for the Yale Bologna Festival, an annual tradition since 1989. Yale, Michigan (population 2,000), located at the bottom of the thumb region in St. Clair County, is the unofficial bologna capital of world. So, as you can imagine, the townspeople take their bologna and its festival pretty seriously (if your idea of "seriously" includes an outhouse race, bologna sandwich eating contest, and the crowning of a King and Queen of Bologna). Along with these solemn events, the festival also features crafts, a cardboard boat race, a car show, fireworks, food vendors, live music, and a parade down Main Street.
If you visit Yale this summer, stick around to explore the Blue Water Area—140 miles of shoreline on Michigan's eastern shore—famous for its lighthouses, museums, wineries, beaches, trails, water sports, and many of the state's berry farms, wineries, and apple orchards.


Wednesday, July 23 – Saturday, July 26, 2014


Wednesday, August 6 – Saturday, August 9, 2014
Colon, Michigan
Colon, Michigan (named after the punctuation mark, not the large intestine, in case you were wondering) is the burial place of illusionist Harry Blackstone (aka "The Great Blackstone"), home to three magic shops, and, not surprisingly, the self-proclaimed "Magic Capital of the World." Prepare to be amazed this July and August as villagers say "abracadabra" and make their small town's population double right before your very eyes for two big events:
July 23-25: the 11th Annual MagiCelebration Magic Festival, sponsored by Colon's own FAB Magic Company. Organizers promise spectacular comedy magic shows every night, two family fun nights, magic contests with cash prizes, and more.
August 6-9: Colon Magic Week and Abbott Get-Together Convention, sponsored by Abbott's Magic Company in celebration its 80th anniversary. The get-together is a gathering of professional magicians and a profusion of magical events: shows, lectures, street performances, fireworks, talent contests, and even an arts and crafts fair sponsored by the Friends of the Colon Library.
If you visit Colon this summer for one or both festivals, stay a while and make a little magic of your own. Situated in southwest Michigan on the Indiana border, Colon Township's 1,000 acres of water (eight lakes and the St. Joseph River) offer boating, swimming, fishing, beaches, and every imaginable water sport (from tubing to water-skiing). There are campgrounds, picnic areas, historic walking tours, and shopping.
Friday, August 29 – Sunday, August 31, 2014
Michigan State University Pavilion, East Lansing, Michigan
If you are a "llama person," you already know fact from fiction when it comes to these cuddly, smiley-faced members of the camel family. For example, you know that llamas are social animals that live in herds, within a family group, and that they only spit and kick when they feel threatened or need to discipline a lower-ranking member of the herd. If you are a breeder or owner, terms like "get of sire," "kush," and "pronking" roll right off your tongue. You probably even know why llamas hum. For the rest of us, the cool thing about the annual Lama Fest—the largest show of its kind and one of the longest-running in the country—is that it caters both to owners and the general public. Along with watching llamas and alpacas strut their stuff in the ring, visitors to the Lamafest can participate in a scavenger hunt, enter a costume contest, and shop for unique llama- and alpaca-themed gifts.
If you go to Michigan State University for the Lamafest, you really owe it to yourself to take a tour of the nation's first land grant university. Beaumont Tower, with its 47-bell carillon, marks the site of College Hall, the first building in America erected for the teaching of scientific agriculture, and is a must-see. The MSU Museum, the Abrams Planetarium, Beal Botanical Gardens, MSU Farms, the Kresge Art Center, the MSU Dairy Store (for homemade ice cream), the MSU Union Building, and the National Superconducting Cyclotron Laboratory are among the most popular campus attractions.
There you have it: all the ingredients for a memorable getaway for your group this summer. And here is the recipe:
Start with a Michigan festival—the quirkier the better.

Mix with an interesting location in a beautiful part of the state.

Add a group of people who enjoy being together.

Fold in any combination of festival-going, shopping, dining, sightseeing, exploring, relaxing, and playing in the great outdoors.

Top it off with a luxury motorcoach to get you and your group everywhere you want to go—safely, efficiently, and cost-effectively.
Try it. Tweak it. Tell us about it. And be sure to file it with your favorite recipes for quintessential summer fun in Michigan.