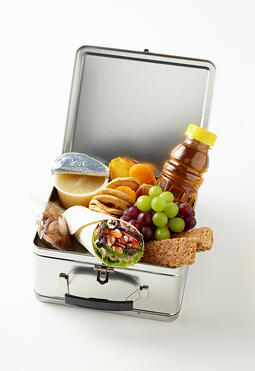 When travel planning involves meal planning, smart planners remember their history lessons. It was Napoleon who famously noted that "an army marches on its stomach." But any travel planner can tell you, it's not just armies that demand their rations. Bus groups need food, too. When it comes to basic human needs, food is right up there with shelter, clothing, and sleep. But food is also an object of pleasure and enjoyment, replete with social, cultural, and even emotional significance. Whether your group is a high school football team or the local women's club, your passengers expect something tasty and filling as they travel from point A to point B.
But on a bus – and a budget – it can be challenging to find meals that are satisfying, nutritious, and affordable. Food at rest areas and truck stops is notoriously low in nutrition and high in fat, sugar, salt, and calories. Depending on the route, your choices may be limited to fast food or overpriced snacks at convenience stores. Fortunately, there are other options for feeding your army, or large group.
Bus Trip Snacks
Most groups – especially kids' groups – enjoy "a little something" every few hours. Pack a cooler full of healthy snacks and drinks to help keep those "hangry" feelings at bay. You can designate a snack time or let people help themselves along the way. Don't forget to pack plenty of napkins and hand wipes.
A few ideas for easy and wholesome snacks:
Whole fruit, like apples, pears, grapes, and bananas.
Nuts in individual serving packages.
Crackers and/or pre-packaged peanut butter or cheese crackers.
Granola bars.
Raw vegetables with individual containers of dip (like Ranch dressing or hummus).
Bottled water.
Juice boxes.
Bus Friendly Meals
Unless your bus trip is a food or wine tour, no one expects a gourmet spread at mealtime. But that doesn't mean "bus food" can't be healthy and delicious. Many travel planners opt for boxed lunches. They are hearty, wholesome, and – best of all – they have been prepared, packed, and labeled by someone else.
We've identified five popular restaurant chains that do a nice job packing boxed lunches that are convenient, reasonably priced, and – all things considered – pretty good for you. Order in advance and your lunches – in stackable boxes complete with labels, plates, napkins, and utensils – will be waiting for you when you're ready to roll. Or, do what many savvy planners do and arrange a pickup along the way. If you time things right, your lunches will be fresh and ready just when the bus (and its passengers) need to refuel.
Here's the low down on how to fill 'em up.
Quiznos makes submarine sandwiches, grilled flatbreads, "sammies" (pita wraps), and salads. For your lunch boxes, you can choose from a small or regular sub, flatbreads (two per order), or a salad (starting at $5.99) or let Quiznos provide a mixed selection. Sandwiches and flatbreads come with chips and a cookie; salads come with a cookie.
Panera Bread is a chain of bakery-cafés serving fresh baked pastries and breads and a variety of sandwiches, salads, and soup. With a few hours' notice, most neighborhood Panera restaurants will package up boxed lunches (starting at $9.59) and will even label each box with the food item and the person's name. Choose from the full menu of Premium, Premium Signature, and Café sandwiches, served with potato chips, a pickle spear, and a cookie. Salad box lunches come with a French baguette and cookie. The half sandwich/half salad lunch comes with a cookie.
With more than 40,000 Subway restaurants worldwide, you should have no problem finding one along your route. A boxed meal – known as "Subway to Go!™" – consists of a customized 6-inch sandwich of your choosing, a big cookie, and a choice of chips, apple slices, or a carton of yogurt (starting at $6.99). A bottled beverage can be added for an additional charge.
Grab your boxed lunches at a Bob Evans restaurant, where they "treat strangers like friends and friends like family." Okay, the slogan may be a little corny, but admit it: There's something comforting about being on the road – a stranger in a strange place – and finding something so completely familiar. Boxed meal selections include a regular or half sandwich, served with chips, a chocolate chunk cookie, and your choice of fresh fruit or coleslaw ($7.00 - $9.00). Or, order a salad in a box (Cobb or Cranberry Pecan Chicken) served with bread and a cookie for $7.00.
You can find a Jimmy John's franchise in most U.S. states, where they make "the world's greatest gourmet sandwich," if they do say so themselves. Give them 24 hours to put together a large order (25 or more meals) and you can choose any sub or club sandwich, with your choice of chips, a giant cookie, and a pickle spear in your own personal box (from $9.82 to $10.88).
As with all your travel planning, give yourself enough time to call or visit the restaurant or its website to learn:
Guidelines for placing your order.
Deposit, payment, and cancellation policies.
Any discounts or specials your group may be eligible for.
When you pick the food up, check (or at least spot check) the order. Be sure you have plenty of plates, napkins, utensils, and condiments.
Bon appétit!
Bus trips with kids require more planning. Have a great trip and cover your liability with this comprehensive guide. Click on the button above to get yours free.