When is it practical to choose a bus charter service over car travel?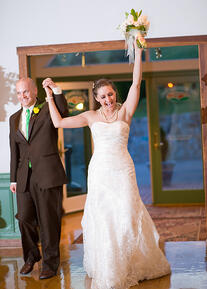 Athletic teams do it. Casino day-trippers do it. School groups do it. And, increasingly, other groups—social clubs, businesses, even families—are realizing the benefits of motorcoach travel over driving … and choosing to charter.
Buses for Life Cycle Events
There are certain milestones in life that punctuate the human experience. Call them "life cycle events"—birth, marriage, and death are the obvious ones; but certain rites of passage, major transitions, and notable achievements seem to call for celebration. In every culture, throughout time, people have always acknowledged these life cycle events communally, surrounded by family and friends. In plain language: There are times when you just have to throw a party.
Any time people gather to celebrate, or even to mourn, there are countless logistical considerations; and transportation ranks right up there with food, lodging, and folding chairs.
When considering your options for transporting a group for your life cycle event, remember that a bus charter can be a convenient and affordable alternative to driving.
Case in Point
Think about your typical weekend wedding—the wedding of "Sheri" and "Jake," for example. Friends and family will fly and drive from points far and near to attend the summer nuptials. (Of the 150 guests, at least half of them live out of town.) Since Jake and Sheri are young, many of their friends are as poor as proverbial church mice; seeing as these friends are spending their last dime on airfare, hotel accommodations, and a wedding gift, it might be a hardship to also rent a car. Several of the out-of-town guests are elderly—Sheri's grandparents and Jake's great Aunt Lillian are all in their 80s—and no longer drive at night. There are five venues and four events associated with the wedding: a headquarters hotel for out-of-towners, the party room of a downtown restaurant for the rehearsal dinner, a house of worship for the ceremony, a country club for the reception, and the private home of Sheri's parents for a brunch the day after the wedding.
In this case, chartering a bus is not only a gracious and thoughtful gesture; it is the most practical transportation option the couple could choose. No long caravans getting separated at red lights, no parking hassles, no hard-to-follow directions, no late night driving after hours of revelry.
Life Cycle Events
Here are some other life cycle events when a charter bus makes a lot of sense:
Baby naming, christening, and baptism ceremonies

Religious and secular rites of passage such as bar and bat mitzvahs, quinceañeras, confirmations, and sweet sixteens

Graduations

Bridal showers and baby showers

Weddings

Anniversaries

Retirement parties

Funerals, memorial services, and burials
When does a bus charter make sense?
If you are thinking about chartering a bus, ask yourself a few simple questions:
Do you need to transport 25 or more people?

Would the event be more enjoyable, meaningful, or memorable if people could travel there together?

Is a bus charter more cost-effective than driving?

Would chartering a bus be easier and more efficient than coordinating transportation for a large group of people?

Would your group members appreciate not having to worry about parking, directions, renting a car, or other considerations?
If you answered "yes" to any or all of these questions, consider calling a reputable charter bus company to explore your options. You may find that chartering a bus is the best way to get from here to there.

Plan your next trip with this easy to use organizational tool. It's FREE and we will deliver it to your email inbox immediately. Enjoy the trip!