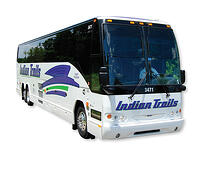 If you're shopping for a charter bus company in west Michigan, you're in luck. With companies like B&W Charters, Cardinal Buses, Compass Coach, Holiday Coach, and Indian Trails headquartered there, west Michigan is a veritable hub of charter bus travel.
To help you narrow down your search, we've identified five local carriers with excellent track records. On top of luxury accommodations, uniformed drivers, and state-of-the-art technology, these selected charter bus companies also meet the following criteria:
They have all operated in Michigan for at least 10 years.
They have all earned consistently high safety ratings from the Department of Transportation.
They all have their own maintenance facilities.
Here's the lowdown on our top five picks:
Locally owned and operated since 1983, B&W Charters offers motorcoach transportation for trips originating in western Michigan and northern Indiana. In addition to a fleet of vans and motorcoaches, B&W offers fully enclosed San Francisco-style trolleys with brass rails, oak benches, and an authentic trolley bell. They're also equipped with panoramic windows for sightseeing . The company's tour department operates one-day and multiple-day excursion packages, like an upcoming trip to Frankenmuth and Birch Run and a shopping and sightseeing tour to Chicago.
Cardinal Buses, a family-owned company with charter facilities in Michigan and Indiana, traces its beginnings to Middlebury, Indiana, circa 1923. That's where Branston Shoup operated the family's first business, the Middlebury Bus Line, which transported locals from Middlebury to Goshen in a five-passenger Model T touring car. Today, Cardinal Buses maintains a fleet of motorcoaches to accommodate 24, 38, 47, 49, or 56 passengers.
With 54- and 58-passenger motorcoaches, Compass Coach is probably best known for its Lucky 777 Coach buses, with day and evening casino trips (from Tuesday through Saturday) to Soaring Eagle, Gun Lake, FireKeepers, and Little River casinos. In addition to vouchers for slot play and food (often exceeding the cost of your bus ticket), Compass Coach also gives away free trips: Get your reward card punched every time you ride and your tenth trip is free. Buses are equipped with the usual luxury amenities, plus mini galley kitchen with microwave and a four-person card table.
Holiday Coach, with a fleet of 57-passenger motorcoaches, specializes in charters for sporting events, winery tours, casinos, and theme parks in Michigan and throughout the Midwest. The luxury buses – built by Volvo and Setra – come with amenities like plush reclining seats, TV monitors, reading lights, Wifi, and extra luggage room. Headquartered in Marne, Michigan, just northwest of Grand Rapids, Holiday Coach has been in business since 2003.
Doing business since 1910, Indian Trails – with original coaches named after Michigan Indian chiefs – now operates one of the largest and newest fleets of deluxe motor coaches in Michigan. With buses to accommodate from 29 to 56 passengers, Indian Trails offers charters, tours, shuttles, airport transfers, casino runs, and daily scheduled routes throughout Michigan as well as to Chicago, Milwaukee, and Duluth. Now in its third generation of family ownership, Indian Trails is one of the nation's leading motorcoach companies. In 2010 – 100 years after its inception in Owosso, Michigan – Indian Trails logged 4.2 million miles, carrying more than 1,000,000 passengers.
Professional event planners helped us compile a guide for people that are booking a charter for thier group. It is a quick read and a wonderful reference for creating the right travel expereince for your group. Cick on the image above and your FREE guide will be emailed to your inbox immediately.