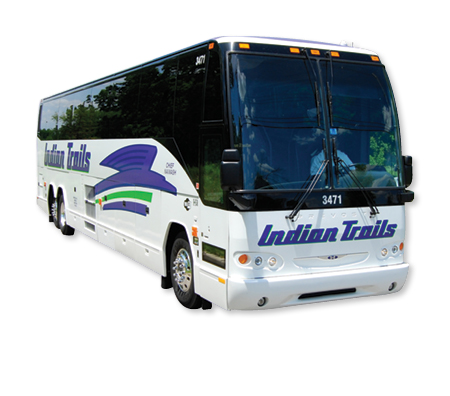 If you're shopping for a charter bus company in eastern Michigan, you have a lot of good choices – Blue Lakes, Bianco, Trinity, and Indian Trails, to name a few. You can afford to be picky. When selecting a carrier, considerations such as price, convenience, and amenities will influence your decision, of course. But before comparing the "nice-to-have" features, be sure that any bus company you consider possesses these "must haves":
A "satisfactory" rating with the Federal Motor Carrier Safety Administration. It's easy to check. Just go to http://www.safersys.org and type in the company's name.
A valid Motor Bus Certificate of Authority, issued by the Michigan Department of Transportation.
Insurance coverage (a minimum of $5 million for companies that transport 15 or more passengers).
Drivers who possess a CDL (commercial drivers license) issued by the state of Michigan and a medical certificate (i.e., "clean bill of health") issued within the last two years.
Mandatory drug and alcohol testing for drivers and other safety-sensitive employees (like mechanics).
To help you narrow down your search in eastern Michigan, we've selected a few charter bus companies – Bianco Tours & Transportation [travelandtourstaylormi.com], Blue Lake Charters & Tours [http://www.bluelakes.com], Indian Trails [http://www.indiantrails.com], and Trinity Transportation Group [http://trinitytransportation.com] – that offer additional peace of mind. It's nice to know that:
They've all been in business for at least 10 years.
They've all earned consistently high safety ratings from the Department of Transportation.
They all have their own maintenance facilities.
They are all certified as U.S. Department of Defense (DOD) approved carriers, meaning they meet or exceed the most rigorous standards for safety, maintenance, training, and overall quality.
Now in its 34th year, Bianco Tours & Transportation operates luxury motorcoaches that can accommodate 26, 47, and 56 passengers. The family-owned company specializes in customized and pre-packaged tours to destinations like casinos, sporting events, shopping venues, and live performances. They also plan some quirky and creative day trips. For example, the Rum Runners Tour travels into Windsor (and back in time to the roaring twenties) to explore prohibition and bootlegging from a local vantage point. Happy Birthday Henry celebrates the 150th birthday of Henry Ford with a narrated tour of Dearborn, lunch at the historic Maccabees Building, and a guided tour of the Ford Piquette plant, where the Model T was born.
For 40 years, the Cupp family has owned and operated Blue Lakes Charters & Tours, with charter service available to destinations anywhere in the United States or Canada. Along with charter bus service, Blue Lakes also offers a number of pre-packaged tours, scheduled runs to Cedar Point, and casino day trips (Four Winds, Soaring Eagle, Little River, and FireKeepers), complete with rewards and vouchers for slot play, food, and shows. For groups that want to plan their own excursions, the company's Tour Department can help.
Doing business since 1910, Indian Trails – with original coaches named after Michigan Indian chiefs – now operates one of the largest and newest fleets of deluxe motor coaches in Michigan. With buses to accommodate from 29 to 56 passengers, Indian Trails offers charters, tours, shuttles, airport transfers, casino runs, and daily scheduled routes throughout Michigan as well as to Chicago, Milwaukee, and Duluth. Now in its third generation of family ownership, Indian Trails is one of the nation's leading motorcoach companies. In 2010 – 100 years after its inception in Owosso, Michigan – Indian Trails logged 4.2 million miles, carrying more than 1,000,000 passengers.
Trinity Transportation Group hit the road in 1981—first, as a provider of van service for senior citizens in southeastern Michigan, then, as a provider of bus transportation for special education students in several Wayne County school districts. Today, Trinity's large fleet of vehicles – more than 100 motor coaches, school buses, vans, and sedans -- includes a 28-passenger "party bus," equipped with limo-style leather seating, a flat screen TV, five mini bars, rear speakers, and strobe lights.
Professional event planners helped us compile a guide for people that are booking a charter for their group. It is a quick read and a wonderful reference for creating the right travel experience for your group. Click on the image above and your FREE guide will be emailed to your inbox immediately.