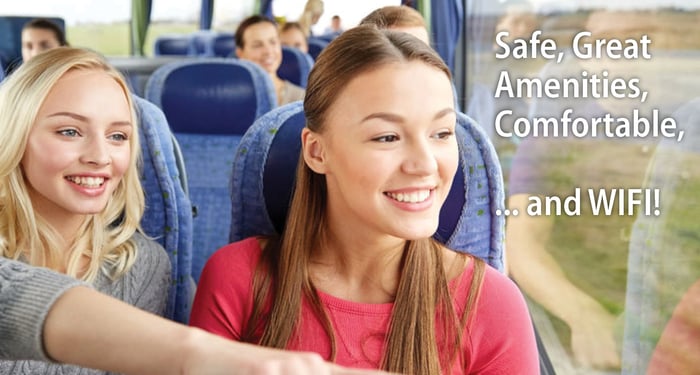 When you're planning a long-distance or overnight class, group or team trip, taking a school bus might not be the most advantageous method of transportation. Here are eight great reasons why a charter motorcoach can make your trip happier and easier for everyone — parents, students, chaperones and teachers.
1) Safety is No. 1
At Indian Trails, we are meticulous about our equipment and our drivers being among the safest in the industry. Our coaches are maintained by expertly trained full-time mechanics on a strict routine to ensure each is in optimum working order at all times or not on the road at all. In addition, our drivers must pass rigorous U.S. Department of Transportation and company screenings and are trained (even if they are already experienced) in our program that includes classroom and on-the-road instruction. Our drivers are experienced, familiar with routes and always do their utmost to ensure a safe and enjoyable trip. Find out more about traveling safely in our blog, "Charter Bus Safety: Five Essential Things to Know."
2) Better than a School Bus in so Many Ways
School buses aren't designed for comfort because most trips to school and home again are brief. But when your group is traveling for hours to reach an event or other venue, comfort can add a lot to the overall well-being of everyone onboard. Indian Trail's state-of-the-art buses place comfort second only to safety and offer personal climate and lighting controls; roomy, well-padded, adjustable seats with head, foot and arm rests; cup holders; and three-point safety belts (on many coaches). Riders travel in comfort, awake or asleep, and arrive refreshed and ready to go!
3) Everyone is Together in One Vehicle so No One Gets Lost on the Way
Trying to coordinate parents to drive on long-distance trips is the stuff of nightmares. When you charter a motorcoach, however, everyone remains together, no one gets lost, takes a wrong exit, or misses a turn, and those always-essential head counts are a cinch. Moreover, our coaches are equipped with two types of GPS so we always know where we are and where we're going.
4) No Bathroom Stops Needed
Indian Trails buses are designed for the long haul and have onboard bathrooms so there's no need to factor in unscheduled rest stops and risk accidentally leaving someone behind. And you save time overall coming and going!
5) Plenty of Cargo Space
Many school-related trips involve sports teams, bands and other groups with extra baggage like equipment and musical instruments. Indian Trail's coaches have ample below-deck storage space as well as overhead storage for smaller luggage like backpacks. You can rest assured your students and their essential gear will arrive together ready to learn, perform or play.
6) Great Onboard Amenities
It's hard to imagine attempting a long trip with a bus load of kids (of any age) and no Internet capabilities. We get it so we got it — onboard WiFi, DVD players with color monitors, and free device charging (110 volt or USB). Riders can entertain themselves with their own devices or enjoy a DVD!
7) More Environmentally Sound Travel Option
It's a simple fact that buses have fewer carbon dioxide emissions and use far less gas (per person) than passenger vehicles. But does it really make a difference? Yes! In fact, Indian Trails recently added new eco-friendly coaches with "technology that exceeds Environmental Protection Agency standards by reducing exhaust pollutants to near zero while achieving high fuel economy of about 206 passenger miles per gallon on average. Also, each coach has the potential to remove 50-55 automobiles from the highway, further reducing air pollution and traffic congestion." Read more about it in our blog, "Good for You, Good for the Planet: 5 Reasons to Ride Indian Trails."
8) Special Accommodations
Indian Trails can also provide transportation for smaller groups in our new 34-passenger motorcoaches that have all the amenities and safety of our deluxe full-size coaches but at a lower cost. And, unlike travel by air, Indian Trail's 56-passenger motorcoaches are perfect for longer-distance trips when riders will want to relax, recline and get some shut-eye.
No matter the size of your group, the amount of luggage or the distance you must travel, Indian Trails is the best choice for all your school trip needs. If you're new to travel with youngsters, you will want to read our free "Professionals Guide to Bus Trips with Kids," and then request a quote for your next trip!