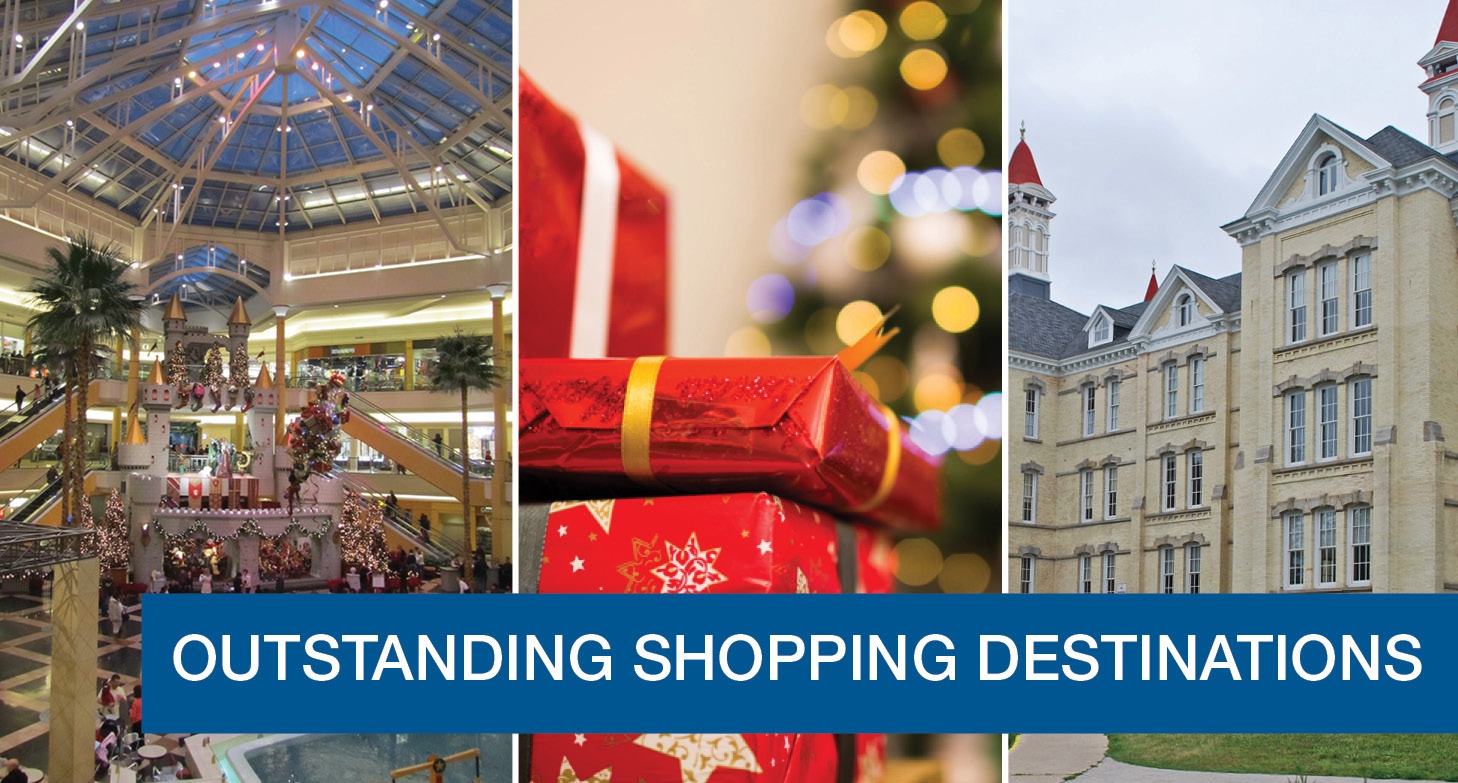 The holidays mean family, friends, fun, and of course, gift giving. There's no better time than now to get organized and plan a shopping trip for your group to one of Michigan's outstanding shopping destinations. You'll enjoy having many store choices, great eateries and great deals throughout November and December. Here is a look at four of the state's top holiday shopping venues to consider for your group's trip.
Christmas Shopping Trips
Great Lakes Crossing Mall
Winner of a 2018 TripAdvisor Certificate of Excellence, Great Lakes Crossing Mall in Auburn Hills is one of Michigan's biggest and best shopping malls. No matter what's on your shopping list, you can find it at Great Lakes Crossing, with everything from clothing options to luggage, accessories and jewelry to electronics and toys, and sporting goods to home décor. Stores include Banana Republic, Bass Pro Shops, Brooks Brothers, Coach, Cole Haan and Converse, to name a few.
When you need a break and a bite to eat, your group can choose from something quick like A&W All-American Food, Kerby's Koney Island or TokyoSAN. If you prefer a more leisurely lunch, you might consider Bar Louie (you have to try one of the specialty cocktails!), MIYAKO Japanese Steakhouse with its Hibachi chef show, or MEX, offering authentic Mexican cuisine with a seasonal menu. Also, be sure to check the mall's sales and offers for discounts at dozens of stores. If you register your group, you can expect special treatment and will receive the mall's "Passport to Shopping" discounts at more than 100 stores.
Somerset Collection
In Troy, Somerset Collection is an experience during the holidays, but also in itself; the elegant decorations are simply breathtaking. Known for its high-end anchor stores like Neiman Marcus and Saks Fifth Avenue, Somerset offers the best of the best in everything from clothing to jewelry to chocolate, and more. You'll have a field day.
When it's break time, you can grab a snack on-the-run from shops like Starbucks or Mrs. Fields Cookies, enjoy the choices at the Peacock Cafés including Green & Grains Salad Co., or relax at a restaurant like Brio Tuscan Grill, P.F. Chang's China Bistro or seafood specialists McCormick & Schmick's. You will also want to check out special events upcoming for the holidays.
Birch Run Premium Outlets
If your group is looking for great deals, look no further than Birch Run Premium Outlets, which is conveniently located in Birch Run between Flint and Saginaw just off I-75, making it easily accessible for day-trippers from all over the state. Birch Run offers more than 140 stores that run the gamut from sporting goods to formal wear to home goods and luggage. If you need it, Birch Run likely has it.
When you're ready to recharge, you can enjoy great food at Beijing Express, Uno Pizza & Grill or A&W. Birch Run also has tons of discounts and offers to check out on their deals webpage so everyone in your group is sure to find more than one way to save on gifts this year.
The Village at Grand Traverse Commons
One of the most unique shopping venues in Michigan, The Village at Grand Traverse Commons is a mixture of artistry, history and tranquility. Based at what was once the Traverse State Hospital, a state-run asylum that opened in 1885, The Village has experienced a true rebirth as many of the beautiful old buildings have been renovated to provide residential, commercial and retail spaces, creating a new neighborhood on the scenic grounds. If your group is looking for an eclectic shopping experience, The Village is second to none. Many of the stores are one-of-a-kind shops and boutiques purveying handcrafted accessories, antiques, artisan jewelry, botanicals and aromatherapy products, books and furs. There's even a haberdashery and a Christmas specialty store called Christmastide.
Your group will love the dining options. For a pick-me-up, Cuppa Joe is a coffeehouse and café to Earthen Ales Taproom and Brewery. You can also try out Pepe Nero southern Italian cuisine, Red Spire Brunch House, Left Foot Charley Urban Winery and many more. If your group wants to learn more about the fascinating history of the site, you can sign up for one of the two Village tours where you'll learn about how different structures were used, visit a historic building, and end the mile-long tour in the circa 1883 brick steam-tunnel. When your day is done, your group will agree that a day spent at The Village is a day well spent.
These are just a few of the possible day-long shopping trips your group can take in Michigan during the holidays and we know each of them will provide great shopping and wonderful memories. If you need help booking your group trip, Indian Trails can help with our "Complete Guide to Booking a Bus."