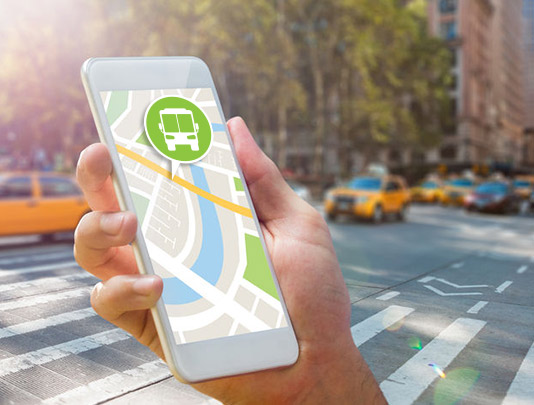 Unless you work in the bus transportation industry, you may not realize that it's in the throes of an innovation revolution. But all across the United States, things are changing fast for bus transportation companies and agencies. The catalysts behind the push to innovate include:
The rapid growth of ridesharing "transportation network companies" or TNCs like Uber, Lyft, DeSoto, and others, which have given passengers the ability to order and pay for on-demand, door-to-door personal transportation through smartphone apps.
The development of autonomous or driverless vehicles, which began in the 1920s and is now moving from the proving grounds to public streets. That's thanks to backing by major players such as Google's Waymo, BMW, Nissan, DARPA (the Defense Advanced Research Projects Agency), GM, Ford, Delphi,Tesla, Mercedes Benz, Uber and others.
The aging of the U.S. population, in which the over-65 group is expanding at about 8 percent a year—far faster than other groups—creating new challenges for public transit agencies to deliver accessible, cost-effective transportation solutions for people with physical limitations.
Solving the "First-Mile, Last-Mile" Dilemma
Overall, the focus is on integrating into "microtransit systems" carriers who have typically operated in "silos" separate from one another. The aim is to solve the "first-mile, last-mile problem" of serving passengers right at the door of their homes and offices, rather than leaving individuals to find their own way to or from bus stops, train stations, and airline terminals.
Ideally, too, transportation on two or more connected systems should be handled through a single smartphone app that enables passengers to make reservations and pay for each ride segment in one fell swoop.
Achieving this vision is less complicated than it may sound, technically speaking. For many years, "interline" agreements between Indian Trails, Greyhound, Amtrak and more than 40 other carriers nationwide have given passengers the ability to buy one ticket for a trip involving two or more different carriers. As an example, a woman in Mt. Pleasant, Mich., can buy a ticket on Amtrak's website that includes travel on an Indian Trails bus to East Lansing, where she can switch to the train that takes her to Chicago.
The important thing is that the computer systems of each transportation provider in a microtransit system simply "talk" to one another. And that technical issue has long since been resolved by software developers who create APIs or application programming interfaces.
So it shouldn't be much of a stretch to build a microtransit system that allows a woman on the south side of Lansing to book a relatively seamless trip to the University of Michigan Medical Center in Ann Arbor using multiple carriers on one ticket. She could take a Capital Area Transportation Authority (CATA) paratransit van to East Lansing, catch a Michigan Flyer bus from there to Ann Arbor, then get to the U-M hospital on a paratransit bus operated by the Ann Arbor Area Transportation Authority (AAATA). Alternatively, a taxi service or TNC rideshare could deliver the "first-mile, last-mile" services of the paratransit vehicles in this scenario.
Demonstration Projects Nationwide
In just the past few years, microtransit pilot programs have popped up from sea to shining sea. Often, they involve private bus companies or municipal transit agencies partnering with ridesharing TNCs like Uber or Lyft, which serve as the local community connectors. The traditional carrier might pay the TNC a contracted, per-ride rate of, say $7, over and above the $1-$3 fare charged to the passenger.
In other demonstration models, regional transit authorities are developing their own local connections in cooperation with private-sector mobility operators. For instance, one Florida transit agency—reportedly concerned about the inability of TNCs to consistently provide ADA-compliant rides for people with disabilities—contracted with Transdev to operate an on-demand "door-to-bus" service.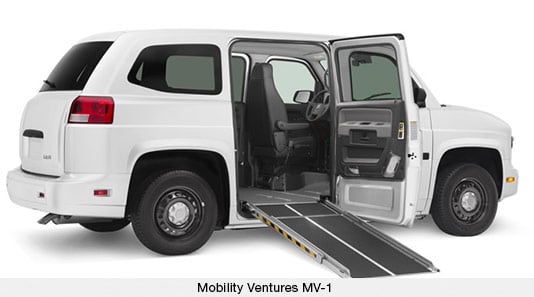 It used a smartphone app that allowed users to book rides between their homes and the agency's bus stops. The vehicles used were four Tesla Model X's and one seven-passenger Mobility Ventures MV-1 model that can accommodate a wheelchair. Purportedly, the cutting-edge Teslas could be converted to autonomous vehicles once the driverless technology is ready for prime time.
Some microtransit systems have even looped hourly car and bike rental services into the mix, so as to solve the problem of how to get around once you reach your primary destination.
Pilot Programs Close to Home
Then there's the MCity Driverless Shuttle research project which launched at the University of Michigan's North Campus last June. Mcity is a U-M-led public-private partnership to accelerate advanced mobility vehicles and technologies. The main purpose of its Driverless Shuttle project is to collect data on user behavior and acceptance.
Two fully automated, 11-passenger, all-electric shuttles cover a one-mile route within U-M's North Campus Research Complex every 10 minutes between 9 a.m. and 3 p.m., Monday through Friday. Free of charge, the shuttles ferry students, faculty and staff between the complex and distant parking areas. They also provide easy access to the Ann Arbor Area Transportation Authority bus stop at Hubbard and Hayward streets—potentially connecting them with the entire AAATA bus system, as well as the frequent daily runs of Michigan Flyer-AirRide motorcoaches between East Lansing, Ann Arbor and Detroit Metro Airport.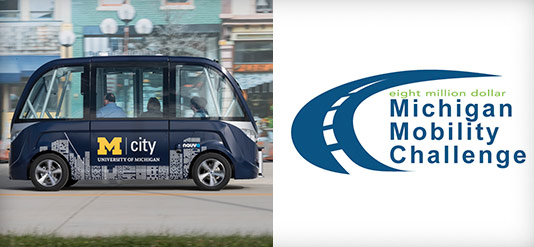 How soon will Michigan residents be able to access a microtransit system right at their front door? For some, the option will likely be available as early as 2019.
That's because the Michigan Department of Transportation (MDOT) launched an "$8 Million Mobility Challenge," calling for innovative pilot projects "that can solve mobility gaps for seniors, persons with disabilities, and veterans in urban, rural and suburban communities throughout the state of Michigan." Those funds are expected to kick-start multiple transportation projects in the coming year.