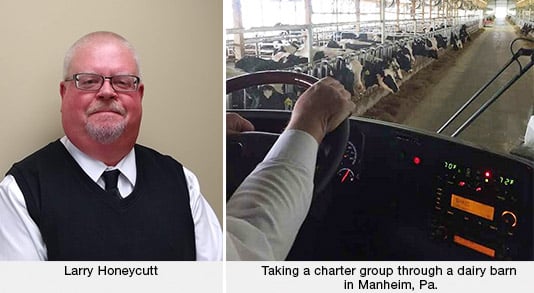 In his 12 years as a charter bus driver, Larry Honeycutt has only one regret: He wishes he had started with us 10 years earlier.
"I love to drive and travel, so this never seems like a job to me," he says. "Every time I head home at the end of a trip, I feel rewarded."
Before coming to Indian Trails, Larry had worked 18 years for Mans Lumber & Millwork, and 10 years earlier for Braver Lumber, both in southeast Michigan. Factors leading up to the Great Recession of 2008 burst the housing bubble, slowed new home construction to a crawl, and caused him to be laid-off.
At a Michigan Works job fair, he heard about openings for drivers at Indian Trails. "I wanted to avoid another retail position," he recalls.
But his initial excitement at the prospect was briefly dimmed at Larry's interview with us, when it was suggested that—given his previous experience and qualifications—he might not be content with a driver job in the long run. "I asked for a chance and told them I wouldn't let them down."
He keenly remembers that moment in another role he serves for us—as a trainer for new drivers. "I feel like I'm giving back," he says. "We work with all kinds of people from various backgrounds. I keep an open mind. I want to give others a chance because one was given to me."
Most Memorable Trip

Within four months of his hire, and after five weeks of intensive driver training, Larry took command of his first chartered tour. Since then, he's ferried college and professional sports teams to their games and back home again, and taken educational and other groups on trips throughout the United States.
He says his most memorable trip so far was in summer 2009, when he was part of a charter bus caravan carrying the Mormon Tabernacle Choir to different entertainment venues between Cleveland and Salt Lake City, where the choir is based.
"We had 11 buses, along with four trucks and four semis carrying equipment and accessories for the 360-member choir and its 125-member orchestra," Larry recalls. What made the trip most unforgettable were both the triple-digit temperatures and an ongoing swine flu pandemic in parts of the Midwest they traveled through.
"The weather was grueling and some folks were showing symptoms of the flu, but we got through it," he says. "The other drivers and I were able to attend the concerts, travel the Mormon Trail, and on the last day have a tour of the Tabernacle."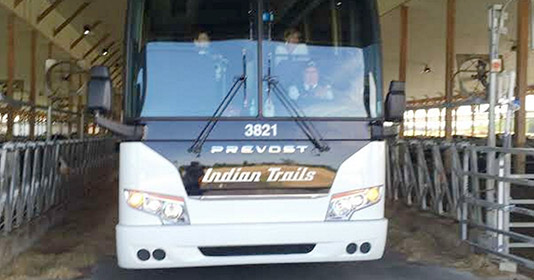 A Love for Charter Trips
As a charter driver, Larry is on call 365 days a year unless he schedules time off. He says he loves his irregular schedule, as well as the fact that he's frequently requested as a driver by repeat charter customers. "I love the variety--that I don't go to the same place every day. I'd be bored doing the same thing. With this job, I've been able to travel all over and meet incredible people."
Besides getting his passengers safely to and from their destinations, one of his top goals on each charter trip is to "meet and exceed our customers' expectations."
"It's great to hear things from them like, 'That was the smoothest ride,' and 'Thank you for a great trip,'" says Larry. "You strive for comments like that."
While driving, he's also highly alert to "expecting the unexpected." In his experience nowadays, that often means situations caused by drivers who are distracted by their electronic devices.
A Lucky Guy
Working out of Indian Trails' facility in Romulus gives him "the opportunity to show people who visit from all over the world just how wonderful the Detroit area is," he says. "I love to hear how impressed they are—'Wow, Detroit is great. Nothing like they make it sound. I can't wait to come back.'"
In his 40-year working career, Larry—who lives in Wayne, Mich., and likes to keep up with national news and sports in his spare time—considers himself especially fortunate to have worked for two family-owned companies that extend back to the start of the 20th century: Mans Lumber, launched in 1900, and Indian Trails, founded a decade later.
"It's been a real privilege," says Larry. "Both have a history of great customer service because they know that, without it, you don't stay in business very long."