How We Use High Tech to Watch Over Every Bus
One of the least-known advantages of traveling with Indian Trails is our round-the-clock readiness to deal with whatever "bumps in the road" life throws at us.
Come what may, Operations Manager Pat Goodsell and the four full-time pros in his Dispatch office have got it covered. They track the whereabouts of some 80 buses and 120 drivers at a time—across Michigan and throughout the U.S. and Canada—24 hours a day, 365 days a year.
"Solving problems with the schedules of all these buses and drivers is a constantly evolving puzzle," he says. "As strange as it might seem, that daily challenge is what I like most about the job. You're always finding ways to fill the gaps and keep the buses rolling."
Dispatch benefits both passengers and drivers enormously. "Knowing there's someone here 24 hours a day just in case they have questions or encounter problems gives them great peace of mind," Goodsell notes. "And it truly elevates the quality of the transportation services we deliver."

Sophisticated Tools
What makes it all possible is some amazing digital and satellite technology. Picture this:
• Satellite-based GPS systems in outer space pinpoint the location of every Indian Trails bus on the road, and send the information to a computer on each bus every 30 to 60 seconds.
• Those onboard computers—coupled with Electronic Logging Devices—not only collect the GPS data, but monitor the speed of each bus, any idling or hard braking events, and various engine performance metrics. They continuously transmit this information through the cellular network to a secure data center.
• At the data center, the GPS coordinates of each bus are displayed on Google Maps, along with who's driving, what run or charter number they're operating, and whether or not they're on schedule, as well as any engine diagnostic data that indicates something could possibly be amiss. There's also a map overlay that shows accidents and traffic backups in real-time.
• All of this is sent via the internet to computer screens at the Indian Trails Dispatch center in Owosso, which coordinates the responses of maintenance facilities there, as well as in Kalamazoo and Romulus.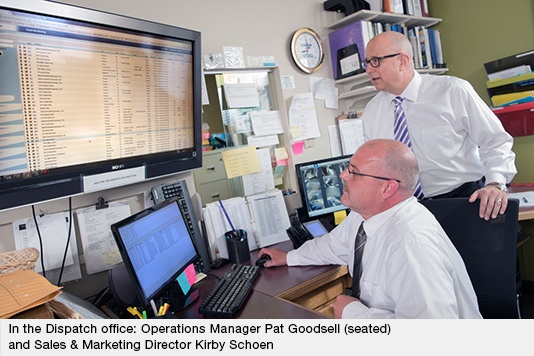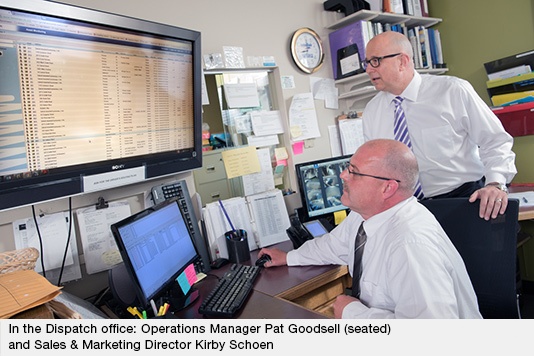 Rapid Responses
"Most delays can be minimized and promptly taken care of by Dispatch," says Goodsell. "If we see an accident ahead of one of our motorcoaches, we can notify the driver—'Traffic jam ahead' or 'Road closed'—plus provide directions to navigate around it."
Dispatch works closely with Charter Sales, putting itineraries together, planning for overnight hotel stays, meals, parking fees and tolls, and arranging for relief drivers on trips that exceed the federal 10-hour, per day driving limit.
"Once a trip is underway, the charter group may call and want to make a last-minute change in their itinerary," notes Goodsell. "Dispatch will update the charter order and contact the driver to confirm that, 'Yes, this is what the customer needs.'"
The advanced technology takes on more importance in other cases. "If a customer calls and asks, 'Where's my bus? It was supposed to be here at 3:30,'" he says, "the system will tell us at a glance if it's running on time or behind schedule. So, we respond, 'Your driver should be pulling into your stop in one minute.'"
"Sometimes," adds Goodsell, "a driver will call and say, 'Hey, my check-engine light is on.' To help diagnose the problem, we pull up any signals from the engine that may indicate a part is wearing out. This lets us make some repairs before breakdowns occur."
The mechanics at Indian Trails' three maintenance garages have trucks available to get them to any coaches that break down within reasonable driving distance. For coaches further away, "we have a huge network of bus companies and repair facilities that we can call upon."
Better Performance
Recently, a bus that Indian Trails operates on contract with Walmart in Grand Rapids lost a water pump belt, he recalls. "Dispatch contacted a mobile repair service that went out and put a new belt on for us right away."
Similarly, a few months ago, "we had a charter trip to Washington, D.C., with two 56-passenger motorcoaches. The differential on one seized up during the return trip. So, Dispatch called a bus company nearby, and—in just over an hour—one of their coaches was bringing half our group back to Michigan."
Driver "report cards" are a new feature of the system Dispatch monitors. They track any speeding and hard braking events. "Now that drivers can see how their driving behavior compares with others," says Goodsell, "they're working even harder to give passengers a safer, smoother ride."