Bringing the Odyssey of the Mind World Finals to MSU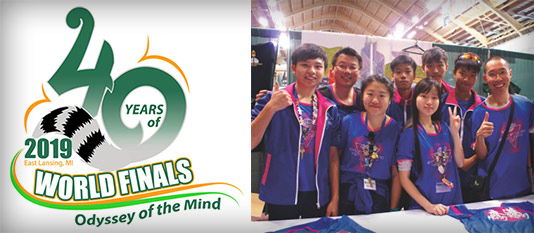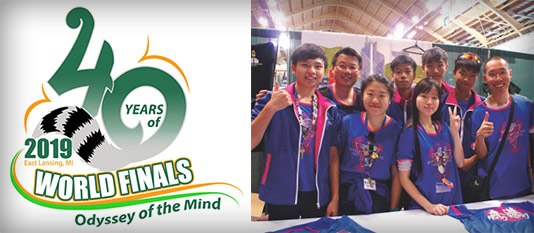 Between May 22 and 25, more than 20,000 students, teachers, parents and volunteers from around the globe are traveling to Michigan State University for the 40th annual Odyssey of the Mind World Finals. It's an educational competition whose mission is to provide creative problem-solving opportunities for students from kindergarten through college.
"We were very fortunate to bring this major event to the community originally," says Julie Pingston, executive vice president of the Greater Lansing Convention & Visitors Bureau (GLCVB), whose mission is to promote the region as a visitor destination to impact the area's economy. "Now it comes every other year, rotating between MSU and Iowa State University, and gives our community a huge, multi-million-dollar boost. Most mid-Michigan hotels, restaurants, retail shops, businesses and attractions benefit from it."
Indian Trails and its airport shuttle service, Michigan Flyer, play a key role in making this big educational gathering a success, just as we did in helping to attract it in the first place. Together, we have dozens of buses committed to transporting about 1,500 participants from Detroit Metro Airport to East Lansing, all around campus during the event, and then back to the airport when it's over.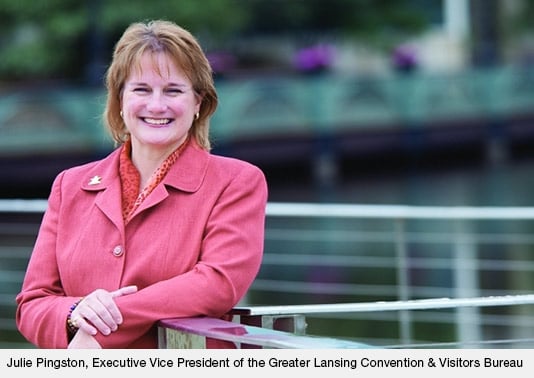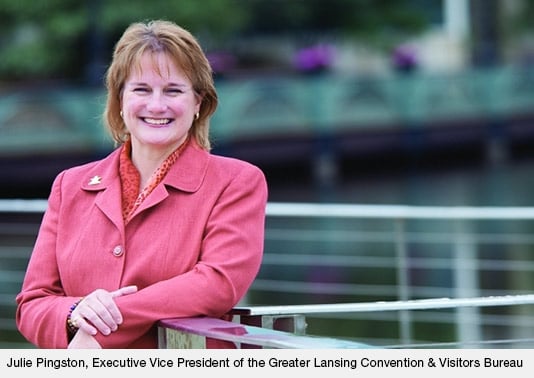 What Odyssey of the Mind is All About
Competing at MSU are 894 teams of seven members each, whose performance is being assessed by 450 volunteer judges and officials. Each team chooses one of these five competitive problems to solve under the guidance of an adult coach. Some are technical, while others are artistic or performance-oriented.
The U.S. teams—from 32 states including Michigan—have been working on their solutions all year, and previously reached championship status through competitions at the state level. So have their international counterparts from Africa and 13 nations that are sending their best of the best: Canada, China, Germany, Hong Kong, India, Japan, Mexico, Poland, Qatar, Russia, Singapore, South Korea, and Switzerland.
Ultimately, on Saturday, May 25, before a packed house at MSU's Breslin Center, 19 teams—one per age group solving the five problems—will be named World Champions of Creative Problem-Solving.
Along the way, the Odyssey kids will fill MSU's residence and dining halls, form life-long friendships with both teammates and opponents from around the globe, and have loads of fun at a Creativity Festival, an International Festival, a Coaches & Officials Competition, and NASA-sponsored events. They'll explore and patronize businesses in the surrounding area, too.
"We work on getting them out in the community by sharing all the different things that are going on here," says Pingston. "We staff information tables throughout campus. We make hotel arrangements for all the judges and officials, and provide vouchers paid for by the Odyssey organization for them to eat at local restaurants. We publish five editions of a daily newspaper so Odyssey participants know what's going on in terms of the schedule, evening events, and attractions in the community."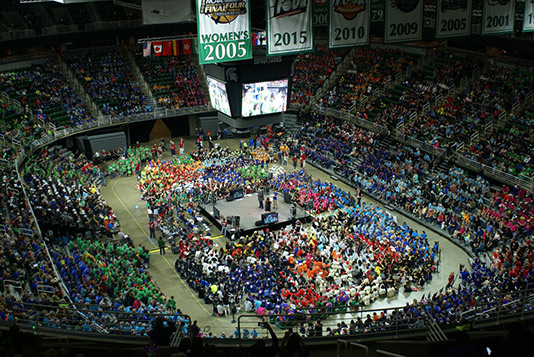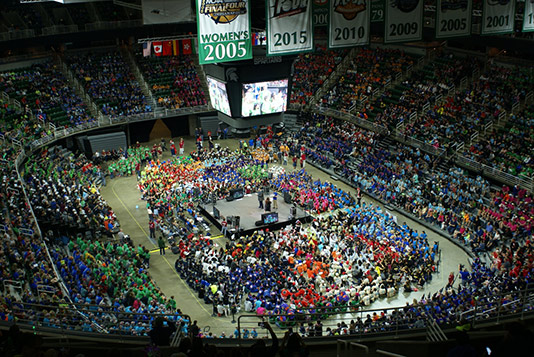 Giving Participants a Warm Welcome
While many U.S. teams arrive by car, all the international teams fly to U.S. airports, and a high percentage of them use the buses of Michigan Flyer and Indian Trails to access the Greater Lansing area.
"We're glad Michigan Flyer and Indian Trails exist," says Pingston. "Otherwise, the teams would be trying to rent cars, and with a team of seven 12-year-olds from China, for example, that can be problematic."
Members of the Michigan Flyer staff joined other folks from GLCVB and MSU to greet incoming Odyssey participants at the Detroit airport. Team members wear matching t-shirts and tend to travel around together. So, you may want to give them a warm welcome, too, if you're in the Greater Lansing area and happen to spot some of them.