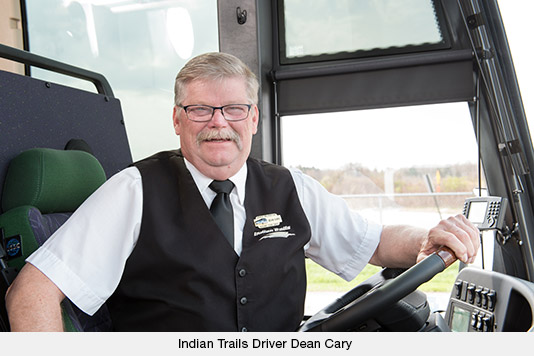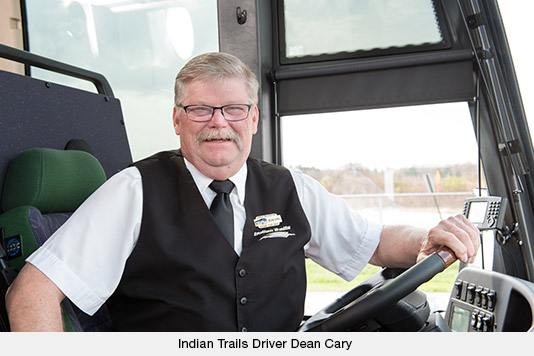 View From the Driver's Seat: Dean Cary
Indian Trails driver Dean Cary tries to consistently follow two guiding principles: The Golden Rule ("Do unto others as you would have others do unto you") and the Boy Scouts of America slogan ("Do a good turn daily.")
He suspects the former is one of the reasons he was recognized in February as "Bus Driver of the Month" by Firekeepers Casino in Battle Creek, Mich. In the award ceremony, Dean says executives there praised him for "always having a smile on his face," as well as for helping passengers.
"That made me feel good to be recognized for doing my job," Dean recalls. "I love people. Providing great customer service boils down to following the Golden Rule and treating everyone the way I'd like to be treated."
How He Found His Way to Us
Dean's path to Indian Trails began near the end of a 30-year service career as an executive with the Boy Scouts of America in Traverse City, Mich. He'd begun working as a field representative, helping to organize units, troops, and summer camps, and eventually became an executive for the Scouts in Traverse City and the Flint area.
As he was considering retirement—and looking for something else to do to keep busy—he stopped by the office of Indian Trails' former VP of Operations Ken Henry to drop off some scouting forms his son needed.
"I jokingly asked him if they were hiring drivers, and Ken told me a class was starting next week," Dean says. "So I had a good reference going in."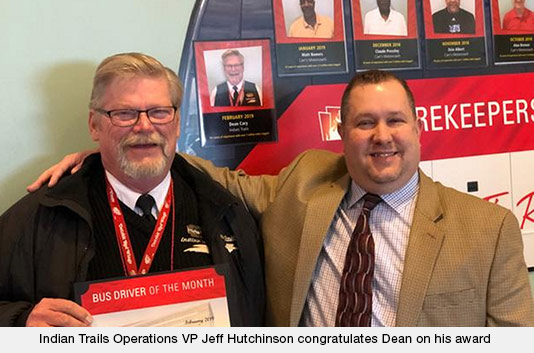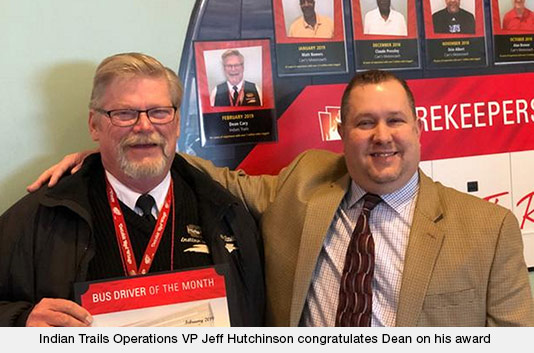 12 Years of Varied Assignments
Since 2006, Dean has driven our motorcoaches on scheduled routes and charter trips, and as a relief driver for Michigan Flyer, our shuttle service that makes frequent, daily runs between East Lansing, Ann Arbor and Detroit Metro Airport.
Nowadays, he transports customers to and from specific sites such as Firekeepers, where he heads every Tuesday after picking them up in the Greater Lansing area.
The joy Dean found in working with the Scouts has extended to his motorcoach passengers, many of whom are senior citizens. "I become friends with so many regular passengers that I have to keep updating the contacts list in my phone," he says.
One happy encounter Dean recalls happened when he was checking passengers in for a Michigan Flyer run and came across a familiar name.
"I had known the fellow as a Scout, and as one of our summer camp counselors," he says. "We caught up on the way to the airport, and he brought me up to date on what many of the guys were doing. They all turned out to be quite successful men. That was great to learn, because you hope to have some positive influence on them."
A Positive Outlook on Work and Life
Dean—whose leisure activities include fishing, camping and shopping with his two sisters—says he has another motto, too: "I live my life knowing that if you help others, then when you need help, someone will be around for you. I enjoy what I do, have a good gift of gab, and always keep a smile on my face."
The safety of his passengers is foremost in his mind when Dean gets behind the wheel. "I pretend my three boys are sitting in the back of the bus," he says. "I want my passengers to be as safe as I want my family to be."
A big bonus, Dean adds, is driving an Indian Trails' motorcoach. "I always feel like I'm driving for the best company. Our buses are always up-to-date and the company is regularly looking at ways to innovate. It was one of the first to offer electrical outlets and Internet access for passengers. When I see some of the other buses out there, I wonder how they even got on the road."