Visit the Best Gardens in Michigan
What better time to start thinking spring—and planning a tour of our state's magnificent gardens—than when the ground freezes solid and snowflakes fly? To come up with this list of great Michigan gardens, we used the ratings of actual visitors as posted on the TripAdvisor website.
If the following descriptions of fragrant blooms, lush landscapes, serene nature walks, tropical conservatories, woodlands, waterfalls, and historic landmarks give your group ideas for an unforgettable charter bus trip, please don't wait to call us at 800-292-3831. Our deluxe motorcoaches are often booked months in advance, and one of our expert charter consultants can help you plan the perfect trip.
1000 E. Beltline Ave. N.E., Grand Rapids, MI 49525-5804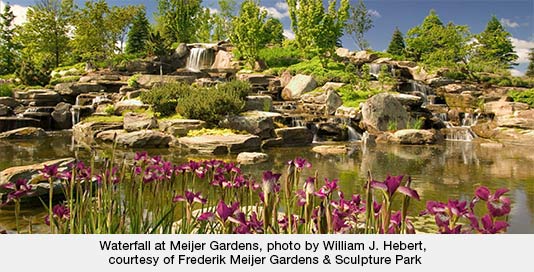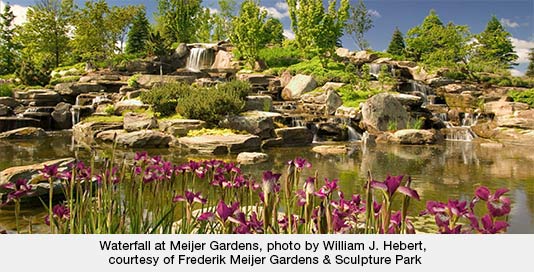 One of the nation's most significant sculpture and botanic experiences, the 158-acre Meijer Gardens includes Michigan's largest tropical conservatory, five indoor theme gardens, outdoor gardens, nature trails, boardwalk, library, café, gift shop, and meeting rooms. The stunning garden setting—which has attracted more than 10 million visitors since it opened in 1993—features exotic plants, desert and Victorian gardens, wetlands, and meadows, along with sculptures by famous artists throughout.
Visitors tend to love the beauty of the place and its children's garden, Japanese garden, butterfly exhibit, tram ride, Christmas trees from around the world, and summer concert series. Read visitor reviews.
1809 Eastman Ave., Midland, MI 48640-2641
The Dow Gardens are a dazzling 110-acre display of annuals and perennials punctuated by distinctive bridges, an award-winning children's garden, towering pines, and delightful water features. Admission includes access to the 54-acre Whiting Forest, featuring woodlands, ponds, an apple orchard, stream, and the nation's longest forest canopy walk—1,400 feet long—soaring up to 40 feet above the ground.
Visitors tend to love the beautiful grounds, children's garden, butterfly house, rose garden, water features and canopy walk. Read visitor reviews.
1100 Lake Shore Rd., Grosse Pointe Shores, MI 48236-4106
This National Historic Landmark tells the story of Edsel and Eleanor Ford and their family through their historic home on the shores of Lake St. Clair. The son of Henry Ford, Edsel built his grand home in the style of the Cotswold villages in England. It is filled with original antique furnishings, as well as art from the Fords' vast collection, and surrounded by 87 acres of scenic lakeside grounds. The latter include the Tribute Garden in honor of Eleanor and all women, the Great Meadow, the Peninsula/Bird Island, Flower Lane, the New Garden (created in 1939), the Rose Garden, the Lagoon, Lakeside Lawn, and outer buildings such as the Play House, Recreation Building, Gate Lodge Garage, and North Cottage.
Visitors tend to love the mansion, play house, power house, pool house and rose garden. Read visitor reviews.
1800 N. Dixboro Rd. and 1610 Washington Hts., respectively in Ann Arbor, MI 48105
Matthaei Botanical Gardens and Nichols Arboretum are operated by the University of Michigan. At Matthaei, you'll find display gardens such as the Gaffield Children's Garden, Bonsai & Penjing Garden, Great Lakes Gardens, and others; many trails and natural areas; as well as a conservatory of plants from around the world, a gift shop, and meeting spaces. Nichols Arboretum is located on the U-M central campus next to the U-M hospital. A haven for students, faculty, staff, and visitors, it's home to the Peony Garden, several collections of historic or native plants such as the Julie Norris Post Collection of Ericaceous and Appalachian Plants, Centennial Shrub Collection, prairie, and more.
Visitors tend to love the children's garden, bonsai collection, perennial garden, plant and flower sales, greenhouse and hiking trails. Read visitor reviews.
900 Inselruhe Ave., on Belle Isle, Detroit, MI 48207
The Anna Scripps Whitcomb Conservatory is an exotic and rare collection of plants from around the world. The oldest continually-running conservatory in the United States, it's divided into five sections: the Palm House, the Tropical House, the Cactus House, a sunken Fernery, and the Show House. The Conservatory occupies a 13-acre parcel of land shared by the formal gardens and the Lily Pond.
Visitors tend to love the tropical plants, formal gardens, memorial fountain, fern room and lily pond. Read visitor reviews.
13988 Range Line Rd., Niles, MI 49120-9020
At 105-acre Fernwood, beautiful gardens surrounded by forest are tucked into a landscape of cultivated and natural areas along the scenic St. Joseph River valley. Outdoors in the nature preserve there are miles of trails. Indoors, visitors can enjoy an art gallery, fern conservatory, nature center, cafe, and gift shop. Rocky cliffs occupy the center of the 1,000-square-foot conservatory, with a waterfall cascading down to a goldfish pond at one end. Besides the 100 different types of tropical ferns, the conservatory houses a constantly changing exhibit of incredible orchids.
Visitors tend to love the herb garden, model railroad garden, water wheel, relaxing walks, beautiful grounds and sculptures. Read visitor reviews.
On the campus of Michigan State University at 1066 Bogue St., East Lansing, MI 48824
Opened in 1993 and since featured in many children's books, the Michigan 4-H Children's Gardens are made up of more than 60 small theme gardens and theme displays. There are mazes, pots of gold, an alphabet garden, Peter Rabbit, and much more. The theme gardens are located in three distinct areas: the Outdoor Garden, Indoor Garden, and Schoolyard Demonstration Garden.
Visitors tend to love the learning experience for kids, lily pond and its frogs, the flowers, plants and herbs, the maze and—at the nearby MSU Dairy Store—the ice cream. Read visitor reviews.
6214 Monroe Rd., Tipton, MI 49287-9766
The 755-acre Hidden Lake Gardens was donated to Michigan State University in 1945 by Adrian businessman Harry Fee, who started it with a purchase of the original 200 acres in 1926. MSU describes it as "a faraway place that is one of the most picturesque in the Midwest and the nation" where "subtle and bold courtyards display trees as artworks." The gardens include several greenhouses; a conservatory with many valuable and rare species of plants; a visitor center that houses a library, exhibits, auditorium, meeting rooms and gift shop; a Hosta Hillside outside, along with picnic areas, 12 miles of hiking trails, and six miles of one-way paved drives.
Visitors tend to love the hiking trails, fall colors, gift shop, conservatory, and as a setting for picnics. Read visitor reviews.
380 Lone Pine Rd., Bloomfield Hills, MI 48304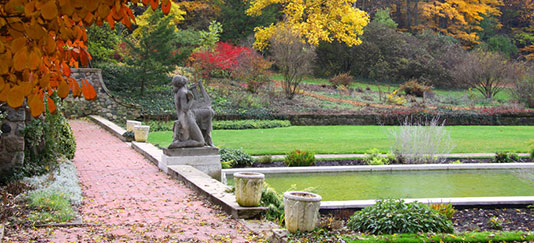 The centerpiece of the Cranbrook Educational Community campus, a National Historic Landmark, Cranbrook House and Gardens was created by Detroit newspaper magnate and philanthropist George Gough Booth and his wife, Ellen Scripps Booth. In 1904, they purchased a 174-acre run-down farm in Bloomfield Hills, and named it Cranbrook after the English town that the Booth family hailed from.
On it they built a 29,000 square foot English-Tudor manor house and a lake, planted thousands of trees, and installed extensive gardens with three large fountains. Cranbrook is nationally recognized for "its beauty and for the exquisite quality and caliber of its many treasures."
Visitors tend to love the mansion's arts and crafts style, the beautiful property, the sunken garden, japanese garden, reflecting pool, science museum and lake. Read visitor reviews.
On the MSU campus at A288 Plant & Soil Science Bldg., Bogue St., East Lansing, MI 48823
There are actually several individual gardens within the 14-acre collection of MSU Horticultural Gardens: The Michigan 4H Children's Garden, Amien Carter Annual Gardens, Judith A. DeLapa Perennial Garden, Clarence E. Lewis Landscape Arboretum, VIP Garden (Vegetables and Insect Pollinators), and Frank's Nursery and Crafts Rose Garden. Some date back to the 1920s.
In addition, MSU offers The W.J. Beal Botanical Garden, located on campus at 330 West Circle Dr. It's a 5-acre outdoor lab for the study and appreciation of plants. Established in 1873, it is the oldest continuously operated university botanical garden of its kind in the U.S., featuring more than 2,000 different types of flowers and other plants within its five acres. Collections include economic, systematic, landscape, ecological, Michigan, and endangered plants.
Visitors tend to love the rose garden, children's garden, arboretum, blooming plants and landscapes. Read visitor reviews.