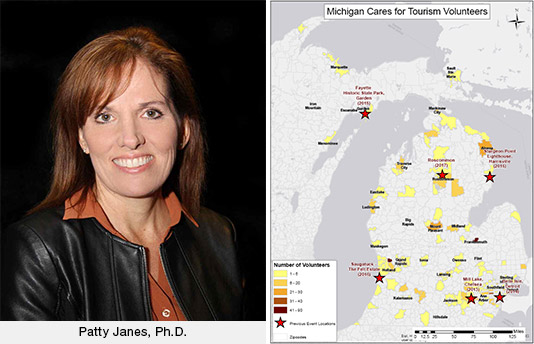 Michigan Cares for Tourism—and So Do We
Just two years after the nonprofit Michigan Cares for Tourism (MC4T) was formed in 2011, it fully embarked on its mission to spruce up historical sites and natural attractions statewide. It began by calling for volunteers from across the tourism industry to join in a clean-up and restoration event at the Mill Lake Visitors Complex of Waterloo State Recreational Area in Chelsea, Mich.
"Built in 1936, this cabin community complex was in need of our care," says Patty Janes, Ph.D., the professor of Hospitality and Tourism Management who spearheaded the effort. "The complex had served as the first travel and outdoor recreation experience of Detroit inner city youth until it was closed in 2000. We helped restore it in order to make an impact for urban youth, family reunions, conference retreats and much more." Check out this short video about the event.
Since then, MC4T—based at Grand Valley State University (GVSU), as is Janes—has held annual events at sites throughout the state, including the Upper Peninsula, to rejuvenate some of our state's most precious tourism treasures. These initiatives have involved more than 2,625 volunteers, sponsors and partners who provided time, expertise, labor and supplies worth some $600,000.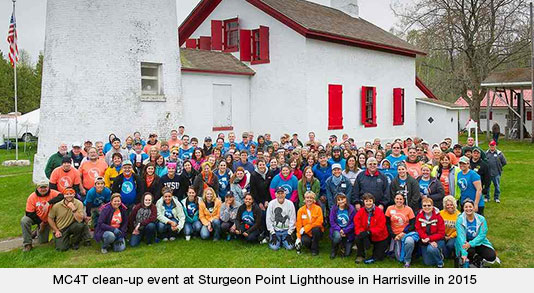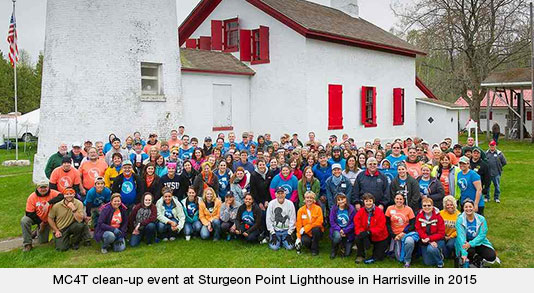 How Indian Trails Supports MC4T
Professor Janes got the idea of forming Michigan Cares for Tourism from her involvement with Tourism Cares—the philanthropic arm of the national travel and tourism industry—on which MC4T is modeled.
Indian Trails has been a partner of MC4T since its inception. In fact, when Janes began organizing the group, she first turned to Indian Trails Chairman Gordon Mackay for his buy-in.
"It was an immediate Yes and incredibly generous," she recalls. "This wouldn't work without the involvement of Indian Trails."
What Mackay offered—and Janes happily accepted—has been the use of our drivers and motorcoaches to ferry volunteers from throughout the state to the sites where MC4T is conducting clean-up and restoration events. Each year, our charter consultants work with the organization to choose four to five locations in Michigan where our coaches pick up volunteers.
Janes, who was with Central Michigan University at the time, also quickly enlisted the support of Michigan's Department of Natural Resources (DNR), which provided a list of some 260 historical and natural attractions as potentially needing repairs or restoration.
In less than a decade, MC4T has grown into statewide partnership with GVSU, the DNR, Tourism Cares and Travel Michigan. It's all volunteer-based. In fact, volunteers each pay $50 to participate in a clean-up event. They come from various positions throughout the state's tourism industry, as well as colleges and partner organizations.


Team Effort for Michigan Tourism
"We can have, for example, an electrician from one resort working with the general manager of a hotel and a staff member of a city's convention and visitors bureau," says Janes, who organizes volunteers into teams. "It becomes a great team effort, and a wonderful way to connect and network within our tourism industry."
These two-day clean-up events—made possible with the help of sponsors who provide needed resources—have been held at the Civilian Conservation Corps Museum in Roscommon, the Sturgeon Point Lighthouse in Harrisville, Belle Isle Park in Detroit, the Felt Estate in Saugatuck, and Fayette Historic State Park in Manistique.
In 2018, for example, 62 donor organizations and 160 volunteers completed 23 clean-up and restoration projects at Copper Harbor's Fort Wilkins Historic State Park. Projects included painting historic structures, replacing Fort posts, enhancing the view by landscaping and brush removal, and adding a roof and ADA ramp for accessibility.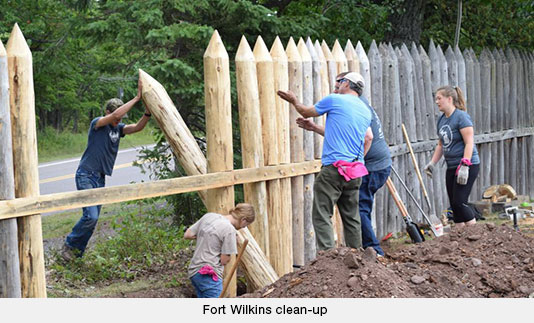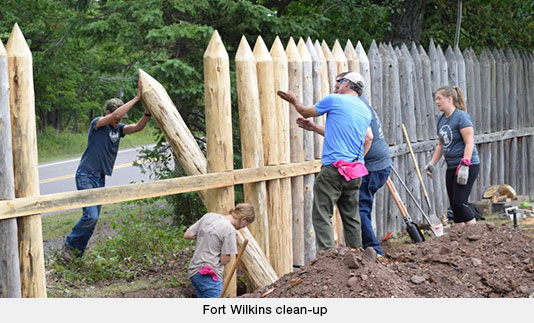 "We do 'familiarization tours' at the start of an event so our volunteers have a better understanding of what's unique and important to this particular region of the state so they become more invested in the project ahead of them," says Janes. In Chelsea, for instance, volunteers toured the Jiffy Mix factory before tackling the restoration of the outdoor center and cabins of Historic Mill Lake.
The annual events are held either before Memorial Day or after Labor Day so they don't coincide with the height of the tourism season, Janes adds. You can explore past events virtually here.
More recently, MC4T has added half-day, smaller clean-up events around Michigan, as well as "Adopt-a-Bed" projects to beautify parks with flower beds.
"There's a team spirit that develops among volunteers who know they've helped to improve and preserve a Michigan treasure," says Janes. "They almost feel like members of the community that they've learned about and worked in."
As Michigan Cares for Tourism continues to grow, so does Janes' own satisfaction. "I get emotional when I think of these people who are so willing to give of themselves to help rejuvenate our state's tourist attractions for all to enjoy."