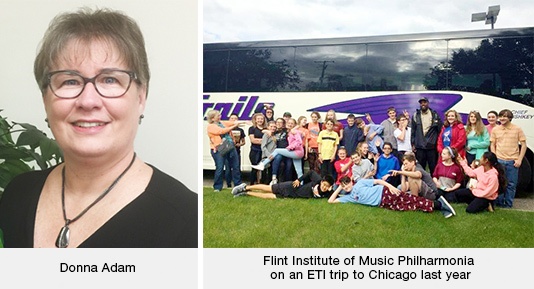 Educational Tours, Inc. (ETI), based in Holt, Mich., arranges travel experiences for K-12 student groups in the U.S. and internationally. Founded in 1983 in the belief that travel is a vital part of education, ETI handles more than 225 tours annually, with most involving student performance groups such as bands and choirs.
"Some of these students have never been outside of their own communities, so we're helping to show them that there's a whole world out there to learn about and explore," says Donna Adam, who became ETI's owner after having served as general manager for 10 years.
She points to studies showing that such trips can help students improve both academic performance and social skills. Students can also be inspired by a variety of experiences during a trip, such as participating in a culinary workshop, visiting an art or history museum, or viewing a science exhibition or theatrical production.
"And it's amazing the bonding that takes place on these trips," says Adam. "Students who might otherwise not get together in school can find they have a shared interest or something in common while on a trip. It opens their eyes to new experiences."
Keeping Travel Stress-Free
"Because a good experience for the students means a lifetime of memories," she says, "planning and executing the best trip possible for each of our school groups is top of mind for everyone at ETI." So, ETI's team meticulously plans each stage of each tour with the primary goal of making it as easy and stress-free as possible for the students, their parents, and educators.
That's where Indian Trails comes in.
"We've been with Indian Trails for as long as I can remember," says Adam. "I never worry about our groups when we use its motorcoaches and drivers."
Shelly Cole wholeheartedly agrees. As ETI's longtime director of vendor partnerships and a trip coordinator, she works directly with Indian Trails to finalize tour details. "Indian Trails is so easy to work with," she says. "They know the travel industry and they care. Everything goes seamlessly with them."
Building the Itinerary
When a school calls to inquire about a future trip, ETI helps create a custom itinerary and determines the total price for the adventure. They gather quotes from highly regarded motorcoach companies like Indian Trails, contract with tour managers who are experts on the destinations to which the students are traveling, price out hotel stays along the way, hire security guards to watch over student hallways at night, arrange for trip insurance coverage, and so on.
Popular destinations include Atlanta, Boston, Chicago, Cleveland, Nashville, New York, Orlando, San Antonio, St. Louis, Toronto, and Washington, D.C., as well as a variety of festivals and international opportunities that enable student groups to explore other cultures and broaden their own horizons. ETI can customize a trip to any destination.
Facebook reviews help explain ETI's value to school systems, especially one written by Joshua Sholler. He recalls two high school band trips to Disney World as "still some of my best memories." But it wasn't until years later—when he became Director of Bands and Choirs at Reading (Mich.) Community Schools, and was planning a first trip for his music department—that he realized those magical high school excursions had been organized by ETI.
With ETI's assistance, he's since taken his students to Chicago and Disney World, and is planning a trip to New York City. You can read about his experience here.