Why Anthony Travel Partners with Indian Trails
When the staff of Anthony Travel organizes transportation for sports teams, passenger safety is the number one priority. And that's a big reason why the agency has turned to Indian Trails over the years to transport athletic teams to and from their competitions. We're ranked by the U.S. Department of Transportation among the top 5% of transportation companies nationwide for safe driving.
"Indian Trails is a great partner of ours," says Anthony Travel VP President Ed Lane.
Since 2017, Anthony Travel has served as the exclusive, in-house travel agency for the University of Michigan Athletics Department, where its staff handles travel arrangements for both men's and women's teams in every sport from football, hockey and basketball to baseball, tennis and lacrosse.
The agency's presence on campus has enabled them to really get to know the ins-and-outs of U-M sports teams and the particular needs of each, says account manager Matt Britain: "We've been able to build a rapport with them, their coaches and the athletic department staff because we're onsite and extremely familiar with the unique requirements of college athletics."
A National Sports Travel Agency
Headquartered in Dallas, Texas, Anthony Travel was founded in 1989 and specializes in providing creative and comprehensive travel solutions for athletic teams. It serves more than 80 college athletic departments throughout the United States. Anthony Travel associates often work onsite at the university they serve, managing every athletic department travel need, including team travel, recruiting trips, and staff travel.
Lane notes that in addition to U-M, Anthony Travel serves nine of the other 14 Big Ten schools with arrangements that include charter and commercial flights, hotel accommodations, and ground transportation to and from airports and sporting events.
What makes Anthony Travel so successful, Lane says, is the care with which it scrutinizes potential partners. "For example, we vet every bus company before it becomes part of our network. That includes onsite visits, background checks, whether drivers undergo drug testing and the like."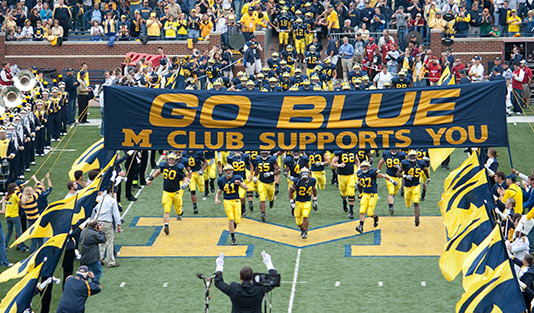 Why Choose Indian Trails
The comfort of the motorcoaches, their ages and amenities, as well as driver training and how they handle emergencies, are all evaluated in the process. "Indian Trails was already a strategic vendor for U-M," Lane notes. "Still, it's our standard to do our own vetting, and Indian Trails got very high marks."
"In Michigan, we turn to Indian Trails first not only because it has a great reputation, but it has it all—including late model buses with WiFi and outlets for charging electronic devices, which are important to athletes and staff," he says. Another plus is that Indian Trails has its own maintenance garages in Kalamazoo, Owosso and Romulus.
Anthony Travel associates Carrie Walz and Maureen Santoni, as well as Britain, work directly with U-M Athletics at Weidenbach Hall on campus. They appreciate collaborating with our staff of sales consultants.
"The customer service is just the best, hands down," says Walz. "We love talking with the charter consultants at Indian Trails. They are so helpful and so very familiar with what our needs are in terms of handling sports teams—like knowing we'll need multiple buses for larger teams and smaller buses for teams like tennis and lacrosse. And they stay on top of our scheduling needs."
"We appreciate, too, both the training their drivers receive, and their familiarity with U-M facilities. Our partnership with Indian Trails gives us great peace of mind."