Meet Driver Tom Kirkconnell


A man of many hats, Tom Kirkconnell has been an investment broker, owner of a minor league hockey team, and human resources consultant. Then he became an Indian Trails driver in 1996.
What he found with us was a welcome change from the headaches of corporate life, as well as new connections and friendships with passengers he's met along the way.
A native of Essex, Ontario, Tom came to the United States to study at Michigan State University and play on its hockey team. After his freshman year, he joined the Detroit Red Wings junior hockey team for a year before returning to campus.
"Under the rules, I couldn't re-join the MSU team, but I did assist the coaches and got to be good friends with the late head coach, Ron Mason," he says.
In fact, Tom, who's been a licensed pilot for 40 years, often flew Mason to Ontario to scout potential prospects at hockey games there. It was Mason who introduced Tom to Gordon Mackay, then president and now chairman of Indian Trails.
Joining the Indian Trails' Team
Mackay invited Tom, then an HR consultant, to come talk with management about ways to increase our crew of bus drivers. One thing led to another, and Tom wound up being recruited as a driver.
"Gordy said to me, 'Come on, you love people—why don't you sign up for our latest driver training class,' and so I did," Tom recalls. Since then, he's served mostly as a charter bus driver, though he's also occasionally taken the helm of some daily scheduled Indian Trails line runs. Since the get-go, Tom has relished the position and new opportunities that being a driver has afforded him.
"Driving a motorcoach is similar to piloting a plane," he says. "You're in charge and responsible for your passengers. The people you transport, and the sights you see along the way, are the best part."
During his driving career, Tom has transported all sorts of groups of various age ranges. And while he previously traveled the world as an investment broker, taking young people to destinations like New York City has been an eye-opener.
"When I went there as a broker, I remember being very wary of the big city. But the kids are in awe of the place, so that's a new perspective," he says. "Once, I took a student group to Manhattan and found everyone to be so friendly, even though it wasn't long after the Sept. 11, 2001, terrorist attacks. After dropping the kids off, I was going to head to a designated parking area, but a police officer on horseback told me to stay parked where I was—that he had my back so I wouldn't get a ticket."
As a former hockey player and team owner, Tom especially loves the charter trips on which he takes professional and collegiate sports teams to and from their competitions.
And it's a source of pride for him that regular charter customers request him as their driver. "I get a lot of requests, especially from sports teams," he says. "It's great because I've developed such close friendships with my regular passengers that I've even been invited to their family weddings."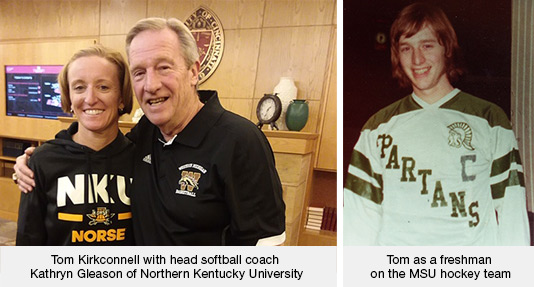 Driver of the Month and More
It was a group of Tom's regular passengers who helped ensure he was chosen as the August 2019 "Driver of the Month" by Firekeepers Casino in Battle Creek, Mich. As part of that recognition, Tom's picture was hung in a special area, and he was honored in a ceremony that included Indian Trails President Chad Cushman and casino executives. (More about Indian Trails' casino runs here.)
Throughout his time with Indian Trails, Tom says he's had no regrets about leaving corporate life in the rear view mirror. "This has been a most rewarding experience for me, including the ability to see a lot of the country in a different light."
It's satisfying, too, to work for one of the oldest bus transportation companies in the United States that always has the newest and best coaches in the business, he says. "Our passengers can have a lot of confidence because of that, and also because we have great mechanics who keep them in tip-top shape."