Under what circumstances can passengers legally bring animals aboard an Indian Trails or Michigan Flyer bus? How about a Greyhound bus, an Amtrak train, or a plane of a major airline that connects with us?
Due to confusing laws and regulations, it can be hard to tell. So we'll try to clarify things—both for passengers who consider animals to be part of their families, and those who see them as potential nuisances or even hazards.
For starters, the rules differ according to the type of animal and service provided. "Service animals" are covered by the Americans with Disabilities Act (ADA) and must be allowed on buses, trains and airplanes. For transportation purposes, "emotional support animals" are not covered by the ADA, nor are "psychiatric support animals" that do not perform a specific function for a person with a disability, or others collectively considered "pets."
Under the ADA, a "service animal' means any dog that is individually trained to do work or perform tasks for the benefit of an individual with a disability, including a physical, sensory, psychiatric, intellectual, or other mental disability. In addition, miniature horses that have been trained to help people with disabilities with specific tasks may now be considered service animals.
The Policy for Buses is Simple
Like Greyhound, Indian Trails and Michigan Flyer motorcoaches welcome bona fide service animals on board with customers who have disabilities. Service animals may ride in the passenger compartment of the bus at no additional charge.
For an optimal experience, people who will be traveling with service animals may wish to notify our office 24 hours in advance. Once on board, passengers must remain in control of their service animals at all times—on a leash or harness, or in a carrier—and the animal must ride within the passenger's own space; it cannot occupy a separate seat or lay down in the aisle.
If we believe a service animal may threaten the health or safety of other passengers or our staff, or disrupt our operations (such as by barking, growling, biting, jumping on passengers, urinating or defecating), we may refuse to allow it on board.
True service animals—which are nearly always dogs—are trained to provide specific services such as guiding people who are blind, alerting people who are deaf, pulling a wheelchair, fetching dropped items, alerting and protecting a person who is having a seizure, reminding a person with mental illness to take prescribed medications, or calming a person with Post Traumatic Stress Disorder (PTSD) during an anxiety attack.
Is That Really a Service Animal?
To determine if an animal qualifies as a service animal, our driver or another staff member may ask two questions:
1. Is the animal a service animal required because of a disability?
2. What work or task has the animal been trained to perform?
We don't ask about a person's disability, require medical documentation, or ask to see a special identification card or certificate of animal training. Credible verbal assurances are enough for us.
But be advised that we do NOT transport any other dogs, cats, birds, or other species of animals, period. Whether wild or domestic, trained or untrained, they're pets under federal ADA law. A doctor's note saying someone needs a certain animal for emotional support does not turn it into a service animal.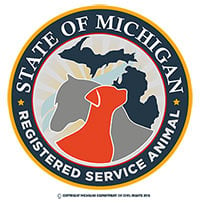 Unfortunately, to help passengers falsely claim that their pets are service animals, a number of online businesses have sprung up to sell them vests, harnesses, ID tags, and letters attesting to their owners' need for mental or emotional support. We don't recognize such phony indicators of service animal status.
On the other hand, to avoid hassles, people with disabilities who travel in Michigan may want to consider registering their service animals with the state. Those who do receive an official "Registered Service Animal" identification card, plus a big, colorful patch for their animal. Registration is voluntary and free of charge, though an affidavit attesting to the truth of the application must be signed before a notary public.
[NOTE: Part 2 of this article continues in the September 2018 edition of this newsletter, where we'll explain how Amtrak and the major airlines deal with passengers who travel with animals.]