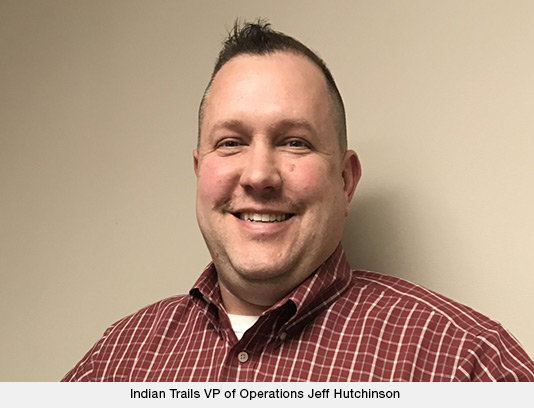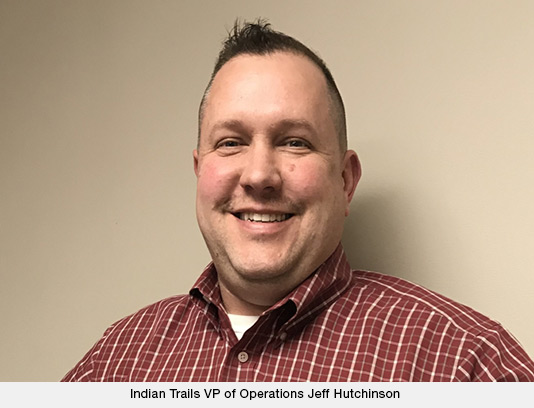 Meet Jeff Hutchinson: Our VP of Operations
As part of a co-op program when he was a high school student, Jeff Hutchinson worked as a janitor at Indian Trails administrative headquarters in downtown Owosso. Today—three decades later—he comes to work as our Vice President of Operations, a position he's held for two years.
One of Jeff's most vivid memories of his time as a janitor was nearly being trapped overnight in our building. "I was bringing file boxes up to the third floor storage area at the end of the day when someone closed and locked the doors with me inside," Jeff recalls. That being the pre-cellphone era, he "yelled for help through a heat register and, luckily, the administrative secretary heard me and came up to let me out."
A native of Owosso, Jeff was familiar with Indian Trails even before his stint as a janitor. His dad, Richard, became a driver with us shortly after Jeff was born.
After graduating from high school, Jeff joined the U.S. Army. When he completed his service, he launched a window washing business called The Window Guys, and eventually wound up with Indian Trails as a client.
While he was washing windows at our building one day, our safety director stopped by and urged him to become a driver. "He had just started a new drivers' training course, and was coaxing me to attend by saying driving was 'in my blood' because of my dad," Jeff says. "The fact that the position came with health insurance helped, since I was also planning to get married."
Climbing the Success Ladder
He worked his way up through ambition, dedication, and learning the ins-and-outs of a variety of positions over the years. Jeff indeed became an Indian Trails driver, then a dispatcher, then a manager at both our Romulus and Kalamazoo maintenance garages, before returning to Owosso as operations manager here.
In 2016, he succeeded Ken Henry, who was retiring, as our VP of Operations. "I job-shadowed Ken for a while before he retired," says Jeff. "That was really helpful."
In his position, Jeff is responsible for vehicle maintenance and staff, which includes bus washers and mechanics, administrative personnel, and drivers, as well as our safety and operations departments both at Indian Trails and Michigan Flyer, our airport shuttle service.
"My progression through different positions at Indian Trails really helped me understand things better. It just takes hard work and the willingness to learn to move forward. It's all about the effort you put into it."
One of the major changes he's witnessed over the years is how advances in technology have made it easier to keep track of where all the motorcoaches are at any given point in time.
"We can actually see each of our buses and where they are on the road. That's far different from when I was a dispatcher and we tracked them by paper and physical checks," says Jeff. The digital technology also benefits passengers, who appreciate the WiFi internet connections and electrical outlets for charging their devices while riding in our coaches.
Priority One: Customer Service
What Jeff loves most about his job is solving the inevitable challenges—and doing all he can to minimize any negative effect on passengers. "If we have a problem, I like to figure out how to fix it and meet the needs of our customers, who we're here to serve to the best of our ability."
Jeff—who loves spending time with his family and boating in his spare time—also values our company's history and culture of teamwork.
"Everyone here—from charter sales staff, to drivers, to our maintenance crew and more—takes real pride in their jobs, and how what they do is connected to overall customer satisfaction. At the end of the day, providing great service and doing our best to ensure our passenger safety is our number one priority."