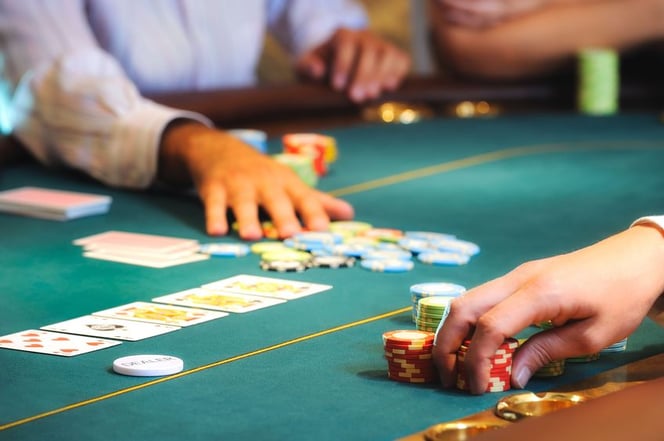 If you're looking for a unique trip that will give you both relaxation and exhilaration in the same day, consider taking a casino bus trip in Michigan, Indiana, Canada, and beyond! Here are four reasons why you should take a charter bus to a casino soon.
Casino bus tours are a unique experience.
You can bring your own snacks and beverages.
Let's face it; it's not very exciting having to choose from a couple options of food or drink when you're on a trip. One of the many perks of taking a casino bus tour is that you can bring your favorite soda, juice, snack, or sandwich. No more settling required.
Get out and socialize!
Sure, everyone needs some alone time now and then. But socializing is good for your mental and physical health, it gets you out in the world, plus it's just plain fun! Enjoying time spent with friends, family, and even people you just met is good for the soul and can be extremely refreshing even if you aren't the biggest social butterfly. Take it from us, you meet a lot of great people on our trips.
Luxury amenities along the way.
Wi-Fi games. If you're making the trip to a casino yourself, there's no way you could play that hot new mobile game. But with Indian Trails, you can, thanks to our complimentary Wi-Fi on all buses. Take some time during your trip to work your way up the leaderboard. If you haven't found "your game" yet, try out Word Cookies, Pictoword, Color Switch, or the ever-popular Candy Crush Saga!
Charge up. What's the point of playing that game, reading news, or scanning social media on your device if your battery is dead once you get to your destination? Our buses have power outlets near every seat, too, so be sure to bring your charger!
Rest up. No one said you have to be on your device on the way to your gaming trip. With quiet and clean buses, you can rest easy in our reclining chairs. So, go ahead and take a nap on the way.
Special deals galore.
Many casinos have special amazing deals designed specifically for bus shuttles and charter companies like us. Take Greektown Casino, for example. With our partnership, you can take a scheduled shuttle to the casino for $15 per person, plus you get $25 in slot play! Indian Trails scheduled shuttle service to Detroit's Greektown Casino offers 12 convenient pick-up locations throughout greater metropolitan Detroit, Tuesday through Thursday.
If you're ready to go, visit our casino page for pick-up locations. No reservation is required - all seats are first come first serve. Pay your driver by credit card as you board the bus.

Where to go?
Greektown Casino – Detroit, MI
A jewel of a casino, Greektown Casino has over 100,000 square feet of action-packed gaming. Whatever your preferred game, Greektown's got it. Their almost 3,000 slot and video poker machines and dozens of tables will entertain you all day. They've also undergone a $70 million renovation, and received their first AAA Four Diamond Award in 2016. Don't forget, we have a scheduled shuttle service that runs Tuesday through Thursday with 12 convenient stops in metro Detroit.
Firekeepers Casino – Battle Creek, MI
One of the newer luxury casinos in Michigan that opened in 2009, FireKeepers is easy on the eye. Located in Battle Creek, FireKeepers has already won many awards. Included is the Best Overall Gaming Resort and Best Promotions, from Casino Players Magazine. If you're looking to stay the night, their hotel is rated a Four Diamond Hotel by AAA. It has 243 resort-style rooms across eight floors to give you a luxurious gaming experience.
Odawa Casino – Petoskey, MI; Mackinaw City, MI
You have your pick from two upscale Odawa Casinos in Northern Michigan. The Petoskey location boasts dozens of table games and almost 1,000 slots, with a hotel nearby. If bingo is your game, visit the Mackinaw City location that hosts 120 electronic bingo terminals. You can get your Vegas fix in Northern Michigan's beautiful scenery.
Soaring Eagle Casino and Resort – Mount Pleasant, MI
A long-time favorite Michigan casino, Soaring Eagle has won dozens of awards; including "Favorite Casino" overall by Midwest Gaming and Travel magazine. The 210,000-square foot casino brings excitement with a variety of table games, slots, poker, and bingo. The resort, spa, entertainment shows, and restaurants make Soaring Eagle a complete experience.
Four Winds Casino – New Buffalo, MI; Hartford, MI; Dowagiac, MI
With three impressive casinos to choose from, Four Winds has some of the biggest jackpots in Michigan. At their largest location in New Buffalo, you can choose from over 2,600 slot machines and progressive game jackpots starting at $100,000! Not to mention, you have your selection of over 50 table games, too.
Hungry after a day on the gaming floor? Check out the Hard Rock Café in the New Buffalo casino – it's one of only two Hard Rock locations in Michigan.
- - -
Indian Trails offers many ways to get you to your gaming destination, including scheduled casino services, charter buses for groups, and even buying individual bus tickets. What are you waiting for? Come out and play!