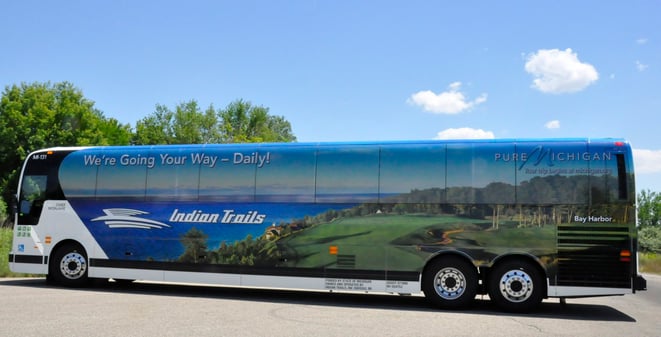 "Now, that was easy." A short, four-word sentence that can bring the most hardened online shoppers to their knees in praise.
Purchasing bus tickets online can have you singing those four little words over and over. But, you've got to know what to look out for during the buying process.
Before an online ticket purchase becomes easy, there's a few bumps in the road that could hamper your enjoyment of the buying process; so, we've outlined some points to be on the lookout for as you look to buy your bus ticket online.

1. Buying tickets in advance eases stressful situations
Embrace technology; it can save you a lot of hassle. If you're the type to wait until the day of your bus ride to purchase a ticket at the station, don't. That move is generally the most expensive way to buy a bus ticket and could leave your wallet starved…and without a seat. Browsing the Internet weeks in advance of your trip brings the best prices and bus times to your fingertips. Sites like wanderu, GotoBus, and our own Indian Trails webstore can make buying your next adventure easy.
2. Travel at off-peak times for maximum savings

If you're looking to save a few dollars, skip the short weekend travels. Fridays and Sundays are very popular travel times, which means they're bad for landing a nicely priced bus ticket. Instead, look at traveling mid-week (Tuesday, Wednesday, and Thursday) since prices generally dip when travel dies down.
Pro tip: If you're flexible, choose 2-3 different travel timeframes to compare prices and departure times to save the most money.
3. Know how much bus tickets should cost
Bus tickets can be found online for as little as $1, but that's usually only for a spot or two on a specific trip, so don't rely on that. Not to mention, those services can have poor customer service and can leave you with a sour taste in your mouth.
If you plan ahead, you can expect to pay anywhere from $15-$45 for a one-way, nonstop ticket (although buying roundtrip tickets can save you money). But if you're going a long distance and need multiple transfers, you can expect that price to rise considerably. Our best advice? Do your homework to see what all your options are – and their costs.
4. Know how you will be receiving your tickets prior to purchase
Getting to the station assuming your ticket will be there can be a costly mistake. It's always important to be sure you understand how your ticket will get into your hands prior to your trip. For example, our webstore allows you to either print your tickets immediately after purchase, or you will also receive an email with the tickets and printing instructions inside, where you can print later.
Bottom line: Be sure you know how your tickets are being delivered to you, and always have them on-hand when arriving for your trip.
5. Be sure to read over the bus company's policies
It's always important to know what is expected in your trip – from both you and the bus company. You should be able to find general information about the company's bus policy on their website (like ours is here). If you can't find the policies and you don't see an agreement after you add the tickets to your online shopping cart, don't buy them. Wait until you have contacted the company to fully understand what's expected. There's not much worse than experiencing a gaffe during your trip because you didn't take time to read the company's policies.
Bus travel is affordable – and with all the amenities available on modern buses like ours – it's also comfortable and relaxing. So, go ahead and dive into the world of online bus tickets. Be sure to keep these handy tips in mind as you purchase tickets to your next great adventure.