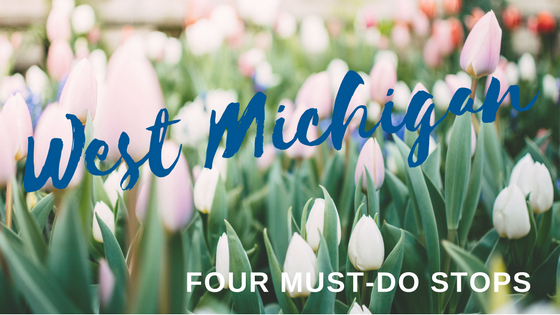 West Michigan has an incredible wealth of fantastic places to visit. You can enjoy awesome food and beverages, take in shows and concerts, view some of the state's most beautiful vistas, or plan any of hundreds of other great ways to spend a day during your group tour. Here are four great venues to visit on a tour of west Michigan that will have a little — or a lot — of something for everyone.
Frederick Meijer Gardens & Sculpture Park – Art and nature are merged into an amazing array of beautiful things to see and do at Meijer Gardens, in Grand Rapids. The entire campus is 158 acres, all of which is accessible and barrier-free. The site contains the state's largest tropical conservatory, as well as five indoor theme gardens, outdoor gardens, nature trails and a boardwalk, along with galleries and a permanent outdoor sculpture collection. Among the amenities is a library, a café and gift shop, classrooms and meeting rooms.
One of the most popular areas is the Lena Meijer Tropical Conservatory. This "breathtaking" facility is five stories tall and 15,000 square feet of natural splendor with rock landscapes, a waterfall and a variety of exotic plants from places like India, Central and South America, and Asia. Also indoors are the Kenneth E. Nelson Carnivorous Plant House, Earl and Donnalee Holton Arid Garden (think Saguaro cacti), the Earl and Donnalee Holton Victorian Garden, and the Grace Jarecki Seasonal Display Greenhouse.
That's just a taste of Meijer Gardens. No tour would be complete without visiting the sculpture park with one of the world's largest outdoor sculpture collections and ongoing exhibitions indoors. And don't forget the summer concert series. This year's agenda includes names like Gladys Knight, Jackson Browne, The B-52s, and Herbie Hancock, to name just a few. If a concert is in your plan, you will want to purchase tickets ahead of time, as they sell out fast.
Grand Haven – This walkable town on Lake Michigan is such a summer paradise, it's hard to imagine a west Michigan tour without a visit to Coast Guard City USA. Downtown Grand Haven is just plain people-friendly with great shops, an awesome variety of restaurants and pubs, and tons of summer fun. You can check out their annual events here. If your group loves the beach, Grand Haven has 15 to choose from on Lake Michigan and Spring Lake, and they are among the best in the state! Other attractions include the Musical Fountain, a synchronized water and light show each day at dusk, and lighthouses dating back to 1839 on the south pier. While you're there, take a ride on the Grand Haven Harbor Trolley for a historic narrative tour beginning at Chinook Pier!
Holland – Going Dutch? Go to Holland for a real treat! Holland was founded in 1847 by a group of Dutch immigrants who cleared the wilderness and made a town fashioned after their homeland. Today, Holland retains its Dutch heritage in many ways, providing visitors plenty of great places to go and interesting things to see. Starting in the middle of town, Windmill Island Gardens is a city park that is home to the only working, authentic Dutch windmill in the United States – the 251-year-old windmill DeZwann. The landmark is 125 feet tall to the top of the blades. The park also offers a miniature Netherlands village made by the early settlers, a gift shop, and other attractions. While you're in town, take time to shop and eat. If your group would appreciate a little brewery fun, head on over to New Holland Brewing's Pub on 8th or the Knickerbocker for a taste of great beer, food, and spirits! Of course, there is always a relaxing afternoon at the beach at Holland State Park or Tunnel Park, or just take a walk on the pier to the lighthouse on Lake Michigan.
Saugatuck/Douglas – Long a well-kept secret, Saugatuck/Douglas is a great place to chillax and just enjoy a Michigan summer day. Start out at one of the areas six beaches comprising 10 miles of Lake Michigan shoreline; named in the "Top 25 Beaches in the World" by Conde Nast Traveler, the sand is clean and the water is blue so you'll want to wade right in and enjoy the gentle surf. If you want a little more action, book a fishing charter and go after trout, walleye, salmon, and steelhead or take a hike at Saugatuck Dunes State Park, Saugatuck Harbor Natural Area, or Mount Baldhead Park, each with a different level of difficulty.
When it's time to eat, you'll find the area is well known among foodies (including cookbook authors and others in the know). You'll find everything from the Classic Coral Gables — a Saugatuck institution since the 1950s — to a variety of diners, cafés, restaurants, bakeries, and deli's to choose from. Shopping and strolling are two other things Saugatuck/Douglas is well known for, so it's a great place to get a little retail therapy and take home some one-of-a-kind souvenirs.
These are just a sample of West Michigan's offerings, but a good place to begin planning your west Michigan group tour. Don't forget, Indian Trails is standing by to help you plan your trip and book your state-of-the-art motorcoach. Find out more and get a quote today!