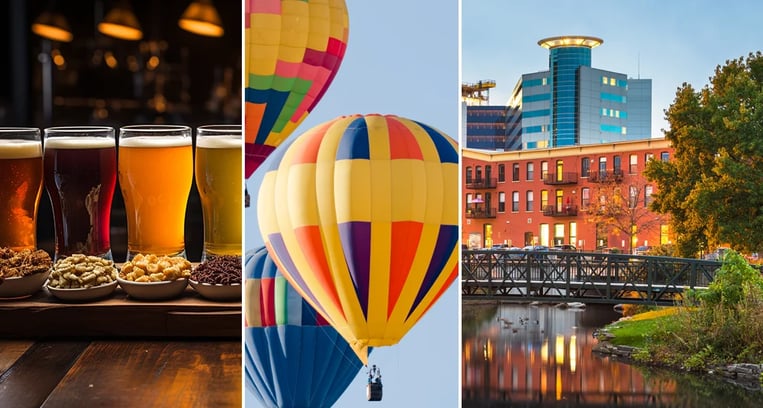 Kalamazoo is a city that embraces creativity and the beauty of Pure Michigan. With its world-class art institutions, tranquil nature sanctuaries, vibrant community festivals, and thriving craft brewing culture, this dynamic city offers a wide range of experiences to suit all interests. Come join us on an adventure to discover Kalamazoo, a place where culture, nature, and community seamlessly intersect.
Museums and Art
Kalamazoo is a city where culture and creativity come to life. From world-class art institutions to community-driven galleries, this vibrant city offers a rich tapestry of artistic experiences.
Nature
Dining and Craft brews
From farm-to-table restaurants that showcase the region's freshest ingredients to charming cafes that provide a cozy atmosphere, the culinary scene in this vibrant city is sure to please even the most discerning palate. Kalamazoo has something to offer every taste bud.
For the craft beer aficionados among us, Kalamazoo's thriving brewery culture will have you hopping with excitement. The city is home to several local breweries that offer a tantalizing array of craft brews. From hoppy IPAs to rich stouts and everything in between, beer lovers can embark on a tasting adventure and discover the unique flavors and styles that Kalamazoo has to offer. Whether you prefer a cozy taproom or a lively brewpub, the city's breweries provide the perfect setting to savor a pint or two.
Music and Theatre
Kalamazoo is a city that knows how to set the stage for captivating performances. From live music to theater productions, this dynamic community offers a wealth of opportunities to immerse yourself in the world of entertainment.
SPORTS
Kalamazoo also boasts a thriving sports scene that caters to enthusiasts and athletes of all kinds. From spirited college sports to recreational activities in picturesque settings, Kalamazoo is a sports lover's paradise.
Festivals
Kalamazoo is a city that knows how to celebrate. This vibrant community hosts a variety of festivals that showcase its rich culture, artistry, and the warm spirit of its residents. From music and arts to food and heritage, Kalamazoo's festivals offer a unique and unforgettable experience.
In conclusion, Kalamazoo offers a harmonious blend of art, nature, culinary delights, and cultural experiences. Whether you're an art enthusiast, nature lover, foodie, or simply seeking a vibrant city to explore, Kalamazoo has something for everyone. So, pack your bags and embark on an unforgettable journey to this captivating city. Check out something new everywhere Indian Trails stops.