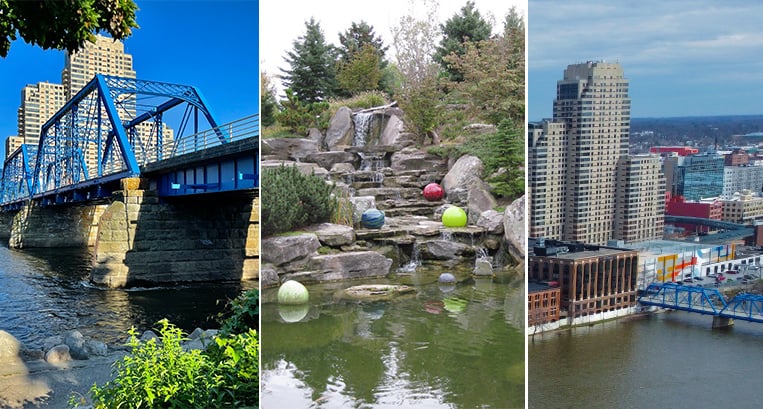 What do you call a town with world-class museums, highly rated outdoor activities, renowned festivals, professional sports teams and well-known craft breweries? Grand Rapids, Michigan!
Even though this city is the heart of West Michigan, economically and culturally, that doesn't mean Grand Rapids is remote and far away from the residents in other parts of the state. In fact, you can get there by bus in a few hours or less.
But don't make the mistake of thinking you can explore the city in only a few hours.
With so many wonderful things to do in Grand Rapids, you'll want to plan several trips or a multi-day vacation to enjoy all it has to offer. And if you're taking more than a few people, why not charter a bus and plan a sightseeing tour yourself? The official marketing organization for the metropolitan area, Experience Grand Rapids, has suggestions including beer tours, scenic tours, self-guided audio tours, and a Black history tour.
Need more ideas? Here are some of the top things to do when visiting this great city.
Art Museums and Festivals
Grand Rapids is the second largest city in Michigan but it's not second-rate. Within a radius of a few blocks in downtown Grand Rapids, it has five museums, including two for art, one for children, and a presidential library.
For information about other art galleries and festivals, visit Experience Grand Rapids.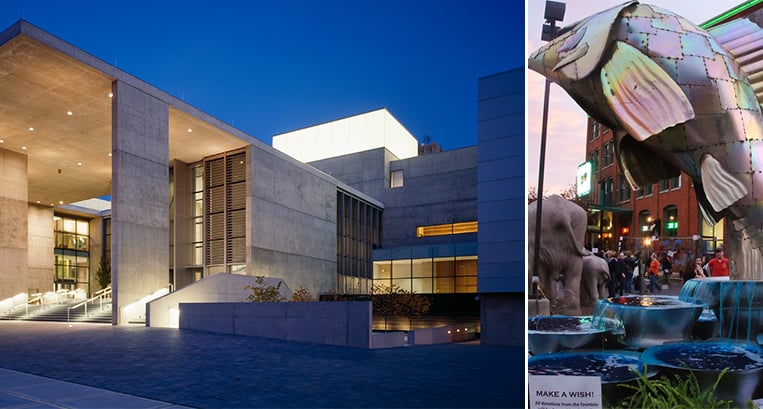 Family Fun
And because not everything is cultural or educational:
Food and Beer Tours
For those who might need a break from all this sightseeing, there's beer! Grand Rapids has finished first in USA Today's Reader's Choice online poll as America's Beer City for 10 consecutive years as of 2022.
Pure Michigan estimates Grand Rapids' Beer City Ale Trail has more than 80 breweries, as well as brewery tours and hotel beer packages.
Grand Rapids Beer Tours conducts public and private tours, both walking and driving.
Grand Rapids International Wine, Beer & Food Festival – A popular annual fall event that started in 2008.
Grand Rapids also ranks highly for its brewpubs and other restaurants, whose chefs take advantage of the fresh produce at the local farmer markets.


Music and Theatre
There's also a variety of musical theatre and concerts. You can buy the three-day Culture Pass GR and go for free or discounted admission to many of these attractions, plus: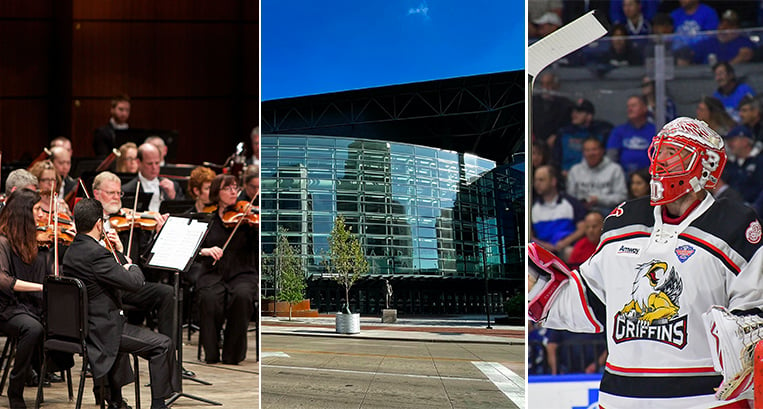 Sports and Venues
Grand Rapids has world-renowned venues that play host to several sports teams and a variety of concert events. With the three-day Culture Pass GR, you can even receive discounts at venues for some performances.
Van Andel Arena – This premier arena is West Michigan's largest and home of the Grand Rapids Griffins ice hockey team, Grand Rapids Gold basketball team, and in January 2024, will debut the Grand Rapids Rise, the city's first major league women's sports team. The arena is also host to chart-topping performers like Bruce Springsteen, Janet Jackson, Taylor Swift and Lady Gaga, to name a few.
DeVos Performance Hall – This performing arts theater is home to The Grand Rapids Symphony, The Grand Rapids Ballet, Broadway Grand Rapids and Opera Grand Rapids. The theater has hosted performances including various musical, comedy, and children's shows. The stage has been graced by the likes of performers such as B.B. King, Harry Connick Jr., Aretha Franklin, Jerry Seinfeld, Dave Chappelle and Aziz Ansari; and performances of Peppa Pig Live, Sesame Street Live and Daniel Tiger Live.
DeVos Place – Grand Rapids premier convention center is host to many events throughout the year such as AQS Quilt Week, GFS Annual Food Show, The Grand Rapids Comic-Con, as well as numerous industry and specialty conventions, conferences, and expos.
Still have questions about what to do in Grand Rapids, visit Experience Grand Rapids for more ideas.

Now that you know what you can do in this great Michigan city, how do you get there? Indian Trails can help in two ways!

First, we run regular bus routes to and from Grand Rapids throughout the state, and beyond. Buy a ticket and enjoy trouble-free travel to this wonderful destination.

If you're bringing a lot of traveling companions, you can charter a bus and create a customized sightseeing tour! Travel at your own pace and in comfort.

Either way, you'll enjoy the trip more with Indian Trails!