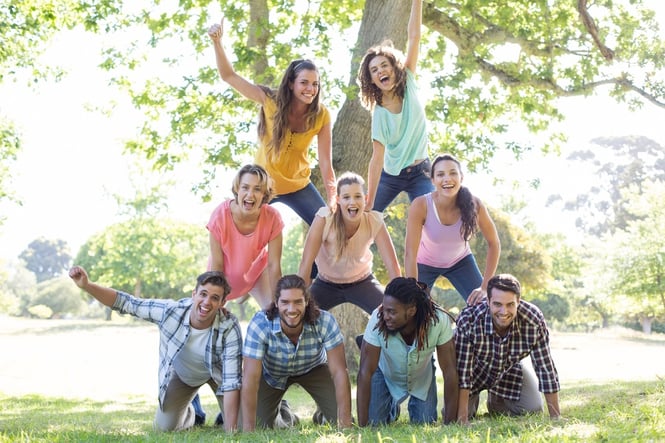 Your team's in a bit of a rut. The meetings are staggering. The usual antics are lacking. The air feels stale. It's understandable, it happens to all teams at all companies at some point or another. Doing nothing isn't going to help, though. Your team needs a break from the ordinary. They need to get out and rejuvenate. To help, we've outlined some tips and benefits for booking a day retreat on a charter bus to get your team back on track.
Bringing your team together out of the office can make all the difference.
The best way to have a great team at work is to spend time together outside of the office. Shaking off that "9 to 5 feeling" with a getaway can freshen up your team's minds – including the ideas inside them. Research even shows that employees who take day retreats have higher levels of positivity, focus, and resilience.
Decide your destination (together)!
A great way to start the road to better team bonding is to decide on the destination as a group. Before you book your charter bus, sit down with your coworkers and discuss their destination interests for your trip. A day out of the office can turn sour if employees are told where they're going, without a say in the matter. Allow each member to give input on where he/she would like to visit, and go from there. You could be amazed by how excited people get, and of the direction the ideas will go!
But, with so many choices to choose from, here are some ideas you could present to your team:
Ropes course: Work on team trust while hanging out above ground! A ropes course is a fun and exhilarating way to boost employee morale in a cool setting. There are many throughout Michigan and the Midwest, so you surely will be able to find a great course near you. But, if your team is not much of a thrill-seeking bunch, try a…


Beach day: Relaxing and simple, a beach day is an awesome way to spend a day retreat. Find a beach that allows grilling and be sure to bring a frisbee, volleyball, etc. to entertain your team. Not to mention, a beach is a great area to work on physically-related teambuilding exercises (we'll get to in the next section). Don't want to get sandy? Try to…


Help in your community: Making a difference in your community can make for a seriously rewarding experience. Employees who rally around the community care more for the community, and build tighter bonds with each other. You can do anything from volunteering at a homeless shelter to beautifying a playground. Your employees should feel accomplished after a day of helping others. Or, you could always…


Relax in a favorite park: A park is a relaxing and inexpensive way to get your team all on the same page. Bring some snacks and refreshments to enjoy a day surrounded by green landscape or beautiful blue lakes. Whether it's the park downtown, or a beautiful state park hours away – we can get your team there.
Game ideas for employee bonding.
You've arrived at your destination, ready for a wonderful day chock-full of team bonding. But you don't want the same old boring team-building games, right? Here are four games that'll bring your team together.
1. The Good from the Bad
This game helps tighten bonds between team members, while putting events into perspective.
Divide your employees into small teams, and have each member share one bad event that they've had. It can be related to anything in their life. Then, once each member has told their story, the others need to pick out one good thing that came from the experience. Switch up teams as needed to repeat the exercise. This can help your team members get through hard events that may still weigh on them.
2. Enclosed Minefield
The Enclosed Minefield activity will enhance collaboration and problem-solving skills for your team.
Note: You will need a collection of different sized items from the office, plus one blindfold for each team.
In an area, set up boxes, chairs, reams of paper, water bottles, etc. that will be known as "mines". Divide your team members into pairs and blindfold one partner. Then, the blindfolded partner must maneuver around the mines (and other co-workers), guided only by their partner's voice. Enjoy the amusing scene as you watch blindfolded people try their best not to hit a "mine."
3. A Shrinking Vessel
This game is effective at building creative problem-solving skills. Plus, your team members bond together in a tight space round after round.
Note: You will need a long rope, or large blanket.
With the rope or blanket, make a large space on the ground or floor that is large enough to fit you whole team standing. Then, slowly shrink that space a little bit each round. Watch as your team begins working together to keep everyone within the tightening boundaries. P.S. - human stacking is advised.
4. Don't Crack the Egg!
For good reason, this game is popular in the professional environment and in middle school science classes. It's addictive, promotes teamwork, and improves problem solving and creativity.
Note: You will need to bring drinking straws, paper clips, cardboard boxes, and newspapers – or anything else you think could help in making an egg not crack.
First, split your team members into small groups. Then, give each group an egg and let them know all materials are at their disposal. The goal is to create a contraption that will prevent an egg from breaking when dropped from at least seven feet. Good luck!
Need more advice? Check out our 10 Do's and Dont's of booking a charter bus here!
Do it all with the 21st Century bus amenities you expect.
Indian Trails prides itself on having modern charter buses with all the convenient amenities you expect. When you ride with us, you get free Wi-Fi, power outlets, reclining seats, eco-friendly buses that are squeaky clean – every single time.
Go ahead, post that Instagram photo of your team members having fun on their team bonding day. Update Facebook that you have the coolest employees around. And if you need to, charge that new smart phone or beautiful tablet as you're taken to your destination.