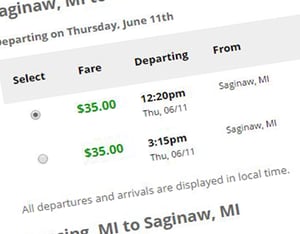 When you need to get from Point A to Point B, you have plenty of options . . . but buying bus tickets is still one of the top modes of transportation. The industry can thank the millennial generation and its travel preferences for this spike in demand. But Generation Y is not the only reason the industry has boomed in recent years. There are many advantages to traveling by bus rather than by airplane, train, or even automobile.
Taking a bus can often get you there the fastest. Many people immediately think of airplanes as the fastest mode of transportation. The truth is — for short trips anyway — buses are actually quicker. When you consider the time it takes to get to airport, plus the need to arrive 90 minutes before departure, flying is only faster when you're traveling a long distance. As for driving, in cities with lanes specifically designed for buses and other high-occupancy vehicles, hopping on a bus can get you to your destination faster than you could get there on your own.
Bus transportation is a cheap way to travel. Airfare fluctuates and is only cheap if you book months in advance; and if you're traveling on or near a holiday, you can expect to pay through the roof. Traveling by bus is one of the most cost-effective ways to travel. For one thing, you can buy a bus ticket a few days before your trip (or even the day of your trip) with only a slight increase over the cost of booking in advance. Some companies even offer student discounts, frequent-rider programs, and package deals. For these reasons, many regions around the country have embraced bus travel.
Coverage around the country. You can take a bus virtually anywhere within the country. Bus trips are available along both the east and west coasts, as well as the Midwest. If your preferred company doesn't travel to your particular destination, it's likely they have a connecting bus that will get you there.
Buses minimize the impact on the environment. Passenger miles per gallon (pMPG) is a metric used when evaluating the energy efficiency of different modes of transportation. In terms of Passenger MPG, cars range from 20.0-80.0 pMPG; airplanes get 43.0 pMPG, trains 45.0 mpg; and buses get a mammoth 125.0 pMPG. Because buses use the least amount of fuel per passenger, traveling by bus is the greenest way to travel in the country.
Today, buses have a wide range of available amenities. The most prevalent advancement in transportation is technology, which has changed the face of the industry. Many buses are now equipped with Wi-Fi – a huge selling point for today's riders who have grown up using the Internet on mobile devices and tablets. These riders have come to expect this amenity wherever they go — whether they're home, at school, or even on a bus. Other amenities and benefits commonly found on buses today include electrical outlets, increased legroom, and even bottled water on board.
Taking a bus is one of the safest and most reliable ways to get from here to there. The bus industry safely moves approximately 750 million passengers every year. A few years ago, the Federal Motor Carrier Safety Administration (FMCSA) launched an app called SaferBus, which allows riders to check the safety records of their bus company before booking a ticket. Not only is bus travel one of the safest modes of transportation, but it's also reliable. Buses actively depart as scheduled and get you where you need to go. Sure...if the weather is bad you might expect a short delay, but the bus will get you there, better than your own car could.
There are many other reasons why bus travel is giving airline, train, and car companies a run for their money. Have a trip in mind? Stop hesitating! Buy the bus tickets and let someone else do the driving. If you're looking for a bus company in your area, take a look at Wanderu's bus provider guide.

Sources:
http://www.fmcsa.dot.gov/safety/passenger-safety/saferbus-mobile-application