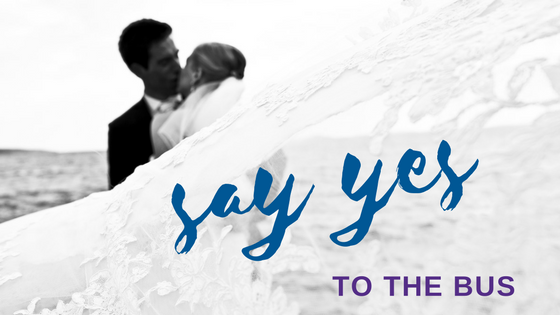 Planning a wedding is a massive undertaking fraught with stress and sometimes even tears. The details seem unending, problems arise regularly, and seemingly sane people can become maniacal in an instant. So why not tackle several potential problems all at once by chartering a beautiful motorcoach to handle transportation for your wedding party, friends and family? Here are five great reasons to charter a wedding bus.
1) When the wedding venue, the reception facility and the hotel accommodations are separated by distances, a motorcoach will eliminate the possibility that essential people, like the best man or maid of honor (or both!) get lost on his or her way from the hotel to the church. You can't really start a wedding without them and with a motorcoach ride to the church, that's just one less worry.
2) So, you have six bridesmaids in satin and lace and six groomsmen in tuxes and tails and you're really going to trust each of them to drive themselves and arrive unscathed? Did you forget the trip to prom when your best friend decided to stop for Taco Bell and ended up wearing hot sauce on the front of her gown? Nip those possibilities in the bud with a motorcoach that's roomy, clean, comfy, and state-of-the-art. Barring unforeseen snacking, everyone will exit the bus as well put together as when they got on. No wrinkled jackets or gown hems caught in the car door!
3) Keeping everyone in your wedding party on the same page when it comes to post-ceremony photography can be tricky, but when everyone arrives together and leaves together, it's a no brainer. Your entire wedding party and essential family members will be in the same place, awaiting your orders, so even the most grueling photographic sessions will go much smoother and quicker. Then it's on to the reception!
4) Reception venue parking can sometimes be a reason unto itself for chartering a wedding motorcoach. When the perfect reception spot has limited parking available, filling a coach with 50+ of the most important people in your world will save headaches all around. Your motorcoach will transport you and yours door-to-door so no one has to park on a side street or down a dark alley!
5) On the same note, unless your reception is alcohol free, why not do all the people you love a big favor and provide them with a safe, sober ride back to the hotel. It will be a load off your mind during your reception knowing that even Big Bob, who says he can drink anybody under the table, will not be getting behind the wheel after your special night. Celebrate safely and make sure everyone gets home alive.
You want your wedding day to be one of the most wonderful days of your life, so why not eliminate some of the many things that can go wrong by chartering an Indian Trails motorcoach? We have motorcoaches seating 34, 52, and 56 passengers, all of which are among the newest in Michigan, and all providing amenities like free WiFi, charging outlets, DVD players, restrooms, and more. Find out what Indian Trails has to offer for your big day!