Indian Trails is excited to be back on the road, to get our employees back to work, and to once again be a part of your adventures. It's been a challenging year and it feels great to see our buses hit the road!
In order to protect our thousands of passengers across mid-Michigan and beyond, we've implemented some new guidelines and policies that you should know before you hop on board.
1. NO MASK, NO RIDE.
In order to ride, we require every passenger to bring a face mask and wear it for the duration of their trip. Anyone without a face mask will not be allowed to board the bus.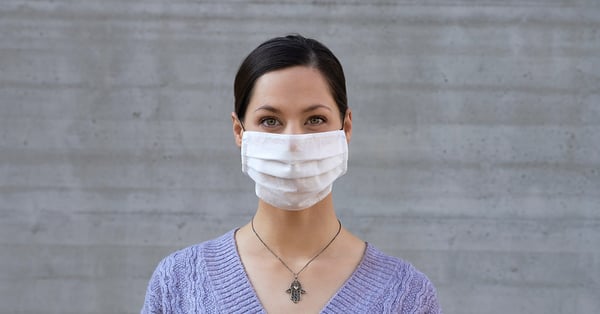 A refund will be issued to any ticketholder who is denied boarding for not bringing or wearing a face mask.
There are two exceptions to this policy:
If you are medically unable to wear a face mask, and can present the driver with a doctor's note verifying your condition, you will be allowed to ride without a face mask.

If your bus stops for a meal break, you may remove your face mask while eating.
We also ask that you:
Do not ride one of our buses if you feel sick.

Choose a seat as far away from other passengers as possible (in accordance with

travel guidelines

from the Centers for Disease Control (CDC).

Wash your hands with soap and water for at least 20 seconds—or use the hand sanitizer provided by us. You should wash or sanitize after touching surfaces frequently touched by others, after blowing your nose, coughing or sneezing, and before touching your face or eating.

2. Capacity is limited
To enable passengers to physically distance themselves from other riders, and avoid spreading coronavirus, we have temporarily limited the capacity of our buses.
This limited capacity means that you should always prepare for your trip early by booking your tickets ahead of time.
3. YOU CAN (AND SHOULD) BUY TICKETS ONLINE
In order to avoid disappointment and guarantee that we have a seat available for you, we strongly encourage you to buy tickets in advance through our website. Buying your tickets online also allows you to stay distanced from other passengers as long as possible and to use your own devices rather than those that others have touched.

If you're not comfortable purchasing online, you can buy tickets in advance through one of our more than 90 ticket agents and travel centers in Michigan and beyond. However, be aware that many of these locations are closed or offering limited services due to the COVID-19 pandemic. To find out if one near you is open, call ahead, their phone numbers are listed here.
4. THERE ARE PROTECTIONS IN PLACE FOR RIDERS
Besides our "No Mask, No Ride" policy, we are taking the following steps to ensure the health and safety of our passengers, including:
Providing hand sanitizer on all buses.
Limiting the number of passengers per bus.
Asking passengers to occupy seats as far apart as possible.
Ventilating buses with fresh air rather than air recirculated through the heating/cooling system.
Providing transparent, protective barriers between drivers and passengers with the first row of seats blocked off.
Cleaning and disinfecting buses after each run, with particular attention to high-touch areas such as handrails, arm rests, and restrooms.
Spraying the entire interior of each bus with a general disinfectant for additional sanitization.
Requiring daily temperature and symptom checks of all on-duty Indian Trails employees
Requiring the entire workforce to abide by a comprehensive

COVID-19 Preparedness and Response Plan

.
Staff members must stay home if they feel sick.
5. ONLY SOME SERVICES HAVE RESUMED
The pandemic policies of carriers such as Amtrak or Greyhound may not be the same as those of Indian Trails, particularly when it comes to masking and physical distancing. If your trip will involve connecting with another carrier, it would be wise for you to avoid surprises and check with them on any policy differences in advance.
One temporary exception to the restart will be Battle Creek, where Indian Trails' buses normally connect with Amtrak. The trains are currently operating on a reduced schedule that does not allow for such connections, so Indian Trails will resume Battle Creek service when Amtrak does. However, Indian Trails and Amtrak still connect in Milwaukee.
To make sure Indian Trails can get you where you need to go, plan ahead. Give us a call with any questions you might have and make sure you've checked the details of all aspects of your trip.
We thank you in advance for helping us provide safe and reliable service to our passengers!