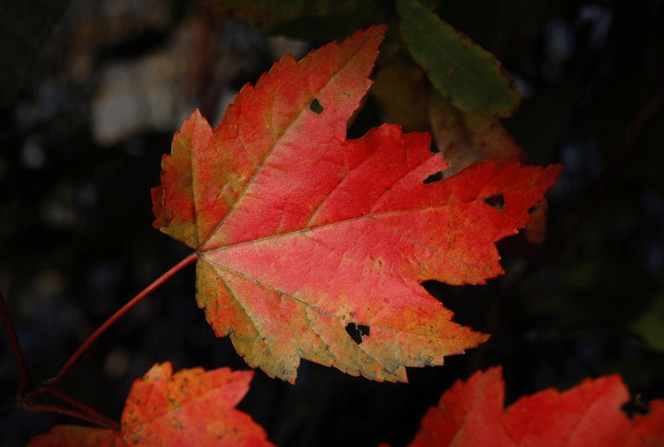 Fall is a fan-favorite in Pure Michigan. From pumpkin patches and cider mills to festivals and Michigan fall color tours, there is something to do for everyone this time of year.
Here's a checklist for adventurers looking to maximize their fall fun before winter hits. Scroll to the bottom, or click here to download the FREE interactive PDF bucket list.
1) Visit Tahquamenon Falls as the leaves are turning
You'll witness one of the most breathtaking vistas available anywhere. With a vertical drop of almost 50 feet spread across more than 200 feet, the Upper falls is spectacular and downriver the five Lower Falls provide additional photo opportunities and Pure Michigan natural beauty.
2) Take your chances in a Michigan corn maze
One of the state's growing agri-tourism options, make sure to check out this list of Michigan corn mazes and gather friends and family for this good old-fashioned fall fun. Some of the more stout-hearted may even consider a night time visit, but don't forget a flash light and water bottle … just in case!
3) Pick your pumpkin from a Michigan pumpkin patch, not a grocery store.
Pumpkins are grown across the state and many pumpkin purveyors also have sweet treats like cider and donuts, and other freshly baked goods available. Don't miss the chance to enjoy a beautiful crisp Pure Michigan fall day while you find your perfect pumpkin.
4) Take the spectacular fall drive up M-22
Travel north along the coast of West Grand Traverse Bay through historic towns and rolling hills. At the tip of the little finger you'll turn south along Lake Michigan near dunes, forests and gorgeous inland lakes to complete the 116-mile Pure Michigan journey just north of Manistee. Along the way you will cross the 45th parallel not once, but twice!
5) Spend a weekend on Mackinac Island
During the fall, the crowds are smaller, but the entertainment and dining are as great as ever. There is no better time for a relaxed family reunion or gathering of college pals and no better place to meet. Step away from the noise of the city and relax on Mackinac Island, where you can golf, shop, eat, and drink in one of the purest Pure Michigan's venues.
6) Take a tour of Pure Michigan's haunted places in or near Marquette.
Have you visited any Michigan haunted houses in years past? From dorm rooms to historic inns to lighthouses and more, apparitions, screams, and falling objects are just a few of the reported spooky happenings. You won't want to go this alone so get a group and brave it together! Click here for a list of haunted places in the Upper Peninsula.
7) Attend the 9th Annual Detroit Fall Beer Festival
If there was a contest for the official Michigan autumn beverage, beer would likely get a lot of votes! So, get together with a bunch of your beer-loving friends (21 and older!) and sample more than 700 craft varieties at the 9th Annual Detroit Fall Beer Festival, Oct. 27-28 at the Eastern Market in Detroit.
8) Visit Headlands International Dark Sky Park
The astronomer in you will rejoice when you enjoy a trip to the Headlands Dark Sky Park, near Mackinaw City. This new Pure Michigan facility is one of only nine like it in the world and has sky-gazing trails, grounds and viewing areas open 24/7/365. Planned programs take place rain or shine and may have a fee, although there is no park admission fee. It's a great astronomy class or club tour too!
9) Take a west Michigan film tour
Travel through cities and towns down the coast including Traverse City, Manistee, Ludington, Holland/South Haven and inland to Grand Rapids, Kalamazoo, and Niles/Buchanan. Michigan has starred in movies since 1936 and many of the sites filmed still exist today. Take this opportunity to learn about the films and the history behind them on an incredible Pure Michigan film tour.
10) Take a copper mine tour
See for yourself what it was like in an upper peninsula copper mine on tours of the Quincy Mine in Hancock and the Delaware Mine in Delaware. Spend time at Pure Michigan historical sites like Central Mine and Village, Old Victoria, and Fayette, home of Fayette Historic State Park, and learn about life in mining towns and about the structures and machines that made mining a big Michigan industry for more than 100 years.
Not enough activities for you? Check out some ideas we have for group trips here!
As you knock items off your bucket list, remember that Indian Trails has routes throughout the state and charters available as needed to get you and your group where you want go, when you want to go, in Pure Michigan style! For more group trip ideas check out our blog Michigan Group Trip Ideas with Something for Everyone.