The growing popularity of public transit has triggered demand for bus tickets around the country. The Great Lakes State is home to some of the most popular tourist destinations in the world — and guess what? — you can get to any of them on a bus. Whether you want to catch a game at the Big House, visit the State Capitol, or get away up north for a weekend, bus travel is a convenient and affordable way to get there. You'll even be doing the environment a favor!
Here are a few of Michigan's top tourism destinations, with corresponding bus ticket pricing from a variety of locations throughout the state: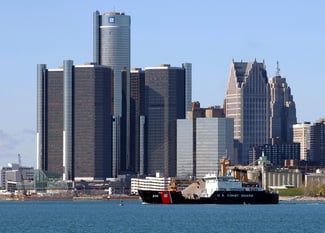 1. The Motor City
A great destination for sports fans above all, as Detroit was voted #1 in USA Today's Best City for Sports. Every fall, you'll find Lions lurking around Ford Field. During winter months, basketball fans are cheering on the Pistons at The Palace of Auburn Hills. You might even hear a "Let's Go Red Wings!" chant coming from Hockeytown. In the spring, Tigers fans head out in droves to Comerica to enjoy America's favorite pastime. Sports aren't all Detroit has to offer – there are also great events, attractions, museums and restaurants. You might find yourself spending a day at the Detroit Zoo, the Sea Life Michigan Aquarium, the Henry Ford, or the Motown Museum. In September you'll find even more things to do such as Arts, Beats & Eats, the Detroit Jazz Festival, or the Michigan Renaissance Festival. If all those activities work up your appetite, head out to one of these top rated restaurants (Slows Bar BQ tends to be a favorite!).
*Head to Detroit from:
Lansing for $25

Mount Pleasant for $29

Saginaw for $18

Alpena for $41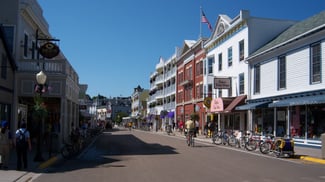 2. Mackinac Island
Located on Lake Huron, Mackinac Island is a popular travel destination for those looking to "relive the simple pleasures of life." Visit Mackinac Island State Park, ride a bike, tour the island by carriage, try the famous Mackinac Island fudge, or get in the water for kayaking, boating, or sailing. Don't forget to take in the coastal views; time stands still while you're on the island.
Although Mackinac Island is only accessible by boat or ferry, we'll get you to one of the nearest cities, St. Ignace or Mackinaw City.
*Head to St. Ignace from:
Detroit for $51

Lansing for $42

Mount Pleasant for $32

Saginaw for $39

Alpena for $19
*Head to Mackinaw City from:
Detroit for $53

Lansing for $42

Mount Pleasant for $30

Saginaw for $41

Alpena for $19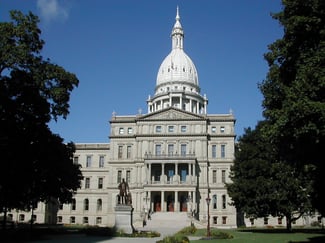 3. Lansing State Capitol
Visit the award-winning State Capitol building in Lansing, where you'll step back into the Victorian era. Sign up for a tour and explore the building and its nine acres of hand-painted surfaces – you'll see why it took six years to build! Guided tours are available from 9:00 am to 4:00 pm, Monday through Friday. Not interested in touring the building with a guide? Take a self-guided tour — no need to schedule a date or time. (Rare occasions and special events may prevent access to the building so always check in advance.)
*Head to Lansing from:
Detroit for $25

Mount Pleasant for $15

Saginaw for $20

Alpena for $49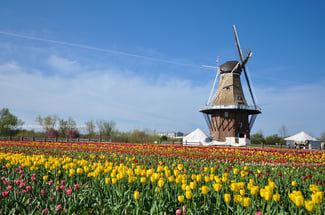 4. Holland
Experience Dutch culture while wandering through gardens, parks, museums, and factories. Holland is historic and trendy, featuring a variety of attractions, events, outdoor activities, shopping, and dining. Popular hot spots include the Windmill Island Gardens, Tunnel Park, DeKlomp Wooden Shoe & Delft Factory, Holland Museum, and The Holland Princess. During festival season be sure to catch Fiesta!, the Tulip Time Festival, and the Tulipanes Latino Art & Film Festival. Can't get enough of the outdoors? Hop on a bike and ride the many trails, take a dirt bike rental off-roading, or spend your time fishing or golfing. Dining options include comfort food, seafood, and waterfront dining among many local favorites.
*Head to Holland from:
Lansing for $20
Mount Pleasant for $36
Battle Creek for $31
Saginaw for $36
These are just a few of the many places of interest in our wonderful state of Michigan. It's as simple as picking your destination, planning your visit, and purchasing bus tickets to eliminate the hassle of traffic and parking. Sit back and enjoy your mini Michigan vacation while riding aboard a deluxe motorcoach.
*Pricing is for one-way ticket booked three weeks out, more "from" destinations available at indiantrails.com/destination-bus-tickets