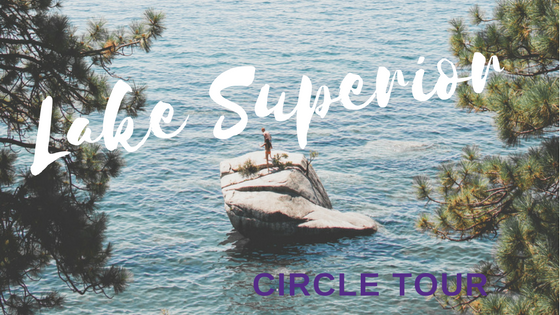 Lake Superior, as its name states, is in a class by itself in the Americas. With a surface area of 31,700 square miles and a volume of three quadrillion gallons (that's 3,000,000,000,000,000) or 10 percent of the world's fresh surface water, it's topped only by Lake Baikal in Siberia, which holds 20 percent of the world's freshwater.
Now imagine a drive around that amazing body of water, a 1,300-mile journey. You'll travel through historic towns, in view of waterfalls and endless beaches, sailboats with spinnakers full and "lakers" laden down, ambling moose and rambling bear; and if you're lucky, a night filled with the awe-inspiring grandeur of the aurora borealis.
If your group wants to make the trip of a lifetime, one that will put them in a very select group of adventurers, the Lake Superior Circle Tour is the trip for you! Here are some tips to help make it a success:
Since it is such an extensive tour through three states and the Province of Ontario, you will want to take at least a week, preferably two, to make the most of sightseeing opportunities and stop-overs.
Read up on what other Lake Superior Circle tourers have to say about their trips. On lakesuperiorcircletour.com's Trip Reports page, you'll get recommendations about where to make lodging reservations (or not); what stops were the best for such things as cinnamon buns in L'Anse or whether the boat tour of Pictured Rocks was worth it, and much, much more. Be sure to read chronologically beginning with the most recent; things have changed a bit since the 1990s! You can also click on tags if you want to read posts that contain specific information about a single topic like hiking or lighthouses, etc.
Plan your itinerary carefully. Lakesuperiorcircletour.com has a great publication called the "Lake Superior Travel Guide" that provides a mile-by-mile planner to help you choose exactly the right stops and length of time you want to spend at each. It also provides information about lodging, restaurants, special attractions, and other points of interest.
Pack for all kinds of weather. Even in July and August, the weather that far north can turn chilly and brisk, requiring an extra layer or two for comfort. Also be sure to bring footwear that is appropriate for the stops you plan. Flipflops aren't great for climbing trails, and hiking boots aren't necessary for shopping and hanging out at the beach.
Consider a side trip to Isle Royale for a day. Transportation to this national park is provided from Houghton and Copper Harbor, Michigan and Grand Portage, Minnesota. If your group isn't sure about going, use this interactive map to see different historical aspects of interest on Isle Royale to help you make up your mind.
Don't forget your valid passport and enhanced driver's license. Entering Canada and re-entering the United States by bus is the same as by air, and the rules continue to be strictly enforced. You can check for any changes or alerts from the U.S. Department of State—Bureau of Consular Affairs to ensure you are in compliance and prepared.
The Lake Superior Circle Tour may turn into the best charter you ever booked, especially if you choose the right bus company. At Indian Trails, we have more than 100 years of travel experience and expertise. We also have the most modern equipment and conscientious, well-trained drivers. Find out more about our charter services and get a quote for your group's Lake Superior Circle Tour today!